NC Four-Ball Championship Second Round Results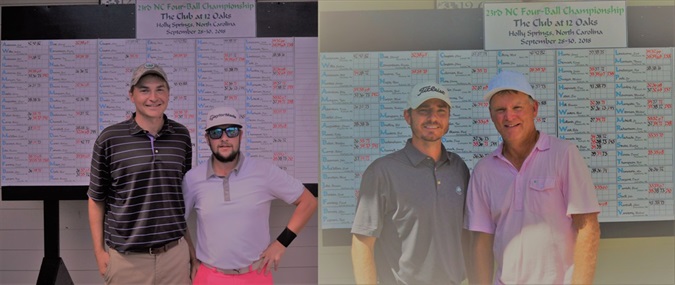 HOLLY SPRINGS, NC (September 29, 2018) – Second round results from the 23rd North Carolina Four-Ball Championship hosted by The Club at 12 Oaks in Holly Springs, NC on Saturday, September 29, 2018. (6900 yards, par 36-36--72).
Related: Championship Web Site | History | Pairings | Scoring
Two teams share the lead after the second round of the 23rd North Carolina Four-Ball Championship. Greg Earnhardt from Greensboro, NC & Dustin Moore from Burlington, NC and the team of Stephen Lavenets from Apex, NC & Clay Watkins from Mebane, NC lead the field of 60 teams with a score of twelve-under par 132. Each team posted matching scores of 66 over the first two rounds.
The tandem of Earnhardt & Moore "brother-in-lawed" their way to the lead as neither player has birdied the same hole over 36 holes. "I don't know what about it, but we just play good together…I can cheer him on," Earnhardt said of his partnership with Moore. "We ham and egged it well, and he gets me inspired to hit good shots." Moore said of his teammate.
Good friends, Lavenets & Watkins got off to a fast start in their second round, finding themselves five-under through six holes. "I made a thirty footer on first hole which helps, Clay birdied four and I ripped a three iron to four feet on five for eagle, then I made the first birdie on six," Lavenets commented on their impressive start. The going got tough for the duo as they finished the rest of the round only one-under par. "We made a big par on nine, it was huge," Watkins said on his 12-footer he made on nine for par to keep their round together.
Sitting one shot back are two-time champions and brothers, Brian Gauley from Wake Forest, NC & Mark Gauley from Raleigh, NC. At ten-under par, the team of Chris Cassetta from High Point, NC & John Major from Winston Salem, NC are just two behind. Back to back defending champions, the team of JD McNeill from Raleigh, NC & Jerry Richardson from Cary, NC find themselves six shots of the pace in a tie for eighth.
After the second round, the field was cut to the low 30 teams for the final round.
23rd North Carolina Four-Ball Championship
The Club at 12 Oaks, Holly Springs, NC
Second Round Results
Saturday, September 29, 2018
Pos.

Team

To Par

Round 1

Round 2

Total Score

T1

Earnhardt / Moore

-12

66

66

132

T1

Lavenets / Watkins

-12

66

66

132

3

Gauley / Gauley

-11

66

67

133

4

Cassetta / Major

-10

68

66

134

5

Lincicome / Morrison

-9

66

69

135

6

Lendach / Roberts

-8

68

68

136

7

Manley / Newman

-7

68

69

137

T8

Dauler / Williams

-6

69

69

138

T8

McNeill / Richardson

-6

67

71

138

T8

Benton / Fanning

-6

68

70

138

T8

Britt / Edmondson

-6

67

71

138

T8

Neveu / Thompson

-6

68

70

138

T13

Harvey / Swiger

-5

72

67

139

T13

Holland / West

-5

71

68

139

T15

Clark / Reece

-4

68

72

140

T15

Brown / Mangum

-4

68

72

140

T15

Coleman / Ray

-4

71

69

140

T15

Parrish / Spell

-4

67

73

140

T19

Gardner / Williams

-3

70

71

141

T19

Hansen / Will

-3

72

69

141

T19

Baker / Camp

-3

71

70

141

T22

Cromer / Gross

-2

70

72

142

T22

Andrews / Morgan

-2

69

73

142

T22

Cosler / Galloway

-2

69

73

142

T25

Ford / Mitchell

-1

73

70

143

T25

Harris / Stewart

-1

75

68

143

T25

Keefe / Kwasnick

-1

73

70

143

T25

Nianouris / Sargent

-1

72

71

143

T25

Augustine / Rouse

-1

76

67

143

T25

Manyatis / Widman

-1

71

72

143

The following teams did not make the cut

CUT

Broome / Nagy

E

70

74

144

CUT

Davis / Rudock

E

73

71

144

CUT

Flynn / Helms

E

70

74

144

CUT

Bawden / Jobe

E

73

71

144

CUT

Campbell / Dean

E

76

68

144

CUT

Hill / Wooten

E

71

73

144

CUT

Clayton / Clayton

+1

74

71

145

CUT

Howard / Pendergraft

+1

72

73

145

CUT

Michaels / Strode

+1

70

75

145

CUT

Anderson / Kustas

+2

72

74

146

CUT

Bowers / Pegram

+2

71

75

146

CUT

Bauman / McClellan

+3

71

76

147

CUT

Dawes / Herring

+3

72

75

147

CUT

Kerley / Leroux

+4

74

74

148

CUT

Burkinshaw / Channell

+4

72

76

148

CUT

Gardner / McKee

+4

72

76

148

CUT

Atamian / Boteler

+6

73

77

150

CUT

Doerr / McElhennon

+6

72

78

150

CUT

Carter / Patnode

+7

77

74

151

CUT

Dipasquale / Morgan

+10

77

77

154

CUT

Hamilton / Prichard

+10

77

77

154

CUT

Harrell / Williams

+10

77

77

154

CUT

Lineberger / Poole

+12

76

80

156

CUT

Haywood / Yoder

+13

79

78

157

CUT

Bruffey / Masters

+14

78

80

158

CUT

Anderson / Willis

+20

82

82

164

CUT

Ellzey / Harris

+20

82

82

164

CUT

Randall / Vanstory

+21

79

86

165

CUT

Fortune-Greeley / Kriston

+33

88

89

177

WD

Brown / Harper

-

72

WD

WD