Pinehurst CC Wins Cas W Club Team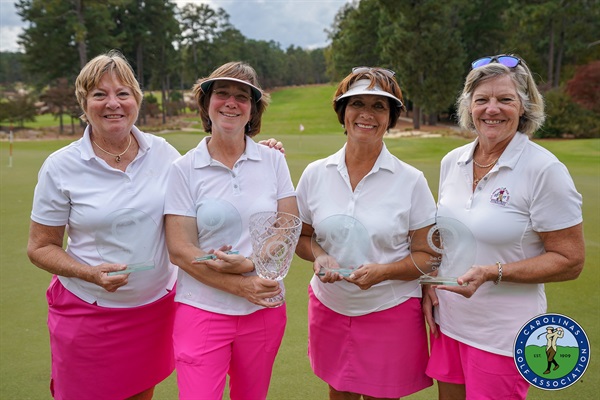 Above: 2018 Carolinas Women's Club Team Champions, Pinehurst Country Club (L-R Patty Moore, Kendra Muir, Donna Tanner, Sally Means)

Pinehurst Country Club Goes Back-to-Back at
2nd Carolinas Women's Club Team Championship
SOUTHERN PINES, N.C. (November 1, 2018) - Final round results from the Carolinas Golf Association's 2nd Carolinas Women's Club Team Championship hosted by Mid Pines Inn & Golf Club in Southern Pines, N.C. on Thursday, November 1, 2018 (5022 yards; Par 36-36--72; Course/Slope Rating 69.1/121).
Related: Championship Website | Scoring | History | Photos
It was an exciting day at Mid Pines Inn and Golf Club for the final round of the 2nd Carolinas Women's Club Team Championship. Temperatures reached the mid 70s and a light breeze moved through the pines. The day began with defending champions Pinehurst Country Club one stroke off the lead, but ended with Pinehurst CC captain Kendra Muir hoisting the Women's Club Team trophy once again.
The final round format was Pinehurst alternate shot where both partners tee off, switch balls, hit their partner's second shot, then pick which ball they would like to play. Partners then alternate for the remainder of the hole. Pinehurst Country Club is where the format originated (hence the name) and perhaps their familiarity with the format helped propel them to the lowest aggregate score today. Both sides for Pinehurst CC posted four-over-par 76 to finish with 152, a very good score in an intense, nerve-wracking format.
"We felt like the [final day] format was an advantage for us. We play it a lot. We're comfortable with it and it's my personal favorite format. It gives you a little bit of leeway with the first two shots, then puts the pressure on the alternate shot. I think it's a great format," said Pinehurst Country Club Captain Kendra Muir. Pinehurst CC was neck-and-neck with 2017 runner-up Cowans Ford Country Club all week, but was able to pull ahead and beat CFCC by five strokes in the final round to finish with a four-stroke victory overall. Muir said there was definitely some extra pressure coming into the tournament as defending champions, but they felt confident coming into the final round. "I think we were confident. We had confidence in our pairings, which were different each day. We were confident with our players in this format and it's fun to come from behind. We knew it was going to be a battle because those guys are good players." The back-to-back champions narrowly defeated Cowans Ford CC two years in a row.
In the Carolinas Division, the lone South Carolina team of Greenville Country Club continued their dominating play in the final round with the Pinehurst alternate shot format. The side of Tricia Reed-Hall Bickmann tore up the course with a net six-under-par 66 and the other GCC side of Kristen Rooke-Aloma Smith also finished in red numbers with a one-under-par 71. Their fantastic final round meant that GCC finished at fifteen-under-par 417 to have the lowest team score in the Carolinas Division and win the first flight in that division.
In the second flight of the Carolinas Division, Colonial Country Club pulled way ahead of the rest of the flight with a final round seven-over-par 151. The side of Sook Hee Yang-Tess Kirkman combined for an even-par 72, which was the low score of any tandem in the second flight. Colonial Country Club finished with a team three-day total of 439 (+7), which gave them the second flight win and put them in third place overall in the Carolinas Division. (Teams in the Carolinas Division were flighted after 36 holes based on score)
The Carolinas Golf Association would like to thank Mid Pines Inn & Golf Club for hosting the 2nd Carolinas Women's Club Team Championship. Special thanks go to General Manager Graham Gilmore, Head Golf Professional Tyler Yancey and Conference Services Manager Deanna Barefoot Pressnell.
Results
Championship Division
Pos.
Team
Round 3
Three-Day Aggregate
1
Pinehurst Country Club
152 (+8)
442 (+10)
Donna Tanner + Sally Means
76 (+4)
Patty Moore + Kendra Muir
76 (+4)
2
Cowans Ford Country Club
157 (+13)
446 (+14)
Kathy Binkley + June Wang
77 (+5)
Peg Brady + Robbie Knotts
80 (+8)
3
Pine Needles Golf Club
167 (+16)
463 (+31)
Susan Beaupied + Maureen Buck
79 (+7)
Therese St Peter + Dokim Elphick
88 (+16)
4
Pinewild Country Club
167 (+16)
480 (+48)
Ellen Connors + Kit Simpson
83 (+11)
Jo Ann Sluder + Paula Fitzpatrick
84 (+12)
Carolinas Division - First Flight
Pos.
Team
Round 3
Three-Day Aggregate
1
Greenville Country Club (SC)
137 (-7)
417 (-15)
Patricia Reid + Hall Bickmann
66 (-6)
Kristen Rooke + Aloma Smith
71 (-1)
2
Pinehurst Country Club (B)
137 (-7)
421 (-11)
Anne Bourne + Sue McDermott
68 (-4)
Jean Peters + Debbie Hockman
69 (-3)
3
River Ridge Country Club
161 (+17)
448 (+16)
Benjie Fowler + Rebecca Nuckols
74 (+2)
Mason Nichols + Carol Brown
87 (+15)
Carolinas Division - Second Flight
Pos.
Team
Round 3
Three-Day Aggregate
1
Colonial Country Club
151 (+7)
439 (+7)
Sook Hee Yang + Tess Kirkman
72 (E)
Gigi Ash + Mary Rhodes
79 (+7)
2
Cummings Cove G&CC
148 (+4)
452 (+20)
Sally Gauntlett + Julie Christianson
72 (E)
Mindy Schult + Tamera Elam
76 (+4)
3
Croasdaile Country Club
159 (+15)
461 (+29)
Linda McGill + Shelly Canals
78 (+6)
Ann Miller + June Lee
81 (+9)
About the Carolinas Women's Club Team: The Carolinas Women's Club Team Championship took on a new format in 2018, making the championship friendlier to golfers of all skill levels. Each club team is comprised of four women who belong to the same CGA member club. The four players are split into two-woman sides on each day of competition and the aggregate of the two, two-woman sides will make up the team's score for the day. The championship will be played over three days with different partner/team formats each day. The first round will be two-woman captain's choice (scramble); the second round will be four-ball stroke play (better ball of two); and the third round will be Pinehurst alternate shot stroke play. The championship will be conducted with two divisions: the Championship Division (gross scores only) and the Carolinas Division (net scores only).
Eligibility: Any CGA member club may enter a team of four female golfers who belong to that club. Every member of the team must hold an active GHIN® USGA Handicap Index® at the CGA member club, they are representing. Members of the team must also meet the following eligibility criteria: team members must be female amateur golfer who have reached their 13th birthdays by October 30, 2018, maintain a residence in North Carolina or South Carolina, are members in good standing of a club which is a member of the Carolinas Golf Association (CGA) and have an active GHIN® USGA Handicap Index® at that CGA member club.

About the Carolinas Golf Association (CGA)
The CGA is a 501(c)(3) not-for-profit educational organization that was founded in 1909 to promote and to protect the game of golf in the Carolinas by providing competitions, education, support and benefits to golf clubs and golfers. The CGA is the second largest golf association in the country with over 700 member clubs represented by nearly 150,000 individuals.
The CGA annually conducts 48 championships and five team match competitions for men, women, juniors, and seniors. It also runs over 150 One-Day (net and gross) events as well as qualifying for USGA national championships. The CGA serves golf in the Carolinas with numerous programs such as: the USGA Handicap System; tournament management software and support; course measuring and course/slope ratings; agronomy consultation; answers about the Rules of Golf, Rules of Amateur Status, and Handicapping; Carolinas Golf Magazine; Interclub series; Tarheel Youth Golf Association; Carolinas Golf Hall of Fame; expense assistance for USGA Junior and Girls' Junior qualifiers from the Carolinas; and the Carolinas Golf Foundation (CGF). The CGF has distributed nearly $2,000,000 since 1977 to benefit Carolinas' golf initiatives including junior and women's programs.
For more information about the CGA, visit our website.

##30##