Simson Takes Lead into Final Round at Senior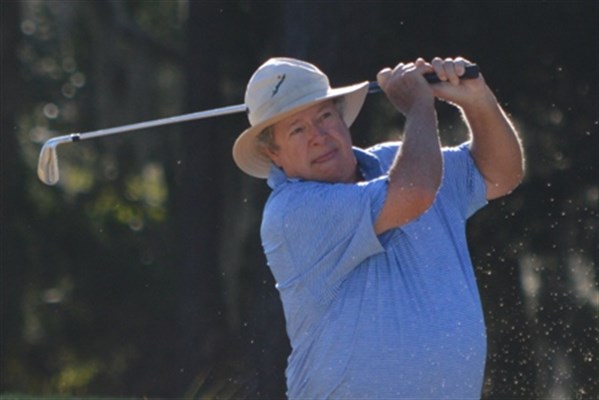 JOHNS ISLAND, S.C. (November 1, 2018) – Second round results of the 57th Carolinas Senior Amateur Championship at the Golf Club at Briar's Creek on Johns Island, S.C. on November 1, 2018.
Related: Championship Web Site | Starting Times | Scoring | Championship History |
Paul Simson of Raleigh, NC, will take a four-shot lead into the final round of the 57th Carolinas Senior Championship. Simson backed up his first round 64, with a one-over-par 73. The 36-time CGA Champion was pleased with his round considering the conditions, "I found it tougher today with the wind and the pins." Simson looks to add to his championship total this year with his 4th CGA Title, "I am going to just play to course tomorrow." On the heels of Simson, is Todd Hendley of Columbus, NC. Hendley is the only player in the field with two rounds under par. After starting the tournament with an opening nine of four-over 40, Hendley has gone seven-under par in his last 27 holes.
Paired with the Simson and Hendley, will be Walter Todd, Sr. of Laurens, SC and two-time defending champion, Preston Edmondson of Morrisville, NC. Todd will start six shots back of Simson. Edmondson will start seven shots back but look to make a charge after his second round, 69.
Scoring will be provided by the CGA throughout the championship. Live updates will also be available on the CGA's official Twitter account, @cgagolf1909. Continue to visit the CGA website throughout this championship and all year long for complete championship coverage including scores, interviews, photos, and recaps.
57th Carolinas Senior Amateur Championship
Golf Club at Briar's Creek, Johns Island, SC
Second Round Results
Pos.
Player
City, State
To Par
R1
R2
Total
1
Paul Simson
Raleigh, NC
-7
64
73
137
2
Todd Hendley
Columbus, NC
-3
71
70
141
3
Walter Todd, Sr
Laurens, SC
-1
72
71
143
T4
Gary Robinson
Fayetteville, NC
E
69
75
144
T4
Preston Edmondson
Morrisville, NC
E
75
69
144
6
Nolan Mills, III
Charlotte, NC
1
70
75
145
T7
Dean Channell
Cary, NC
3
73
74
147
T7
Macon Moye
Pinehurst, NC
3
70
77
147
T9
Geno Berchiatti
Greenville, SC
5
77
72
149
T9
Eddie Hargett
Blythewood, SC
5
76
73
149
T9
Mike Gravley
Greer, SC
5
73
76
149
T9
Rich Weston
Pawleys Island, SC
5
68
81
149
T13
Dave Davis
Asheboro, NC
6
72
78
150
T13
Kevin King
Bluffton, SC
6
75
75
150
T13
Mike Arnold
Mooresville, NC
6
74
76
150
T13
Pat Thompson
Asheville, NC
6
76
74
150
T13
Phil Bland
Waynesville, NC
6
75
75
150
T13
Russ Perry
Winston Salem, NC
6
69
81
150
T19
Bert Atkinson
Charleston, SC
7
76
75
151
T19
Harrison Rutter
Winston-Salem, NC
7
73
78
151
T19
Tim Pope
Spartanburg, SC
7
76
75
151
T22
Frank Ford, III
Charleston, SC
8
70
82
152
T22
John Dennis, III
Greenville, SC
8
77
75
152
T22
Matt Grandy
Greenville, SC
8
78
74
152
T22
Kevin Walsh
Blowing Rock, NC
8
76
76
152
T26
Edward Galbavy
Johns Island, SC
9
77
76
153
T26
Mike Forrest
Rock Hill, SC
9
77
76
153
T26
Mark Macejko
Pinehurst, NC
9
77
76
153
T26
Stan Sill
Spartanburg, SC
9
79
74
153
T26
Bobby Newman
Roebuck, SC
9
76
77
153
T26
John Fritz
Mint Hill, NC
9
74
79
153
T26
John Rudolph
Charlotte, NC
9
75
78
153
T26
Johnny Elam
Charlotte, NC
9
78
75
153
T26
Jerry Horton
Wilmington, NC
9
77
76
153
35
Joe Padgette
N. Charleston, SC
10
74
80
154
T36
John Cottrell, Jr
Gilbert, SC
11
77
78
155
T36
Neal Morrison
Charlotte, NC
11
76
79
155
T36
Mark Carey
Bluffton, SC
11
78
77
155
T39
Bob Edens
Columbia, SC
13
80
77
157
T39
Charlie Parks
Asheboro, NC
13
78
79
157
T39
Gus Sylvan
Columbia, SC
13
81
76
157
T39
Jim Tarulli
Waxhaw, NC
13
79
78
157
T39
Jeff Rausch
Waxhaw, NC
13
74
83
157
T39
Keith Waters
Raleigh, NC
13
76
81
157
T39
Robert Fisher
Johns Island, SC
13
83
74
157
T39
Sean McAvoy
Johns Island, SC
13
79
78
157
T47
Ken Shelton
Denver, NC
14
82
76
158
T47
Tom Dutton
Leland, NC
14
80
78
158
T47
Don Detweiler
Raleigh, NC
14
80
78
158
T47
James Motsinger
Wilkesboro, NC
14
80
78
158
T51
Gregory McLain
Hollywood, SC
15
80
79
159
T51
Bob Wilson
Archdale, NC
15
77
82
159
T51
David Reece
Fort Mill, SC
15
81
78
159
T51
Tom Fitzgerald
Travelers Rest, SC
15
80
79
159
T51
Dennis Dowd
Mount Pleasant, SC
15
81
78
159
T51
Robert Parrott
Raleigh, NC
15
79
80
159
T51
Mark Kozel
Chapel Hill, NC
15
85
74
159
T51
Mike Wilson
Ocean Isle Beach, NC
15
80
79
159
T59
Brian Harris
Newton, NC
16
77
83
160
T59
David Eaker
Forest City, NC
16
82
78
160
T59
Jim Gallagher
Charlotte, NC
16
79
81
160
T59
Terry Rathman
Gastonia, NC
16
79
81
160
T59
Greg Powell
Charlotte, NC
16
86
74
160
The Following Players Failed to Make the Cut
CUT
Norman Page
Woodruff, SC
17
79
82
-
CUT
David Brown
Conover, NC
17
80
81
-
CUT
Tony Nichols
Reidsville, NC
17
81
80
-
CUT
David Bordiuk
Summerville, SC
18
81
81
-
CUT
Joe McGee
Ridgeland, SC
18
81
81
-
CUT
Robert Heavner
Greensboro, NC
18
83
79
-
CUT
Tim Teaster
Cayce, SC
18
78
84
-
CUT
Jeff Koziol
Charlotte, NC
18
80
82
-
CUT
John Stratton
Greensboro, NC
18
83
79
-
CUT
Steve Wilson
Wilmington, NC
19
78
85
-
CUT
Blake Bickford
Hendersonville, NC
19
82
81
-
CUT
James Brown
High Point, NC
19
82
81
-
CUT
Ben Whipple
Marietta, SC
20
80
84
-
CUT
John Baldea, III
Myrtle Beach, SC
20
82
82
-
CUT
Mark Moore
Fort Mill, SC
20
81
83
-
CUT
Barry Mullinax
Travelers Rest, SC
21
84
81
-
CUT
Craig Cathey
Burlington, NC
21
80
85
-
CUT
Eric Taylor
Greensboro, NC
21
84
81
-
CUT
James Morgan, III
Greensboro, NC
21
83
82
-
CUT
Martin Penson
Pinehurst, NC
21
86
79
-
CUT
Morris Marshburn
Vass, NC
21
85
80
-
CUT
Richard Condrey
Nebo, NC
21
85
80
-
CUT
Bret Mangum
Garner, NC
22
84
82
-
CUT
Terry Vereen
Caswell Beach, NC
22
81
85
-
CUT
Chuck Parker
Raleigh, NC
22
79
87
-
CUT
Ed Donlin
Kannapolis, NC
22
83
83
-
CUT
Doug Michal
Raleigh, NC
23
86
81
-
CUT
Gary Roberson
Burlington, NC
23
78
89
-
CUT
Gary Upton
Simpsonville, SC
23
86
81
-
CUT
Ken Taylor
Columbia, SC
23
83
84
-
CUT
Brandon Godfrey
Marion, NC
24
86
82
-
CUT
Mike Bivins
High Point, NC
24
83
85
-
CUT
Barry Cheek
High Point, NC
25
85
84
-
CUT
Jeff Adams
Charlotte, NC
25
88
81
-
CUT
Lennie Younce
Lenoir, NC
25
89
80
-
CUT
Andy Burnette
Raleigh, NC
25
83
86
-
CUT
Joe Harten
Charlotte, NC
26
87
83
-
CUT
Scott Neely
Winston Salem, NC
26
82
88
-
CUT
Don White Jr
Winston Salem, NC
29
89
84
-
CUT
Holley Wallace
Columbia, SC
29
83
90
-
CUT
William Hesmer
Atlantic Beach, NC
29
89
84
-
CUT
Michael Greene
Hickory, NC
30
95
79
-
CUT
David Camadine
Charlotte, NC
30
81
93
-
CUT
Jack Stanley
Summerfield, NC
32
87
89
-
CUT
Johnny Moffett
Catawba, NC
35
93
86
-
CUT
Harry Moore
Leland, NC
37
91
90
-
WD
Frank Wrenn, III
Greenville, SC
-
WD
-
WD
Joseph Horne
Columbia, SC
-
WD
WD
-
WD
Walker Taylor, IV
Wrightsville Beach, NC
-
WD
WD
-
WD
Kelly Stimart
Charlotte, NC
-
81
WD
81
WD
Buck Adams
Pinehurst, NC
-
83
WD
83
WD
Jim Ayersman
Pinehurst, NC
-
83
WD
83
WD
Bill Long
Southern Pines, NC
-
85
WD
85