Wildwood Green wins the 2018 Carolinas Interclub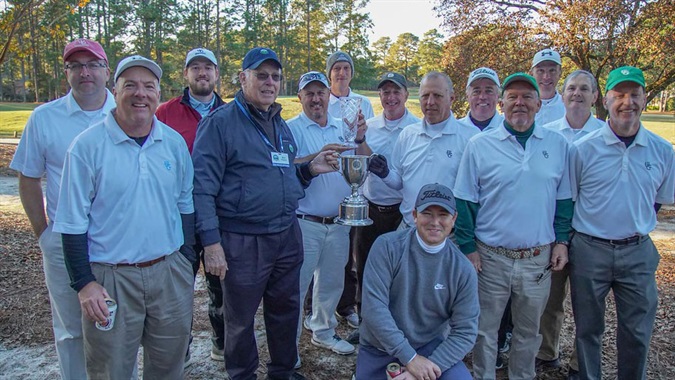 PINEHURST, N.C. (November 11, 2018) – Over 70 teams competed to get to this point but only one can be named the 21st Carolinas Interclub Season Champion and hoist the Ben Payne Trophy. At the end of the year-long competition, the team representing Wildwood Green Golf Club of Raleigh, N.C. defeated Northstone Country Club of Huntersville, N.C. at Pinehurst Resort and Country Club (#6) in Pinehurst, N.C. (Par 36-36--72, 6343 Yards). The format of the Carolinas Interclub is a 12 player team competition with four-ball match play formats in each match. Each match has a 6 point total; 2 points for the front nine, 2 points for the back nine and 2 points for the total.

Related: Final Scoring | History | Photos
Mark Nordin lead the charge as team captain of the Wildwood Green Interclub team. Wildwood Green defeated Maple Chase Golf & Country Club in their first ever final-four appearance in the Carolinas interclub on Saturday to get to the finals.
"It's been a long season," Nordin said. "We're a competitive team and a very competitive group of guys. To make the journey to the end has just been great. I am very honored to take the trophy back home and to share it with everyone back at the club because it's been a complete group effort that help us get it."
The finals matches came down to the very end. There was no clear runaway and with the teams making the turn, it was anyone's game. Northstone was able to capture seven of the 12 available points on the front nine but Wildwood Green's dominate performance on the back nine won them the title. Wildwood Green was able to capture eight of the available 12 points on the back nine and 8 of the available 12 overall points.
"Those guys were so nice and actually, not just today but throughout the playoffs and the regular season," Nordin said. "They have all been great competitors and very generous. The comradery has been fantastic. We all share the same goal to win the trophy and everyone fought hard to get there, we just got a little bit luckier today."
The Carolinas Interclub trophy is name for Ben Payne of Greensboro, N.C. who was on site to help officiate the tournament and hand out the hardware.
"It's great being out here and seeing the comraderies between the teams," Payne said. "That's what it's all about and we're ready for next season."
The Carolinas Golf Association would like to thank the members and staff at the Pinehurst Resort and Country Club (#6) for hosting the 21st Carolinas Interclub Championship.

Carolinas Interclub Final Results

Finals Matches
Wildwood Green Golf Club 21 Northstone Country Club 15

| | | | |
| --- | --- | --- | --- |
| Points | Northstone Club | Wildwood Green GC | Points |
| 1 / 0 / 0 | Greg Seeling + Jeffrey Pugliese | Bud Oconnell + Mark Nordin | 1 / 2 / 2 |
| 2 / 2 / 2 | Bob Abrams + Bob Council | Mark Stefanic + Matt Armistead | 0 / 0 / 0 |
| 0 / 2 / 2 | Greg Whitley + Michael Vanwingerden | Howard Ireland + Trent Rhyne | 2 / 0 / 0 |
| 2 / 0 / 0 | Scott Stull + Chris Rumbaugh | Carl Hiller + Taylor Britt | 0 / 2 / 2 |
| 0 / 0 / 0 | Michael Ravey + Larry Cope | Tony Herring + Stephen Dawes | 2 / 2 / 2 |
| 2 / 0 / 0 | Mitch McCune + Ed Lawing | Lennie Barton + Tim Manyatis | 0 / 2 / 2 |