Colonial Country Club Wins Club Championship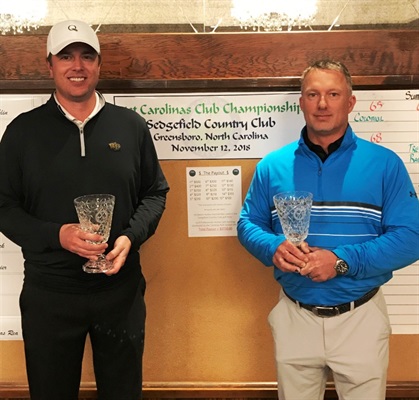 GREENSBORO, NC (November 12, 2018) – Final round results of the 41st Carolinas Club Championship at Sedgefield Country Club (Ross Course) in Greensboro, N.C. on Monday, November 12, 2018 (6780 yards, Par 35-36--71).
Related: Championship Web Site | Scoring

Not even the worst weather day of the year could stop teams from descending upon Sedgefield Country Club to compete in the 41st Carolinas Club Championship. The talk of the day was how a team could play so well in the freezing cold and heavy rains.

Colonial Country Club's head golf professional, Ben Miller, and member, Chad Wilfong, amazed the field by carding nine birdies and only three bogeys en route to winning the Carolinas Club Championship with a score of six-under-par, 65.

"We both were in every hole, so that eliminates a lot of pressure to hit a shot", Wilfong said on an impressive day.

"We hit a lot of good shots; a lot close to the hole," Miller remarked on the low score.

Coming in second place with a score of four-under-par, 67 was Greensboro Country Club; The team comprised of professional, Brandon Nowak, and member, Michael Murray, Jr.
The Carolinas Club Championship is played at 18 holes of four-ball stroke play. Teams comprised members of the same club that can be amateur-amateur or pro-amateur teams.
41st Carolinas Club Championship
Sedgefield Country Club (Ross), Greensboro, N.C.
Final Round Results
| | | | | |
| --- | --- | --- | --- | --- |
| Pos. | Players | Club | To Par | Total Score |
| 1 | Ben Miller (p) + Chad Wilfong | Colonial Country Club | -6 | 65 |
| 2 | Michael Murray, Jr + Brandon Nowak (p) | Greensboro Country Club | -4 | 67 |
| T3 | Brad Dawson + Tim Myers | Treyburn CC | -2 | 69 |
| T3 | Mark Gauley + Paul Dickens (p) | Raleigh Country Club | -2 | 69 |
| 5 | Warren Straub + Dustin Moore | Alamance Country Club | -1 | 70 |
| T6 | Nick Jacobi (p) + Scott Morse | Monroe Country Club | E | 71 |
| T6 | Trey Broome + Taylor Hines | Lake Hickory Country Club | E | 71 |
| T8 | Kevin Duerr + Adam McLaughlin (p) | Wakefield Plantation | +1 | 72 |
| T8 | Jeremy Hurst (p) + Jon Dyer | Club at Irish Creek | +1 | 72 |
| T8 | Chris Holland + Matt Hudson | Highland Country Club 1 | +1 | 72 |
| T8 | Chris Cassetta + Ryan Wilson | High Point Country Club | +1 | 72 |
| T8 | Dean Nance + Doug Ramey | Musgrove Mill Golf Club | +1 | 72 |
| T13 | Matt Crichton + Rob Perry | Macgregor Downs Country Club | +2 | 73 |
| T13 | Keith Hiller + Justin Malone (p) | Salem Glen 1 | +2 | 73 |
| T15 | Jeff Cowell (p) + John-Paul Hansen | Longleaf Golf & Family Club | +3 | 74 |
| T15 | Robert Dowell + Jonathan Dudley (p) | Mill Creek Golf Club | +3 | 74 |
| T15 | Clark Rose (p) + Eric Williams | Walnut Creek Country Club 1 | +3 | 74 |
| T18 | Duane Fisher + Ivan Jones | Crooked Tree Golf Course | +4 | 75 |
| T18 | Matt Vick (p) + Pete Kallgren | Pinehurst Country Club | +4 | 75 |
| T20 | Neal Morrison + Andrew Shuck (p) | Charlotte Country Club | +5 | 76 |
| T20 | Will Morgan + Chip Wells (p) | Scotch Meadows Country Club | +5 | 76 |
| T22 | Ryan Fox + Scott Lincicome | CCNC | +6 | 77 |
| T22 | Gerrett Hutson + Britt Mitchell, Jr | Umstead Pines Golf & C.C. | +6 | 77 |
| T24 | Keenan Denny + Wesley Lineberry | Hemlock Golf Club | +7 | 78 |
| T24 | Hayden Gardner (a) + Lionel Sutton | Walnut Creek Country Club 2 | +7 | 78 |
| T26 | Chris Costas + Chris Terry (p) | Sedgefield Dye | +8 | 79 |
| T26 | Austin Adams + Garrett Kachellek | Cedarwood Country Club | +8 | 79 |
| T26 | Keith James + Frank Ward | Deep Springs Country Club | +8 | 79 |
| T29 | Cory Merritt + Jimmy McMullen (p) | Salem Glen 2 | +10 | 81 |
| T29 | John Ervin (a) + Richard Brown (p) | River Oaks Golf Club | +10 | 81 |
| 31 | Jeff Johnson (p) + Eli Villanueva | Stryker Golf Club | +11 | 82 |
| 32 | Jeff Bachman + Ryan Bachman | Lonnie Poole | +20 | 91 |
| WD | William Jones, III (p) + Thomas Rea | Valley at Eastport | - | WD |
| WD | William Flood + Randy Yavorka | Calhoun Golf Club | - | WD |
| WD | Jason Orr + Kris Laird | Pine Lake Country Club | - | WD |
| NS | Todd Grear + Daniel Welborn | Northstone | - | NS |