Announcing the 2019 CGA Championship Schedule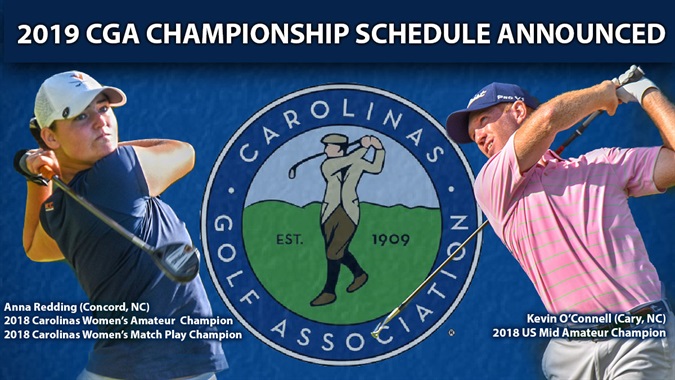 SOUTHERN PINES, N.C. (November 16, 2018) - The Carolinas Golf Association (CGA) is proud to announce that the majority of our 2019 CGA Championship sites have been selected. Below you will find links to the individual championship categories.
Related: Men's | Women's | Junior Boys' | Junior Girls' | Mixed
As we draw closer to 2019, we will continue to provide updates as we solidify the remaining few sites, but this is an initial chance for CGA tournament golfers to begin their 2019 schedule planning.
The 105th edition of the CGA's flagship event, the Carolinas Amateur Championship, will be contested July 11-14 at Governers Club in Chapel Hill, N.C. This Jack Nicklaus Signature course has previously hosted several CGA championships including the 2016 North Carolina Amateur, the 2014 Carolinas Women's Senior, the 2012 Carolinas Senior Four-Ball, the 2011 Twin States Junior Girls and the 1996 Tar Heel Cup.
After receiving rave reviews while hosting the 25th N.C. Mid-Amateur last year, Ballantyne Country Club in Charlotte, N.C. will welcome the Carolinas' best amateur women golfers to play the 93rd edition of the Carolinas Women's Amateur Championship from June 19-21.
The historic Gaston Country Club in Gastonia, N.C. will celebrate its 100-year anniversary by hosting two CGA championships in 2019: the 59th North Carolinas Amateur Championship from June 13-16 and the 21st Carolinas Senior Women's Amateur Championship from October 1-2.
The Carolinas Senior Amateur Championship will return to Mimosa Hills Golf & Country Club in Morganton, N.C. for the second time in CGA history and the first time since 1979. Three-time Carolinas Amateur Champion, two-time Carolinas Senior Amateur Champion and Carolinas Golf Hall of Famer, Billy Joe Patton, won the event the last time it was contested at Mimosa Hills.
Columbia Country Club in Blythewood, S.C. will also host two CGA championships in 2019: the 63rd Carolinas Junior Girls' Championship from July 30-August 1 and the 47th South Carolina Amateur Match Play Championship from June 12-16.
The 70th Carolinas Junior Boys' Championship will be contested at River Landing Country Club in Wallace, N.C. from July 23-25.
A complete list of CGA championships, qualifiers, one-day tournaments, senior four-ball one-day tournaments, ladies' one-day events, TYGA events, USGA qualifying in the Carolinas, and online registration will be available on the CGA website at CarolinasGolf.org, at www.CGA.GolfGenius.com or by calling the CGA at 910-673-1000. Membership at a CGA member club is required to compete in any CGA championship or one-day tournament.
About the Carolinas Golf Association (CGA)
The CGA is a 501(c)(3) not-for-profit educational organization that was founded in 1909 to promote and to protect the game of golf in the Carolinas by providing competitions, education, support and benefits to golf clubs and golfers. The CGA is the second largest golf association in the country with over 700 member clubs represented by nearly 150,000 individuals.
The CGA annually conducts 48 championships and five team match competitions for men, women, juniors, and seniors. It also runs over 150 One-Day (net and gross) events as well as qualifying for USGA national championships. The CGA serves golf in the Carolinas with numerous programs such as: the USGA Handicap System; tournament management software and support; course measuring and course/slope ratings; agronomy consultation; answers about the Rules of Golf, Rules of Amateur Status, and Handicapping; Carolinas Golf Magazine; Interclub series; Tarheel Youth Golf Association; Carolinas Golf Hall of Fame; expense assistance for USGA Junior and Girls' Junior qualifiers from the Carolinas; and the Carolinas Golf Foundation (CGF). The CGF has distributed nearly $2,000,000 since 1977 to benefit Carolinas' golf initiatives including junior and women's programs.
For more information about the CGA, visit our website.