2019 CGA Internship Positions Available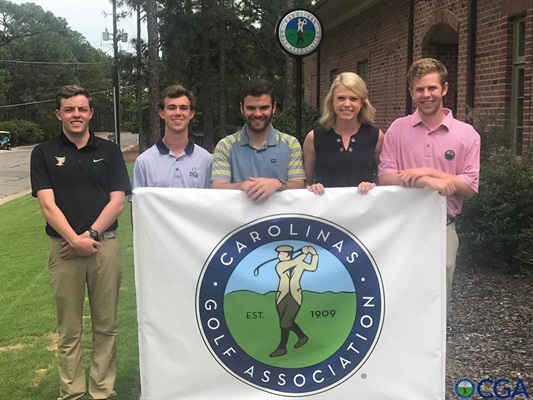 SOUTHERN PINES, N.C. (November 19, 2018) - The Carolinas Golf Association announces six paid internship opportunities for the summer of 2019. These three-month experiences involve exposure to all aspects of golf administration including, but not limited to: championships, qualifiers, USGA qualifiers and one-day tournaments; handicapping and course rating; communications and marketing; membership and general office administration. Interns will spend the summer traveling with CGA staff around North Carolina and South Carolina, experiencing some of the best golf courses in the country.
Operations interns will perform a variety of functions at tournaments including course set-up, starting, scoring, on-course Rules officiating, monitoring pace of play, coordinating tournament volunteers, social media updates and photography. Operations interns will get first-hand experience in tournament administration and work closely with CGA tournament directors. Operations interns will also get valuable experience in handicapping and course rating. Four operations intern positions are available.
Communications interns will focus on tournament communications which include social media updates, writing and posting tournament recaps, video creation and editing, updating content on association websites, preparing printed materials for players and spectators and photography. Communications interns will also help with tournament operations when needed and get exposure to other communcations tasks for the association.
Former CGA interns have gone on to work for the following organizations: United States Golf Association, Carolinas Golf Association, Southern California Golf Association, U.S. Kids Golf, Alabama Golf Association, LPGA Tour, Clemson University, Kiawah Island Golf Resort, and more.
Dates of employment for 2019 interns are May 13-August 16, 2019, but start and end dates are flexible. Cover letters and resumes should be submitted via email no later than January 25, 2019. Final employment decisions will be made by the end of February 2019. Three internships are supported by the USGA P.J. Boatwright intern program and three are funded by the CGA.
CGA Operations Internship Job Description (four positions available)
CGA Communications Internship Job Description (two positions available)
For more information, please contact:
Maggie Watts
Director of Women's Golf
(910) 673-1000

About the Carolinas Golf Association (CGA)
The CGA is a 501(c)(3) not-for-profit educational organization that was founded in 1909 to promote and to protect the game of golf in the Carolinas by providing competitions, education, support and benefits to golf clubs and golfers. The CGA is the second largest golf association in the country with over 700 member clubs represented by nearly 150,000 individuals.
The CGA annually conducts 48 championships and five team match competitions for men, women, juniors, and seniors. It also runs over 150 One-Day (net and gross) events as well as qualifying for USGA national championships. The CGA serves golf in the Carolinas with numerous programs such as: the USGA Handicap System; tournament management software and support; course measuring and course/slope ratings; agronomy consultation; answers about the Rules of Golf, Rules of Amateur Status, and Handicapping; Carolinas Golf Magazine; Interclub series; Tarheel Youth Golf Association; Carolinas Golf Hall of Fame; expense assistance for USGA Junior and Girls' Junior qualifiers from the Carolinas; and the Carolinas Golf Foundation (CGF). The CGF has distributed nearly $2,000,000 since 1977 to benefit Carolinas' golf initiatives including junior and women's programs.
For more information about the CGA, visit our website.

##30##