Results: Ladies' Play Day at Lion's Paw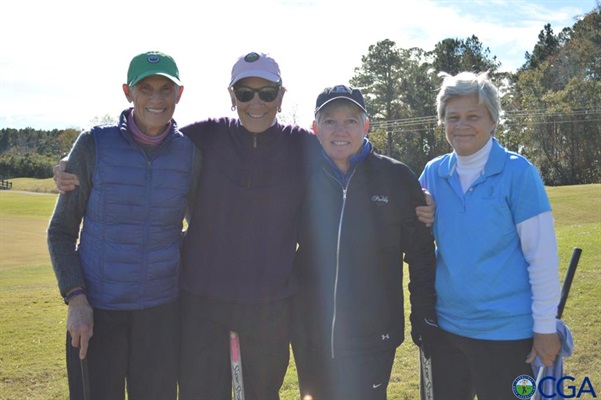 Ladies' Four-Ball Play Day Results
from Ocean Ridge Plantation (Lion's Paw)
SOUTHERN PINES, N.C. (November 29, 2018) -- Final results from the Ladies' Four-Ball Play Day hosted by Ocean Ridge Plantation's Lion's Paw Golf Club in Ocean Isle Beach, N.C. on Tuesday, November 27, 2018.
52 players competed in the ladies' four-ball play day at the Lion's Paw Golf Club at Ocean Ridge Plantation in Ocean Isle Beach, N.C. Winners in each flight received gross and net prizes.
Ladies' Four-Ball Play Days are 18-hole events of four-ball stroke play, with prizes given for gross and net winners in each flight. The field is flighted based on team Handicap Index®.
Results
First Flight
Pos.
Players
City, State
Gross
Net
1st Gross
Beth Coldwell / Suzanne Moro
Myrtle Beach, SC
75
66
1st Net
Bernadette Buckner / Rhonda Anders
Asheville, NC, Weaverville, NC
85
68
2nd Gross
Jackie Edmunds / Maria Malone
Greensboro, NC
81
69
2nd Net
Laura Rawl / Teddy Stockwell
Charleston, SC
83
69
Bonnie Cunningham / Karin Wolfe
Lexington, SC, Batesburg, SC
84
72
Dar McFadden / Holly Brenneman
Conway, SC, Ocean Isle Beach, NC
85
71
Jaime Bohnke / Kathy Ceruti
Chapin, SC
85
69
Lisa Milligan / Pamela Finlen
Reidsville, NC, Greensboro, NC
87
77
Carol Hill / Lisa Lee
Darlington, SC
89
70
Second Flight
Pos.
Players
City, State
Gross
Net
1st Gross
Joan Moore / Martha Ore
Eden, NC, Madison, NC
91
69
1st Net
June Groh / Kathy Littlejohn
Asheville, NC, Fairview, NC
93
71
2nd Gross
Julie Cowman / Mary Brown
Charlotte, NC, Waxhaw, NC
94
75
2nd Net
Christine Marti / Donna Pratt
Greensboro, NC
95
74
Anne Bourne / Jean Peters
Pinehurst, NC
96
77
Kathleen Taylor / Maryann Trent
Leesville, SC
97
75
Irene Garriga / Marianne Jones
Travelers Rest, SC, Cleveland, SC
97
76
Cristeen Falls / Sharon Smith
Sunset Beach, NC, Oak Ridge, NC
106
83
Judy Myers / Keith Webb
Ocean Isle Beach, NC, Bolivia, NC
NC
NC
Third Flight
Pos.
Players
City, State
Gross
Net
1st Gross
Candace Dewitt / Maggie Collins
Greensboro, NC
92
68
2nd Gross
Pat Blunda / Sandra Hood
Pawleys Island, SC
96
77
1st Net
Mason Nichols / Nell Gay
Middlesex, NC, Cary, NC
100
70
2nd Net
Cason Maccubbin / Phyllis Gill
Charlotte, NC
100
73
Debby Beck / Karen Walters
Statesville,NC, Conover, NC
97
76
Lori Leslie / Nancy Neubeiser
Prosperity, SC, Chapin, SC
98
74
Benjie Fowler / Charlotte Clayton
Wendell, NC, Raleigh, NC
98
76
Carolyn Williams / Janet Mackenzie
Charlotte, NC
105
77
About the Race to the Carolinas Cup and Ladies' Four-Ball Play Days
The Race to the Carolinas Cup is a season-long points competition in which players accumulate points based on team finish and participation in CGA Ladies' Four-Ball Play Days.
Four-Ball Play Days are ladies-only four-ball (better ball) competitions that are conducted at member clubs across North and South Carolina. Play Days are designed for players of all skill levels and abilities. These events are flighted by team Handicap Index and include gross and net prizes. Players have the option to play in two divisions at different yardages (one of which is always the most forward tees on the golf course). Most events will be a shotgun start and all events will include lunch.
Every team at every Four-Ball Play Day earns points in the Race to the Carolinas Cup based on their gross or net finish in their respective flight. Each team will also receive participation points. Team points will be split between players to apply to each player's individual standing in the Race to the Carolinas Cup. Players may play with any partner in any of the play days and earn points toward her individual standing. At the end of the Race to the Carolinas Cup regular season, the player with the most points will be named the Race to the Carolinas Cup champion. This award will be given at the year-end Carolinas Cup Tournament. Players in the Top 50 of the Race to the Carolinas Cup standings, as well as each gross and net flight winners at every play day, will be invited to participate in the Carolinas Cup Tournament at Kiawah Island Resort (Ocean). Players may compete with any partner that is also eligible for the tournament. The Carolinas Cup Tournament will be held on December 3, 2018 and will include a banquet and luncheon to celebrate the Race to the Carolinas Cup Champion as well as the Carolinas Cup Tournament winners.
More Information about the Race to the Carolinas Cup
2018 Ladies' Four-Ball Play Days Schedule
About the Carolinas Golf Association (CGA)
The CGA is a 501(c)(3) not-for-profit educational organization that was founded in 1909 to promote and to protect the game of golf in the Carolinas by providing competitions, education, support and benefits to golf clubs and golfers. The CGA is the second largest golf association in the country with over 700 member clubs represented by nearly 150,000 individuals.
The CGA annually conducts 48 championships and five team match competitions for men, women, juniors, and seniors. It also runs over 150 One-Day (net and gross) events as well as qualifying for USGA national championships. The CGA serves golf in the Carolinas with numerous programs such as: the USGA Handicap System; tournament management software and support; course measuring and course/slope ratings; agronomy consultation; answers about the Rules of Golf, Rules of Amateur Status, and Handicapping; Carolinas Golf Magazine; Interclub series; Tarheel Youth Golf Association; Carolinas Golf Hall of Fame; expense assistance for USGA Junior and Girls' Junior qualifiers from the Carolinas; and the Carolinas Golf Foundation (CGF). The CGF has distributed nearly $2,000,000 since 1977 to benefit Carolinas' golf initiatives including junior and women's programs.
For more information about the CGA, visit our website.
##30##