Three Tied in Mid-Amateur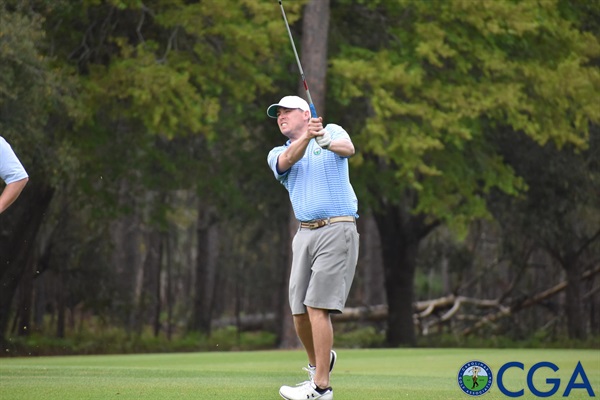 Timothy Driver of Holly Springs, NC
PAWLEYS ISLAND, S.C. (April 6) -- First round results of the Carolinas Mid-Amateur Championship at The Reserve Club in Pawleys Island, S.C. on Saturday, April 6 (6,790 yards, Par 36-36--72, Course Rating 72.4/135).
Related: Championship Web Site | Full Field of Players | Starting Times | Scoring | History
After 18 holes, three players are tied a top the leaderboard for the 39th Carolinas Mid-Amateur Championship hosted by McConnell Golf's The Reserve Club in Pawleys. Thomas Todd of Laurens, SC, Timothy Driver of Holly Springs, NC and Daniel Neveu of Pinehurst, NC shot four-under. Todd and Driver each used six birdies and two bogies to finish at 68. Neveu kept a clean card with four birdies and no bogies. The trio will take one shot lead into tomorrow's final round.
Sitting just one shot back going into the final round at three-under par are Chad Wilfong and Stephan Woodard of Charlotte, NC. Wilfong made three birdies and no bogies, while Woodard made fiver birdies and two bogies en route to their 69's.
Tomorrow will be the final round after the event was shortened to 36-holes because of rain during the first day of play.

39th Carolinas Mid-Amateur Championship
The Reserve Club | Pawleys Island, S.C.
First Round Results
| | | | | |
| --- | --- | --- | --- | --- |
| Pos. | Player | City, State | To Par | R1 |
| T1 | Daniel Neveu | Pinehurst, NC | -4 | 68 |
| T1 | Thomas Todd III | Laurens, SC | -4 | 68 |
| T1 | Timothy Driver | Holly Springs, NC | -4 | 68 |
| T4 | Stephen Woodard | Charlotte, NC | -3 | 69 |
| T4 | Chad Wilfong | Charlotte, NC | -3 | 69 |
| T6 | Jonathan Hockaday | Sanford, NC | -2 | 70 |
| T6 | Raymond Wooten | Clemson, SC | -2 | 70 |
| T8 | Brandon Mader | Greenville, NC | -1 | 71 |
| T8 | Chris Cassetta | High Point, NC | -1 | 71 |
| T8 | Chris Eassy | Greer, SC | -1 | 71 |
| T8 | Joe Jaspers | Huntersville, NC | -1 | 71 |
| T8 | Jonathan Maull | Charleston, SC | -1 | 71 |
| T8 | Evan Boyer | Morrisville, NC | -1 | 71 |
| T8 | Greg Earnhardt | Greensboro, NC | -1 | 71 |
| T8 | Josh Branyon | Honea Path, SC | -1 | 71 |
| T8 | Rob Hukill | Raleigh, NC | -1 | 71 |
| T17 | Eric Lipson | Charlotte, NC | E | 72 |
| T17 | Kevin Herring | La Grange, NC | E | 72 |
| T17 | Kyle Bearden | Barnwell, SC | E | 72 |
| T17 | Matt Kilgo | Charlotte, NC | E | 72 |
| T17 | Rich Weston | Pawleys island, SC | E | 72 |
| T17 | Scott park | Charlotte, NC | E | 72 |
| T17 | Walt Todd, Jr | Greenville, SC | E | 72 |
| T24 | Adam Langford | Murrells Inlet, SC | +1 | 73 |
| T24 | Brad Mangum | Iron Station, NC | +1 | 73 |
| T24 | Jordan Sease | Lexington, SC | +1 | 73 |
| T24 | Lee Palms | Greenville, SC | +1 | 73 |
| T24 | Matthew Crenshaw | Burlington, NC | +1 | 73 |
| T24 | Thomas Owen | Fayetteville, NC | +1 | 73 |
| T24 | Todd Hendley | Columbus, NC | +1 | 73 |
| T24 | Andrew Ward | Charlotte, NC | +1 | 73 |
| T24 | Brandon Reece | Rolesville, NC | +1 | 73 |
| T24 | Jarrett Grimes | Columbia, SC | +1 | 73 |
| T24 | Jeremy Ray | Pfafftown, NC | +1 | 73 |
| T35 | Dean Channell | Cary, NC | +2 | 74 |
| T35 | Gregg Jones | Florence, SC | +2 | 74 |
| T35 | Jason Smith | Raleigh, NC | +2 | 74 |
| T35 | Sherrill Britt | West End, NC | +2 | 74 |
| T35 | Stephen Lavenets | Willow Spring, NC | +2 | 74 |
| T35 | Brandon Truesdale | Rock Hill, SC | +2 | 74 |
| T35 | Brian Hayes | High Point, NC | +2 | 74 |
| T35 | Chris Culler | Camden, SC | +2 | 74 |
| T35 | Hank Sieling | Summerville, SC | +2 | 74 |
| T35 | Jack Radley | Bear Creek, NC | +2 | 74 |
| T35 | Matt O'Quinn | Beaufort, SC | +2 | 74 |
| T35 | Ryan Reynolds | Camden, SC | +2 | 74 |
| T47 | Banks Wood | Charlotte, NC | +3 | 75 |
| T47 | Brent McKenzie | Wake Forest, NC | +3 | 75 |
| T47 | Gary Pugh | Asheboro, NC | +3 | 75 |
| T47 | Jason Woodard | Greer, SC | +3 | 75 |
| T47 | John Pitt | Raleigh, NC | +3 | 75 |
| T47 | Mitch Robinette | Greensboro, NC | +3 | 75 |
| T47 | Terrain Gill | Charlotte, NC | +3 | 75 |
| T47 | Brock Elder | Randleman, NC | +3 | 75 |
| T47 | Christopher Sigler | Mount Pleasant, SC | +3 | 75 |
| T47 | Dustin Moore | Burlington, NC | +3 | 75 |
| T47 | Eric Williams | Goldsboro, NC | +3 | 75 |
| T47 | Jeff Tyrrell | Lyman, SC | +3 | 75 |
| T47 | Jim Aughtry | Concotd, NC | +3 | 75 |
| T47 | Nick Thompson | Vass, NC | +3 | 75 |
| T47 | Simon Boteler | Raleigh, NC | +3 | 75 |
| T47 | William Jamieson | Cary, NC | +3 | 75 |
| T63 | Anthony Conn | Raleigh, NC | +4 | 76 |
| T63 | Joe Kastelic | Hickory, NC | +4 | 76 |
| T63 | Phil Pfeiffer | Murrells Inlet, SC | +4 | 76 |
| T63 | Thomas Kennaday | Aiken, SC | +4 | 76 |
| T63 | Adam Bailey | New Hill, NC | +4 | 76 |
| T63 | Matthew Younts | Greensboro, NC | +4 | 76 |
| T63 | Michael Sims | Lexington, SC | +4 | 76 |
| T63 | Reid Clark | Raleigh, NC | +4 | 76 |
| T63 | Robert Dargan | Columbia, SC | +4 | 76 |
| T63 | Scott Burnett | Charlotte, NC | +4 | 76 |
| T63 | Scott Patnode | Belmont, NC | +4 | 76 |
| T63 | Sean Marks | Charlotte, NC | +4 | 76 |
| T75 | Daniel Ezelle | Taylors, SC | +5 | 77 |
| T75 | John Bearrie | Landrum, SC | +5 | 77 |
| T75 | Sam Echikson | Charlotte, NC | +5 | 77 |
| T75 | Scott Roberts | Lancaster, SC | +5 | 77 |
| T75 | Matt Drinkhahn | Charlotte, NC | +5 | 77 |
| T75 | Patrick McConville | Winston-Salem, NC | +5 | 77 |
| T75 | Stefan Brewer | Charlotte, NC | +5 | 77 |
| T75 | Walker Taylor | Wilmington, NC | +5 | 77 |
| T83 | David Boyce | Charlotte, NC | +6 | 78 |
| T83 | Fred Gahl | Raleigh, NC | +6 | 78 |
| T83 | George Kornegay | Charlotte, NC | +6 | 78 |
| T83 | Harrison Ashworth | Raleigh, NC | +6 | 78 |
| T83 | John O'Brien | Columbia, SC | +6 | 78 |
| T83 | Ryan Hub | Charlotte, NC | +6 | 78 |
| T83 | Brian Mull | Wilmington, NC | +6 | 78 |
| T83 | Greg Brastow | Myrtle Beach, SC | +6 | 78 |
| T83 | JD McNeill | Raleigh, NC | +6 | 78 |
| T83 | Ryan Wyble | Oak Ridge, NC | +6 | 78 |
| T93 | Bobby Few | Lugoff, SC | +7 | 79 |
| T93 | Jarrin Josue | Surfside Beach, SC | +7 | 79 |
| T93 | Jay Sylvan | Charlotte, NC | +7 | 79 |
| T93 | Joe Brooks | Franklin, NC | +7 | 79 |
| T93 | Weston Bell | Piedmont, SC | +7 | 79 |
| T93 | Zac Lewis | Fuquay Varina, NC | +7 | 79 |
| T93 | Adam Arnett | Belmont, NC | +7 | 79 |
| T93 | Brandon Bradosky | Ladson, SC | +7 | 79 |
| T93 | Brian Swenson | Charlotte, NC | +7 | 79 |
| T93 | Eric Nord | Blythewood, SC | +7 | 79 |
| T93 | Jerell Fields | Pineville, NC | +7 | 79 |
| T93 | Scott Lincicome | Pinehurst, NC | +7 | 79 |
| T105 | Andy Bower | Greensboro, NC | +8 | 80 |
| T105 | Brian Hepler | Wilmington, NC | +8 | 80 |
| T105 | Corey Iacofano | Charlotte, NC | +8 | 80 |
| T105 | Robert Lutomski | Simpsonville, SC | +8 | 80 |
| T105 | Samuel Ring | Carthage, NC | +8 | 80 |
| T105 | Shaw James | Chapin, SC | +8 | 80 |
| T105 | Tim Washburn | Raleigh, NC | +8 | 80 |
| T112 | Ken Knowles | Mooresville, NC | +9 | 81 |
| T112 | Steven Sherck | Charlotte, NC | +9 | 81 |
| T112 | Taylor Ferguson | Charlotte, NC | +9 | 81 |
| T112 | Brad Dawson | Mebane, NC | +9 | 81 |
| T112 | Michael Wilson | Fuquay Varina, NC | +9 | 81 |
| T117 | Douglas Perkins | Gastonia, NC | +10 | 82 |
| T117 | James Lightsey | Indian Land, SC | +10 | 82 |
| T117 | Paul Slomkowski | Colfax, NC | +10 | 82 |
| T117 | Michael Neece | Gastonia, NC | +10 | 82 |
| T121 | Eric Ardery | Durham, NC | +11 | 83 |
| T121 | Jarrod Conard | Canton, NC | +11 | 83 |
| T121 | Andres Lopez | Bluffton, SC | +11 | 83 |
| T121 | Chad Frye | Davidson, NC | +11 | 83 |
| T121 | Chris Campbell | Charleston, SC | +11 | 83 |
| T121 | Cody Drake | Charlotte, NC | +11 | 83 |
| T121 | Hunter Freeman | Raleigh, NC | +11 | 83 |
| T128 | Steve Wilson | Wilmington, NC | +12 | 84 |
| T128 | Jeremy Boggs | Fort Mill, SC | +12 | 84 |
| T128 | Kevin Burton | Chapin, SC | +12 | 84 |
| T128 | Steve Patterson | Charlotte, NC | +12 | 84 |
| 132 | John Hurt | Pawleys Island, SC | +13 | 85 |
| T133 | Mike Wilson | Ocean Isle Beach, NC | +15 | 87 |
| T133 | Damon Postal | Charlotte, NC | +15 | 87 |
| 135 | Brian Urban | Holly Springs, NC | +16 | 88 |
| 136 | Walter Love | Monroe, NC | +18 | 90 |
| WD | Brian Sanders | Greensboro, NC | - | WD |
| WD | Paul Brewer | Raleigh, NC | - | WD |
| WD | Tim Dean | Ocean Isle Beach, NC | - | WD |