Second Round Results: Carolinas Senior Four-Ball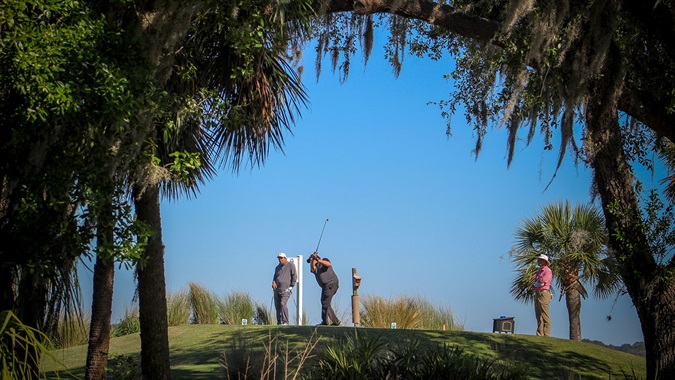 (Photo Courtesy of Dataw Island Club/Laura McCarthy)
DATAW ISLAND, S.C. (April 16, 2019) – Second round results of the 51st Carolinas Senior Four-Ball Championship at the Dataw Island Club (Cotton Dike), Dataw Island, S.C. on Tuesday, April 16, 2019.
Related: Championship Web Site | Full Field of Players | Starting Times | Scoring | History

Things got tighter at the top after round two of the Carolinas Senior Four-Ball Championship at Dataw Island Club. Our first round leaders, Walter Todd Sr. of Laurens, S.C. and Todd Hendley of Columbus, N.C. began the day with a three-shot lead, but that's been cut to one shot after a second round surge by Nolan Mills of Charlotte, N.C. and Robby Kirby of Charlotte, N.C.
Mills and Kirby, shot a 5-under, 67 to gain two-strokes on our leaders, Todd Sr. and Hendley, who finished round two with a three-under, 69.
The round of the day came from our defending champions, Stan Sill of Spartanburg, S.C. and Mike Gravley of Greer, S.C., who fired a six-under, 66 to pull within four shots of the leaders. After a first round of 72, the defending champs find themselves at six-under-par for the championship and tied for third.
Also tied for third place is Patrick Brady of Reidsville, N.C. and Steve Harwell of Mooresville, N.C. who shot a second round of 5-under, 67.
After 36 holes, the was cutline set at +2 with 32 teams making it to the final round of the 51st Carolinas Four-Ball Championship.
51st Carolinas Senior Four-Ball Championship
Dataw Island Club (Cotton Dike) | Dataw Island, S.C.
Second Round Results
| | | | | | | |
| --- | --- | --- | --- | --- | --- | --- |
| Pos. | Team | City, State | R1 | R2 | Total Score | To Par |
| 1 | Todd / Hendley | Laurens, SC / Columbus, NC | 65 | 69 | 134 | -10 |
| 2 | Mills / Kirby | Charlotte, NC | 68 | 67 | 135 | -9 |
| T3 | Sill / Gravley | Spartanburg, SC / Greer, SC | 72 | 66 | 138 | -6 |
| T3 | Brady / Harwell | Reidsville, NC / Mooresville, NC | 71 | 67 | 138 | -6 |
| T5 | Detweiler / Simson | Raleigh, NC | 68 | 71 | 139 | -5 |
| T5 | Turner / Pope | Greenville, SC / Honda Path, SC | 70 | 69 | 139 | -5 |
| 7 | Channell / Edmondson | Cary, NC / Morrisville, NC | 72 | 68 | 140 | -4 |
| T8 | Nichols / Motsinger | Reidsville, NC / Boomer, NC | 71 | 70 | 141 | -3 |
| T8 | Nevins / McAvoy | Kiawah Island, SC / Johns Island, SC | 71 | 70 | 141 | -3 |
| T8 | Elam / Stimart | Charlotte, NC | 72 | 69 | 141 | -3 |
| T8 | Berchiatti / Hargett | Greenville, SC / Blythewood, SC | 71 | 70 | 141 | -3 |
| T8 | Pearson / Grainger | Charlotte, NC | 72 | 69 | 141 | -3 |
| T8 | Nimmer / Taylor | Okatie, SC / Greenville, SC | 70 | 71 | 141 | -3 |
| T8 | Teem / Roller | Okatie, SC | 70 | 71 | 141 | -3 |
| T15 | Wrenn / Dennis | Greenville, SC | 72 | 70 | 142 | -2 |
| T15 | Hoffman / Kabas | Greenville, SC | 74 | 68 | 142 | -2 |
| T15 | Golden / Moye | Charlotte, NC / Southern Pines, NC | 76 | 66 | 142 | -2 |
| T18 | Carey / Byler | Hilton Head Island, SC | 72 | 71 | 143 | -1 |
| T18 | Morrison / Plyler | Charlotte, NC | 72 | 71 | 143 | -1 |
| T18 | Hunter / Nance | Georgetown, SC / Pinehurst, NC | 69 | 74 | 143 | -1 |
| T18 | Edens / Horne | Columbia, SC | 69 | 74 | 143 | -1 |
| 22 | Reece / Granger | Fort Mill, SC / Granite Falls, NC | 73 | 71 | 144 | E |
| T23 | Goodson / Helms | Lincolnton, NC / Mt. Holly, NC | 72 | 73 | 145 | +1 |
| T23 | Caprio / Hendrickson | Greer, SC / Charlotte, NC | 70 | 75 | 145 | +1 |
| T23 | Desjardins / Boles | Matthews, NC / Wilson, NC | 73 | 72 | 145 | +1 |
| T23 | Salerno / Barnes | Charlotte, NC | 71 | 74 | 145 | +1 |
| T23 | Bouguennec / Kelley | Pinehurst, NC | 72 | 73 | 145 | +1 |
| T23 | Eaker / Wilson | Forest City, NC / Wilmington, NC | 76 | 69 | 145 | +1 |
| T29 | Dietz / Dufresne | Saint Helena Island, SC / Dataw Island, SC | 73 | 73 | 146 | +2 |
| T29 | Clough / Houghton | Columbia, SC | 72 | 74 | 146 | +2 |
| T29 | Weiner / Ackerman | Kiawah Island, SC / Charleston, SC | 75 | 71 | 146 | +3 |
| | | Did Not Make the Cut | | | | |
| T32 | Fitzgerald / Williamson | Wilmington, NC | 74 | 73 | 147 | +3 |
| T32 | Fisk / Eberhard | Seabrook Island, SC / Johns Island, SC | 77 | 70 | 147 | +3 |
| T34 | Sumrow / Bishop | Charlotte, NC | 73 | 75 | 148 | +4 |
| T34 | Murphy / Fulton | Hilton Head Island, SC | 76 | 72 | 148 | +4 |
| T34 | Souza / Smunk | Simpsonville, SC / Port Royal, SC | 73 | 75 | 148 | +4 |
| T34 | Parks / Pike | Asheboro, NC / Kernersville, NC | 75 | 73 | 148 | +4 |
| T34 | Gianoukos / Gianoukos | Charleston, SC | 73 | 75 | 148 | +4 |
| T39 | Tyler / Goodwin | Chapin, SC / Swansea, SC | 75 | 74 | 149 | +5 |
| T39 | Galbavy / Farley | Seabrook Island, NC / Hanahan, SC | 76 | 73 | 149 | +5 |
| T39 | Padgette / Moore | North Charleston, SC / Isle of Palms, SC | 74 | 75 | 149 | +5 |
| T42 | Parrott / Rankin | Raleigh, NC | 77 | 73 | 150 | +6 |
| T42 | Pope / Carpenter | Spartanburg, SC / Creedmoor, NC | 76 | 74 | 150 | +6 |
| T42 | Teaster / Wallace | Cayce, SC / Columbia, SC | 76 | 74 | 150 | +6 |
| T42 | Odiorne / Shealy | Blythewood, SC / Columbia, SC | 77 | 73 | 150 | +6 |
| T46 | Grantham / Clark | New Bern, NC / Trent Woods, NC | 75 | 76 | 151 | +7 |
| T46 | Politi / Arnold | Hilton Head Island, SC | 76 | 75 | 151 | +7 |
| 48 | Burgess / Hammersla | Murrells Inlet, SC / Greenville, SC | 78 | 74 | 152 | +8 |
| T49 | Hodges / Smunk | Charlotte, NC / Kingstree, SC | 76 | 77 | 153 | +9 |
| T49 | Burnette / Armistead | Raleigh, NC | 77 | 76 | 153 | +9 |
| T51 | Wertz / McGowan | Saint Helena Island, SC | 77 | 78 | 155 | +11 |
| T51 | George / Rogers | Mullins, SC | 76 | 79 | 155 | +11 |
| 53 | Evans / Morris | Okatie, SC | 80 | 76 | 156 | +12 |
| 54 | McLauchlan / Rathman | Fuquay Varina, NC / Gastonia, NC | 81 | 76 | 157 | +13 |
| T55 | Glenn / Baker | Conover, NC / Valdese, NC | 79 | 79 | 158 | +14 |
| T55 | McCallie / Thomas | Durham, NC | 77 | 81 | 158 | +14 |
| 57 | Garrison / Bost | Hickory, NC | 80 | 79 | 159 | +15 |
| 58 | Ronalter / Adams | Pinehurst, NC | 82 | 79 | 161 | +17 |
| 59 | Buie / Eynon | Columbia, SC | 86 | 80 | 166 | +22 |
| WD | Whipple / Mullinax | Marietta, SC / Travelers Rest, SC | 78 | WD | 78 | - |
Schedule of rounds:
Monday, April 15
Round 1 - Tee times off #1 and #10 tees (8:00AM/12:30PM)
Lunch provided for all players
Tuesday, April 16
Round 2 - Tee times off #1 and #10 tees (8:00AM/12:30PM)
Cut to low 30 teams and ties
Wednesday, April 17
Round 3 - Tee times off #1 and #10 (8:00AM)
Awards ceremony following play at scoreboard