US Junior Amateur Sectional Qualifying- Benvenue CC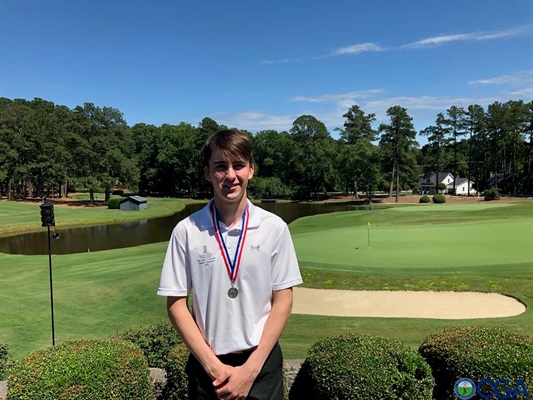 ROCKY MOUNT, NC– Final results from US Junior Amateur Sectional Qualifying hosted by Benvenue Country Club in Rocky Mount, NC on Tuesday, June 11, 2019 (6,525 yards, par 36-36—72).
Three qualifying spots and two alternate positions were available at this qualifying site.
Eoin Sullivan of the Republic of Ireland won medalist honors with a round of 2 under par 70. Symon Balbin of Pinehurst, NC, Connery Meyer of Marietta, GA and Eston Lee of Four Oaks, NC all shot rounds of 1 under par 71. Balbin and Meyer earned the 2nd and 3rd qualifier positions with pars on the 2nd playoff hole. Lee earned the 1st alternate position. Spencer Oxendine of Fayetteville, NC earned the 2nd alternate position with a round of even par 72.
The qualifiers will advance to the US Junior Amateur Championship at Inverness Club from July 15-20, 2019.
Hole-by-hole scoring can be viewed here: https://www.golfgenius.com/pages/1801162
This qualifier was conducted by the Carolinas Golf Association on behalf of the United States Golf Association.
2019 US Junior Amateur Sectional Qualifying
Benvenue Country Club, Rocky Mount, NC
Qualifying Results
Pos.

Player

To Par

Total

Details

1

Eoin Sullivan

-2

70

T2

Symon Balbin

-1

71

T2

Connery Meyer

-1

71

The following players did not make the cut

CUT

Eston Lee

-1

71

1st Alternate

CUT

Spencer Oxendine

E

72

2nd Alternate

CUT

Randall Hudson

1

73

CUT

Tyler Partee

1

73

CUT

Grayson Wotnosky

2

74

CUT

Todd Moyer

2

74

CUT

Gus Lascola

2

74

CUT

Joseph Pritchard

2

74

CUT

Clayson Good

2

74

CUT

Pearse Lucas

2

74

CUT

Davis Joye

3

75

CUT

Matias La Grutta

3

75

CUT

Devin Phillips

3

75

CUT

Garrett Risner

3

75

CUT

Thomas Lamb

3

75

CUT

Jackson Brimfield

4

76

CUT

Jake Herring

4

76

CUT

Harrison Wierse

4

76

CUT

Benjamin Bailey

4

76

CUT

Caden Baker

4

76

CUT

Zach Roberts

5

77

CUT

Owen Kose

5

77

CUT

Jackson Hill

5

77

CUT

Layne Lambert

5

77

CUT

Jack Slomkowski

5

77

CUT

Casey Osiecki

6

78

CUT

Kris Jackson

6

78

CUT

Cade Hancock

6

78

CUT

Wells Armes

6

78

CUT

Columb Knight

7

79

CUT

Davis Fisher

7

79

CUT

Frank Gilliam

7

79

CUT

Tyler Dechellis

7

79

CUT

Shaun Wixson

7

79

CUT

Nick Kleu

7

79

CUT

Austin Wood

8

80

CUT

Luke Nelson

8

80

CUT

Brendan Kelly

8

80

CUT

Caeden Lyons

9

81

CUT

William Bensch

9

81

CUT

Davis Spradling

9

81

CUT

Milan Minto

9

81

CUT

Josh Lendach

9

81

CUT

Alan Van Asch

9

81

CUT

Ethan Hall

9

81

CUT

Eli Denton

10

82

CUT

Andrew Plate

10

82

CUT

Quinlan Polin

10

82

CUT

Colin Dutton

10

82

CUT

Ryan Gorman

11

83

CUT

Wesley Aitken

11

83

CUT

Andrew Gallagher

11

83

CUT

Christopher Sperrazza

11

83

CUT

Calvin Hawkins

11

83

CUT

Jennings Glenn

11

83

CUT

Matt Valaoras

12

84

CUT

Jack Towarnicky

12

84

CUT

Benjamin Hays

12

84

CUT

Ryder Massey

13

85

CUT

Ben Jordan

13

85

CUT

Riley Sockwell

13

85

CUT

Nicklaus Sutton

13

85

CUT

Chase Cheatham

13

85

CUT

Brandon Jones

13

85

CUT

Tate Smith

14

86

CUT

Nick Norman

14

86

CUT

Blake Hess

16

88

CUT

Caleb Debass

17

89

CUT

Henry Pate

19

91

CUT

Drew Greene

19

91

CUT

Tyler Strickland

23

95

WD

Ryan McCarthy

-

WD

WD

Christian Jarrell

-

WD

WD

Robert Allen

-

WD

WD

Davis Adams

-

WD
Related: Hole-by-Hole Scoring | Tournament Website