Carolinas Amateur Qualifying Results Columbia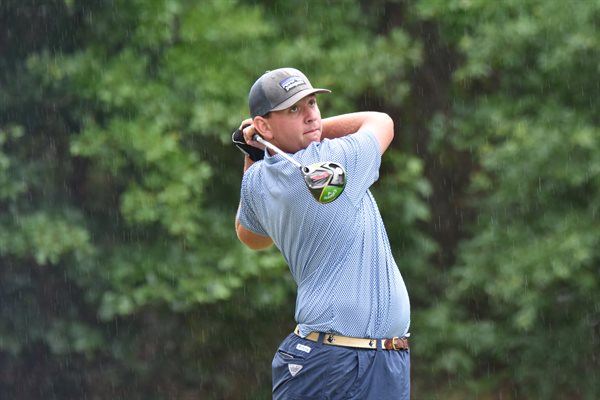 105th Carolinas Amateur Qualifying
from Columbia Country Club in Blythewood, SC

BLYTHEWOOD, S.C. (JUNE 12, 2019) -- Final results from 2019 Carolinas Amateur Qualifying at Columbia Country Club in Blythewood, SC on Wednesday, June 12, 2019 (7100 yards, par 36-36--72, Course/Slope rating: 72.2/132).
Henry Augenstein from Columbia, SC took home medalist honors with a score of two-under par 70.
The cut line fell at three-over par 75. 9 players advanced to the 105th Carolinas Amateur Championship that will be played at Governors Club in Chapel Hill, NC from July 11-14, 2019.
Related: Hole by Hole Scoring | Championship Website
Carolinas Amateur Qualifying Results
Columbia Country Club
Blythewood, S.C.
Pos.

Player

City, State

To Par

Total Score

1

Henry Augenstein

Columbia, SC

-2

70

2

Zach McLain

Gilbert, SC

-1

71

T3

Seth Taylor

Gaffney, SC

+1

73

T3

John O'Brien

Columbia, SC

+1

73

T5

Connor Moore

Bluffton, SC

+2

74

T5

Brian Langley

Bluffton, SC

+2

74

T7

Parker Fain

Boiling Springs, SC

+3

75

T7

Evans Lewis

Sumter, SC

+3

75

T7

Michael Rials

Florence, SC

+3

75

The following players did not make the cut

CUT

Nick Russell

Hilton Head Island, SC

+4

76

CUT

Jarrett Grimes

Columbia, SC

+4

76

CUT

Cameron Cappuzzo

Fort Mill, SC

+4

76

CUT

Jackson Whitfield

Pendleton, SC

+5

77

CUT

McClure Thompson

Little River, SC

+5

77

CUT

Nicholas Mayfield

Rock Hill, SC

+6

78

CUT

Steven Strasheim

Bluffton, SC

+6

78

CUT

Joey Maxon

Clemson, SC

+6

78

CUT

Ben Brodhead

Charleston, SC

+6

78

CUT

Holden Grigg

myrtle beach, SC

+8

80

CUT

Kyle Putkonen

Hilton Head, SC

+8

80

CUT

William Sullivan

Columbia, SC

+8

80

CUT

Will Hicks

Camden, SC

+9

81

CUT

Matthew Griego

Loris, SC

+10

82

CUT

Evan Greenplate

Hilton Head Island, SC

+11

83

CUT

Burns McBride

Florence, SC

+11

83

CUT

Alec Vardas

Lexington, SC

+12

84

CUT

Onterio Jones

Simpsonville, SC

+14

86

WD

Daniel Kopp

Murrells Inlet, SC

-

WD