Schuster Off to Hot Start at NC Junior Girls'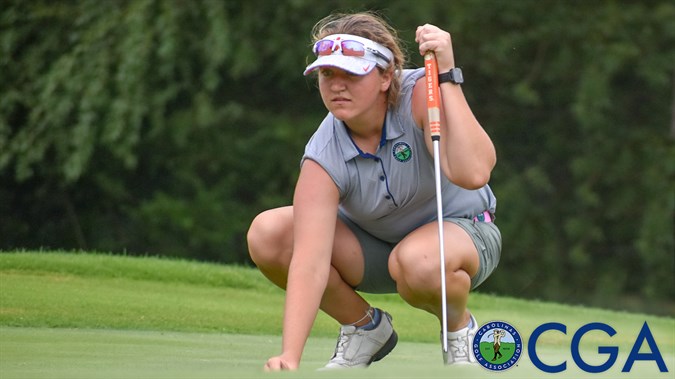 Katherine Schuster Remains the Top-Seeded Golfer Heading into the Round of 16 at the NC Junior Girls' Championship
By: Aleema Jack/CGA Communications Intern
WILSON, N.C. (June 12, 2019) -- Second round of stroke play qualifying and Round of 32 match play results of the 23rd North Carolina Junior Girls' Championship at Wilson Country Club in Wilson, N.C. on Wednesday, June 12, 2019. (6,025 yards, Par 36-36--72, Course Rating 75.1/131)
Related: Championship Web Site | Full Field of Players | Starting Times | Scoring | History
Note: Due to weather, the second round of stroke play qualifying was reduced to 9-holes.
2018 Carolinas Junior Girls' Player of the Year Katherine Schuster of Kill Devil Hills, N.C. finished with a two-under-par 34 in the second round of stroke play qualifying to secure medalist honors and the No. 1 seed in match play. Three birdies and a bogey on day two gave her the momentum needed to secure medalist honors by two strokes at Wilson Country Club.
"Today I tried to go as low as I could go. I just wanted to post a good score and whatever happened, happened. I tried to stay the course," said Schuster.
Maria Atwood of Holly Springs, N.C. finished two strokes behind Schuster, claiming the No. 2 seed for match play. Atwood finished her nine-hole qualifying round bogey free at level-par, 36.
Alexis Sudjianto of Charlotte, N.C., Caroline Crumrine of Wilmington, N.C., Deborah Spair of Raleigh, N.C. and Riley Hamilton of Reidsville, N.C. finished at 3-over-par and were tied for third after stroke-play qualifying.
Most of the top seeds won their matches outright in the Round of 32 matches. No. 1 seed Katherine Schuster defeated number 32 seed Bethany Welch of Matthews, N.C. 5 and 3. Three of the four top seeds advanced to the Round of 16 matches, including Atwood and Sudjianto.
Some higher seeds played some impeccable golf and were able to defeat their opponent. No. 23 seed Lotte Fox of Raleigh, N.C. defeated No. 10 seed Jaclyn Kenzel of Southern Pines, N.C., 1 up.
"It felt really good, especially after not playing so well in stroke play, to come back felt really nice. It boosts my confidence knowing that I can beat number 10. She has played very well the past few days so it definitely helps," said Fox.
The biggest upset of the day was No. 29 seed Ella Kue of Kings Mountain, N.C., who fought hard through all 18 holes to win her match 1 up against day one leader and No. 4 seed Crumine.
"I still really can't believe it. It was re+ally stressful," said Kue. "We played until No. 18 and it was really unexpected. I like match play because if you mess up on a hole, you can just make it up on the next hole."
The Round of 16 matches begin Thursday morning and play will continue Thursday afternoon with quarterfinal matches. Semifinal matches will be held on Friday morning with the final match taking place in the afternoon.
The championship format was modified to 27 holes of stroke play qualifying followed by match play. Top 32 in stroke play qualifying advanced to match play.
Entry is open to any female amateur golfer ages 12 to 18 as of June 14, 2018, who has not started college, is a legal resident of North Carolina, is a member in good standing of a club which is a member of the Carolinas Golf Association (CGA) and has a current USGA Handicap Index at a CGA member club. Entries are subject to rejection at any time, including during the event, by the CGA or the host club.
Scoring will be provided by the CGA throughout the championship, offering 9 and 18-hole updates. Live updates will also be available on the CGA's official Twitter account, @cgagolf1909. Continue to visit the CGA website throughout this championship and all year long for complete championship coverage including scores, interviews, photos, and recaps.

23rd North Carolina Junior Girls' Championship
Wilson Country Club | Wilson, N.C.
Round Two Stroke Play Qualifying and Round of 32 Match Play Results
| | | | | | | |
| --- | --- | --- | --- | --- | --- | --- |
| Pos. | Player | City, State | To Par | T1 | T2 | Total |
| 1 | Katherine Schuster | Kill Devil Hills, NC | -1 | 73 | 34 | 107 |
| 2 | Maria Atwood | Holly Springs, NC | +1 | 73 | 36 | 109 |
| T3 | Alexis Sudjianto | Charlotte, NC | +3 | 76 | 35 | 111 |
| T3 | Caroline Crumrine | Wilmington, NC | +3 | 70 | 41 | 111 |
| T3 | Deborah Spair | Raleigh, NC | +3 | 73 | 38 | 111 |
| T3 | Riley Hamilton | Reidsville, NC | +3 | 73 | 38 | 111 |
| 7 | Napat Rattanaprakarn | Kenly, NC | +4 | 74 | 38 | 112 |
| 8 | Erin Singleton | Apex, NC | +5 | 74 | 39 | 113 |
| 9 | Sophie Holland | Cornelius, NC | +6 | 78 | 36 | 114 |
| T10 | Ella Perna | Durham, NC | +7 | 76 | 39 | 115 |
| T10 | Jaclyn Kenzel | Southern Pines, NC | +7 | 77 | 38 | 115 |
| T12 | Emily Brubaker | Raleigh, NC | +9 | 78 | 39 | 117 |
| T12 | Grayson Warren | Washington, NC | +9 | 76 | 41 | 117 |
| T12 | Trinity Ahing | New Bern, NC | +9 | 73 | 44 | 117 |
| T15 | Ana Tsiros | Asheville, NC | +10 | 79 | 39 | 118 |
| T15 | Victoria Cook | Reidsville, NC | +10 | 81 | 37 | 118 |
| 17 | Macie Burcham | Greensboro, NC | +11 | 78 | 41 | 119 |
| 18 | Grace Holcomb | Wilmington, NC | +12 | 81 | 39 | 120 |
| T19 | Anna McDonald | Hickory, NC | +13 | 78 | 43 | 121 |
| T19 | Bailee Twiford | Coinjock, NC | +13 | 83 | 38 | 121 |
| 21 | Anna Claire Bridge | Raleigh, NC | +14 | 81 | 41 | 122 |
| T22 | Becca Connolly | Winston Salem, NC | +16 | 85 | 39 | 124 |
| T22 | Lotte Fox | Raleigh, NC | +16 | 84 | 40 | 124 |
| T22 | Mara Hirtle | Pinehurst, NC | +16 | 85 | 39 | 124 |
| T25 | Braelyn Pippin | Waxhaw, NC | +17 | 84 | 41 | 125 |
| T25 | Gabriela Cruz | High Point, NC | +17 | 82 | 43 | 125 |
| T25 | Heather Appelson | Wake Forest, NC | +17 | 82 | 43 | 125 |
| T25 | Kayla Dowell | Mebane, NC | +17 | 81 | 44 | 125 |
| 29 | Ella Kue | King Mountain, NC | +18 | 83 | 43 | 126 |
| T30 | Kallie Pavlish | Charlotte, NC | +19 | 84 | 43 | 127 |
| T30 | Mary Sears Brown | Wake Forest, NC | +19 | 82 | 45 | 127 |
| 32 | Bethany Welch | Matthews, NC | +21 | 85 | 44 | 129 |
| | | FAILED TO QUALIFY | | | | |
| 33 | Toni Blackwell | Fayetteville, NC | +25 | 90 | 43 | 133 |
| 34 | Maci Beaver | Roanoke Rapids, NC | +26 | 89 | 45 | 134 |
| 35 | Taylor Capps | Middlesex, NC | +29 | 86 | 51 | 137 |
| 36 | Grace Greene | Apex, NC | +41 | 94 | 55 | 149 |
| WD | Carson Jenkins | Raleigh, NC | | WD | | WD |
| DQ | Caroline Isaacson | Greensboro, NC | | DQ | | DQ |
Round of 32 Results
Katherine Schuster, Kill Devil Hills, N.C. def. Bethany Welch, Matthews, N.C., 5 & 3
Macie Burcham, Greensboro, N.C. def. Ana Tsiros, Asheville, N.C., 4 & 3
Erin Singleton, Apex, N.C. def. Braelyn Pippin, Waxhaw, N.C., 1 up
Sophie Holland, Cornelius, N.C. def. Becca Connolly, Winston Salem, N.C., 6 & 4
Ella Kue, King Mountain, N.C. def. Caroline Crumrine, Wilmington, N.C., 1 up
Grayson Warren, Washington, N.C. def. Anna McDonald, Hickory, N.C., 3 & 1
Deborah Spair, Raleigh, N.C. def. Heather Appelson, Wake Forest, N.C., 6 & 5
Trinity Ahing, New Bern, N.C. def. Anna Claire Bridge, Raleigh, N.C., 2 up
Maria Atwood, Holly Springs, N.C. def. Mary Sears Brown, Wake Forest, N.C., 4 & 2
Victoria Cook, Reidsville, N.C. def. Grace Holcomb, Wilmington, N.C., 19 holes
Napat Rattanaprakarn, Kenly, N.C. def. Kayla Dowell, Mebane, N.C., 2 & 1
Lotte Fox, raleigh, N.C. def. Jaclyn Kenzel, Southern Pines, N.C., 1 up
Alexis Sudjianto, Charlotte, N.C. def. Kallie Pavlish, Charlotte, N.C., 5 & 4
Bailee Twiford, Coinjock, N.C. def. Emily Brubaker, Raleigh, N.C., 3 & 2
Riley Hamilton, Reidsville, N.C. def. Gabriela Cruz, High Point, N.C., 3 & 2
Ella Perna, Durham, N.C. def. Mara Hirtle, Pinehurst, N.C., 2 & 1
Schedule of Remaining Rounds:
Thursday, June 13
Round of 16 Match Play (8:00 a.m. off #1 tee)
Quarterfinals Match Play (12:00 p.m. off #1 tee)
Friday, June 14
Semifinal Matches (8:00 a.m. off #1 tee)
Final Match (12:00 p.m. off #1 tee)
Awards ceremony immediately following final match