Parrott Claims the 47th SC Amateur Match Play Championship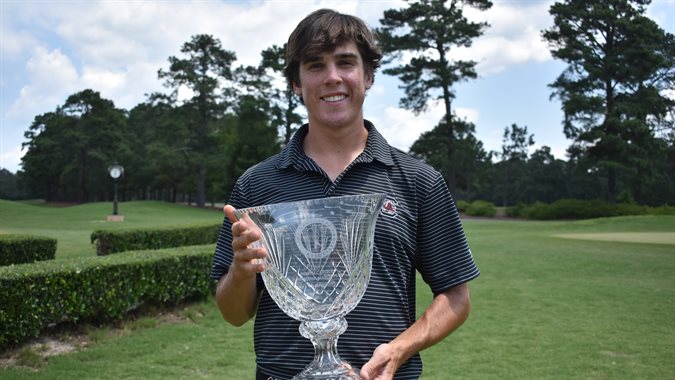 BLYTHEWOOD, S.C. (June 16, 2019) -- Final results of the 47th South Carolina Amateur Match Play Championship at Columbia Country Club in Blythewood, S.C. on Sunday, June 16, 2019. (7,150 yards, Par 36-36--72)
Related: Championship Web Site | Full Field of Players | Starting Times | Scoring | History
Jack Parrott of Columbia, S.C. defeated Logan Sowell of Kershaw, S.C. in 21 holes to claim the title of 47th South Carolina Amateur Match Play Champion.
"I had to trust myself and know that I could pull off the shots if I needed. Thankfully I just did, at least through 18 holes and was able to go on and win in extras," said Parrott.
Parrott lead or was tied for 20 out of the 21 holes and only trailed Sowell after the 12th hole. However on the 18th hole, Sowell missed a putt by inches that could have lead to Parrott's defeat before extra holes.
"Honestly I thought it was over," said Parrott. "I hit a good shot, but it ended up in the bunker. I was in between clubs and I just pulled something. I hit it in there about 30 feet and thankfully two-putted, but he [Sowell] had a 10 or 12-footer that just skirted by the edge. So I was thankful to get out of that and have another chance to go in extras."
The close calls did not end on 18 as Sowell and Parrott continued to tie each extra hole until Parrott's birdie putt on the 21st hole to win the championship.
"After playing like 130 holes I am pretty exhausted, but it definitely feels nice. I am thankful that it was such a great match and that I was able to come out on top."
The CGA would like to thank the members and staff of Columbia Country Club for their amazing hospitality in hosting the SC Amateur Match Play. A special gratitude is extended to superintendent, Sam Friar.
47th South Carolina Amateur Match Play Championship
Columbia Country Club | Blythewood, S.C.
Final Match Play Results
Jack Parrott, Columbia, S.C. def. Logan Sowell, Kershaw, S.C., 21 holes
About the Carolinas Golf Association (CGA)
The CGA is a 501(c)(3) not-for-profit educational organization that was founded in 1909 to promote and to protect the game of golf in the Carolinas by providing competitions, education, support and benefits to golf clubs and golfers. The CGA is the second largest golf association in the country with over 700 member clubs represented by nearly 150,000 individuals.
The CGA annually conducts 48 championships and five team match competitions for men, women, juniors, and seniors. It also runs over 150 One-Day (net and gross) events as well as qualifying for USGA national championships. The CGA serves golf in the Carolinas with numerous programs such as: the USGA Handicap System; tournament management software and support; course measuring and course/slope ratings; agronomy consultation; answers about the Rules of Golf, Rules of Amateur Status, and Handicapping; Carolinas Golf Magazine; Interclub series; Tarheel Youth Golf Association; Carolinas Golf Hall of Fame; expense assistance for USGA Junior and Girls' Junior qualifiers from the Carolinas; and the Carolinas Golf Foundation (CGF). The CGF has distributed nearly $2,000,000 since 1977 to benefit Carolinas' golf initiatives including junior and women's programs.
For more information about the CGA, visit our website.
##30##