US Girls' Junior Qual- Blowing Rock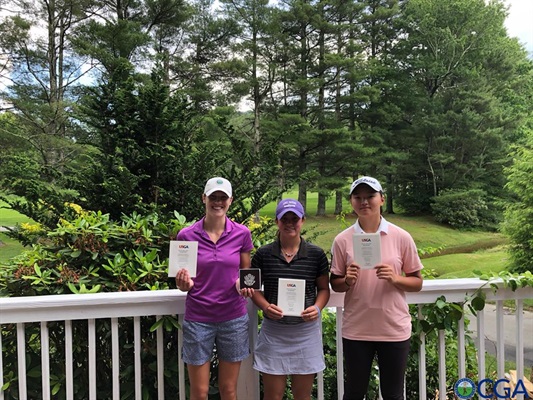 BLOWING ROCK, NC (June 17, 2019) – Sectional qualifying results for the US Girls' Junior Championship hosted by Blowing Rock Country Club in Blowing Rock, NC on Monday, June 17th, 2019 (6,150 Yards, Par 36-36—72).
Kayla Smith of Burlington, NC earned medalist honors with a round of 70 to shoot two-under par. Also qualifying were Yoonmin Han of Bradenton, FL with a score of one-under par 71 and Kendall Turner of Chesapeake, VA with a score of three-over par 75.
Macy Pate of Boone, NC won first alternate with a round of 76 and Riley Hamilton of Reidsville, NC won second alternate with a round of 77.
The championship will be played at SentryWorld in Stevens Point, WI from July 22-27.
Related: Hole by Hole Scoring | Championship Website
Qualifying Results
Pos.

Player

To Par

Total

Details

1

Kayla Smith

-2

70

2

Yoonmin Han

-1

71

3

Kendall Turner

3

75

The following players did not make the cut

CUT

Macy Pate

4

76

1st Alternate

CUT

Riley Hamilton

5

77

2nd Alternate

CUT

Emily Mathews

6

78

CUT

Ella Perna

6

78

CUT

Phoebe Carles

6

78

CUT

Victoria Cook

7

79

CUT

Molly Hardwick

8

80

CUT

Caroline Craig

8

80

CUT

Emily Dunlap

8

80

CUT

Agustina Gomez Cisterna

8

80

CUT

Hailey Pendleton

9

81

CUT

Halynn Lee

9

81

CUT

Kennedy Anne Noe

10

82

CUT

Ana Tsiros

10

82

CUT

Maika Llarena Cervantes

10

82

CUT

Layla Meric

10

82

CUT

Madison Logan

12

84

CUT

Yu Sun Sharon Kim

12

84

CUT

Becca Connolly

12

84

CUT

Kayla Dowell

12

84

CUT

Isabella Britt

13

85

CUT

Lotte Fox

13

85

CUT

Macie Burcham

13

85

CUT

Katelyn David

14

86

CUT

Megan Morris

14

86

CUT

Gabriela Cruz

15

87

CUT

Chloe Pittman

15

87

CUT

Lauren Denhard

16

88

CUT

Anna McDonald

16

88

CUT

Edithe Lam

17

89

CUT

Morgan Ketchum

17

89

CUT

Ryann Sinclair

20

92

WD

Hannah Nall

-

WD

WD

Audrey Nelson

-

WD

WD

Lauren Martin

-

WD