NC Junior Boys' Round of 64 Results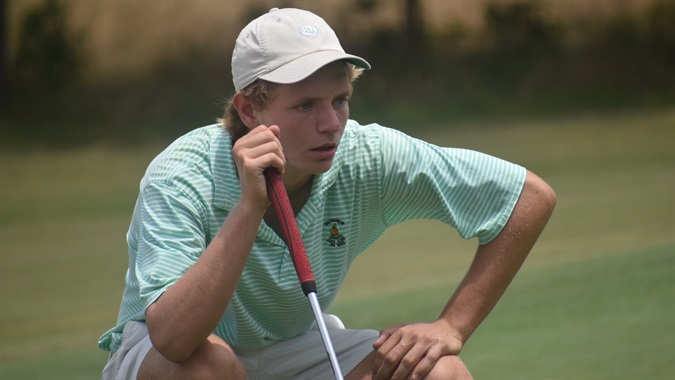 Jackson Brimfield (above) of Chapel Hill, N.C. was able to win his morning match on the 20th hole.
RALEIGH, N.C. (June 26, 2019) -- Round of 64 results of the 52nd North Carolina Junior Boys' Championship at Lonnie Poole Golf Course in Raleigh, N.C. on Wednesday, June 26, 2019.
Related: Championship Web Site | Full Field of Players | Starting Times | Scoring | History
The morning's round of 64 is complete and the afternoon wave is out on the course. By this evening, our original field of 146 players will be down to just 16.
Our stroke-play medalist and number one seed, Peter Fountain of Raleigh, N.C., won his morning match against Jace Arko of Cornelius, N.C., 4 and 3. Fountain will faceoff against the youngest player left in the field, Bryan Fang, 14 , also of Raleigh, N.C.
The biggest upset of the morning came from the number 60 seed, Owen Swavely of Mooresville, N.C., defeated the number five seed, Jack Marcotte of Apex, N.C. With six holes left to play, Marcotte found himself six down. Marcotte battled back and won the next five holes in a row but Swavely was able to hang on and win the match 1 up on No. 18.
Another large upset came from the number 51 seed, Jackson Brimfield (pictured above) of Chapel Hill, N.C. whose match went to extra holes against the number 14 seed, Noah Connor of Reidsville, N.C. Brimfield's win on the 20th hole means he will face off against another higher seed that won his morning match, Brian Wei of Raleigh, N.C.
The round of 32 is underway and results will be updated periodically as we are able to connect with the groups.
52nd North Carolina Junior Boys' Championship
Lonnie Poole Golf Course | Raleigh, N.C.
Round of 64 Results
Peter Fountain, Raleigh, N.C., (2020) def. Jace Arko, Cornelius, N.C., (2019), 4 & 3
Bryan Fang, Raleigh, N.C., (2023) def. Andrew Gallagher, Grimesland, N.C., (2021), 1 up
Austin Alexander, Rutherfordton, N.C., (2020) def. Ian Johnson, Cornelius, N.C., (2019), 4 & 3
Jack Hart, Charlotte, N.C., (2020) def. Ben Morehead, Charlotte, N.C., (2020), 5 & 4
Zane Sullivan, Charlotte, N.C., (2019) def. Jake Clodfelter, Trinity, N.C., (2020), 3 & 2
Ethan Hall, Morehead City, N.C., (2019) def. Robert Salisbury, Winston-Salem, N.C., (2019), 5 & 3
Christopher Sperrazza, Raleigh, N.C., (2019) def. Daniel Duffie, Gastonia, N.C., (2019), 6 & 4
Garrett Risner, Holly Springs, N.C., (2020) def. Addison Beam, Cherryville, N.C., (2019), 2 & 1
Symon Balbin, Pinehurst, N.C., (2019) def. Hank Robins, Salisbury, N.C., (2020), 5 & 3
Daniel Adkins, Holly Springs, N.C., (2021) def. Parker Cumbea, Fuquay Varina, N.C., (2021), 7 & 5
Caleb Surratt, Indian Trail, N.C., (2022) def. Tommy Lamb, Cary, N.C., (2020), 3 & 1
Timmy Gannon, Charlotte, N.C., (2021) def. Alex Campbell, Charlotte, N.C., (2020), 5 & 3
Owen Swavely, Mooresville, N.C., (2019) def. Jack Marcotte, Apex, N.C., (2019), 1 up
Zach Brown, Bermuda Run, N.C., (2019) def. Davis Adams, Raleigh, N.C., (2022), 1 up
Charlie Barr, Salisbury, N.C., (2021) def. Henry Muller, Charlotte, N.C., (2020), 3 & 2
Caden Baker, Mebane, N.C., (2021) def. Owen Kose, Holly Springs, N.C., (2022), 2 up