Fountain Claims NC Junior Boys' Championship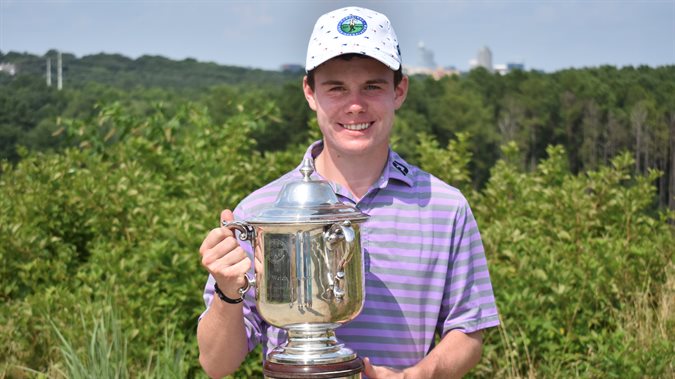 RALEIGH, N.C. (June 28, 2019) -- Semifinals and final match play results of the 52nd N.C. Junior Boys' Championship at Lonnie Poole Golf Course in Raleigh, N.C. on Friday, June 28, 2019.
In some rare cases, you come across a matchplay where birdie on a hole does not automatically mean you win the hole. Peter Fountain of Raleigh, N.C. played some consistent golf during his semi final match as his first birdie came on the second hole to go 1 up against Symon Balbin of Pinehurst, N.C. Birdies number two and three came on holes five and seven to move Fountain to 3 up. While Balbin competed at a high level, par simply wasn't enough against Fountain as Fountain made the turn 3 up.
"I made very few mistakes this morning. I had an eagle putt on the 15th hole which got things going" said Fountain.
Balbin scrambled and fought his way through the last few holes on the back nine sinking a 15-foot putt to square the 11th hole. Meanwhile, Fountain's birdie on the 12th and 13th hole caused Balbin to concede the match on the putting green of the 15th hole to end the match; 5 and 3.
Alex Heffner of Harrisburg, N.C. defeated Randall Hudson of New Bern, N.C. 3 and 2 in the semifinal match. Heffner played an impressive match being tied or leading on all of his holes.
Turning over a new leaf and starting fresh was Fountain's motto going into the final match against Alex Heffner of Harrisburg, N.C. Heffner carried his momentum from the semifinal match into the beginning of the championship match against Fountain as he was 1 up through the first three holes.
"I was playing very well this afternoon. I just wasn't hitting it very close to put it in range" said Fountain. "I trusted my game. I'd been playing well all week so I knew if I just stayed patient and trusted that good things would eventually come".
A little stumble didn't stop Fountain from reaching for the top as a par and a birdie on the 4th and 5th holes were enough to give him his first lead at 1 up. He kept that momentum throughout the front nine until the 12th hole where Heffner sank a birdie putt to gain a hole back and tie the match. That momentum did not last long as Fountain made two more birdies on the back nine moving him to 2 up going into the 17th hole. A simple two-putt par on the 17th was enough to bring home the trophy.
The Carolinas Golf Association would like to thank the club members and staff of Lonnie Poole Golf Club for hosting this event. The tournament would not be possible without their dedication and hard work. A special thank you to Chip Watson, General Manager, Nick Dillman, Director of Golf and Brian Green, Director of Golf Course Maintenance.
52nd N.C. Junior Boys' Championship
Lonnie Poole Golf Course | Raleigh, N.C.
Semifinal Results
Peter Fountain, Raleigh, N.C. def. Symon Balbin, , N.C., 5 and 3
Alex Heffner, Harrisburg, N.C. def. Randall Hudson, New Bern, N.C., 3 and 2
52nd N.C. Junior Boys' Championship
Lonnie Poole Golf Course | Raleigh, N.C.
Championship Match Play Results
Peter Fountain, Raleigh, N.C. def. Alex Heffner, Harrisburg, N.C., 2 and 1.
About the Carolinas Golf Association (CGA)
The CGA is a 501(c)(3) not-for-profit educational organization that was founded in 1909 to promote and to protect the game of golf in the Carolinas by providing competitions, education, support and benefits to golf clubs and golfers. The CGA is the second largest golf association in the country with over 700 member clubs represented by nearly 150,000 individuals.
The CGA annually conducts 48 championships and five team match competitions for men, women, juniors, and seniors. It also runs over 150 One-Day (net and gross) events as well as qualifying for USGA national championships. The CGA serves golf in the Carolinas with numerous programs such as: the USGA Handicap System; tournament management software and support; course measuring and course/slope ratings; agronomy consultation; answers about the Rules of Golf, Rules of Amateur Status, and Handicapping; Carolinas Golf Magazine; Interclub series; Tarheel Youth Golf Association; Carolinas Golf Hall of Fame; expense assistance for USGA Junior and Girls' Junior qualifiers from the Carolinas; and the Carolinas Golf Foundation (CGF). The CGF has distributed nearly $2,000,000 since 1977 to benefit Carolinas' golf initiatives including junior and women's programs.
For more information about the CGA, visit our website.
##30##