U.S. Women's Amateur Qualifying Results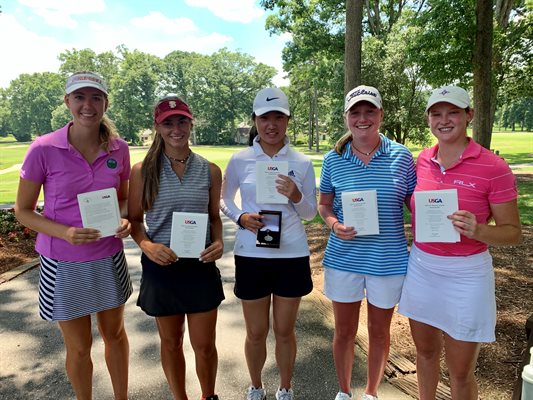 2019 U.S. Women's Amateur Qualifying
from Bermuda Run Country Club (East) in Advance, N.C.

ADVANCE, N.C. (July 2, 2019) -- Final results from 2019 U.S. Women's Amateur Qualifying at Bermuda Run Country Club (East) in Advance, N.C. on Tuesday, July, 2 (6331 yards, par 36-36--72, Course/Slope rating: 77.1/141).
Joyce Jin of China carded a two-under-par 70 to claim medalist honors at the U.S. Women's Amateur Qualifier at Bermuda Run Country Club's East course in Advance, N.C. Three Carolinians also qualified for the championship, including Emily Hawkins of Lexington, N.C. (71), Anna Morgan of Spartanburg, S.C. (72), and Elle Johnson of Inman, S.C. (72). Caroline Wrigley of Wexford, P.A. also qualified with an even-par 72.
Riley Smyth of Cary, N.C. is the first alternate. Anita Uwadia of Nigeria is the second alternate.
Five qualifying spots and two alternate positions were available at this qualifying site.
The championship proper will be held at the Old Waverly Golf Club in West Point, Mississippi on August 5-11, 2019.
This qualifier was conducted by the Carolinas Golf Association on behalf of the United States Golf Association.
Results
Player
City, State
Total
Jiarui (Joyce) Jin
China
Medalist
70
Emily Hawkins
Lexington, NC
71
Anna Morgan
Spartanburg, SC
72
Elle Johnson
Inman, SC
72
Caroline Wrigley
Wexford, PA
72
The following players did not make the cut
Riley Smyth
Cary, NC
1st Alternate
73
Anita Uwadia
Lagos, NGR
2nd Alternate
73
Hannah Rose Bruxvoort
Chapel Hill, NC
73
Siarra Stout
Franklin, TN
74
Caroline Craig
Sautee Nacoochee, GA
74
Sarah Spicer
Bahama, NC
74
Gracyn Burgess
Lexington, SC
74
Carly Burkhardt
Greenville, SC
74
Madison Barnett
Mableton, GA
75
Madison Isaacson
Greensboro, NC
75
Sydney Yermish
Wynnewood, PA
75
Hadley Walts
Evansville, IN
76
Pin-Wen Lu
Taipei, TPE
76
Kathleen Sumner
Charleston, SC
76
Sophia Burnett
Bluffton, SC
76
Stacey White
Australia
76
Muskan Uppal
Cornelius, NC
76
Tonrak Tasaso
Nakhon Pathom, THA
76
Jodee Tindal
Rock Hill, SC
76
Natalie Srinivasan
Spartanburg, SC
76
Samantha Vodry
Little Elm, TX
77
Callista Rice
Asheville, NC
77
Romina Villanueva
Mexico
77
Ahra Ko
Suwanee, GA
77
Alexandra Hayes
Winston Salem, NC
77
Rachael Mast
Lexington, NC
77
Alexandria Bare
Salisbury, NC
77
Napatthorn Paksanont
Thailand
77
Chelsea Dantonio
East Aurora, NY
78
Karla Elena Vazquez Setzer
Villahermosa, MEX
78
Caroline Hodge
Larchmont, NY
78
Jessica Spicer
Bahama, NC
78
Michaela Cox
Greensboro, NC
78
Carleigh Greene
Anderson, SC
79
Grace Yatawara
Salisbury, NC
79
Kaley Barts
Apex, NC
79
Mogie Adamchik
Raleigh, NC
79
Sarah Harrison
Augusta, GA
81
Lexie Johnston
Raleigh, NC
81
Yanghua Ou
Pinehurst, NC
82
Hailey Joy
Reidsville, NC
82
Noemie Pare
Victoriaville, CAN
82
Savanah Goodman
Easley, SC
83
Carly Lyvers
Greenville, SC
84
Sarah Hardin
West Jefferson, NC
84
Madison Corley
Charlotte, NC
84
Keri Kenkel
Charlotte, NC
84
Emma Charles
Hartsville, SC
85
Janie Thomas
Winston-Salem, NC
91
Brianna Plummer
Shelby, NC
91
Kate Harper
Isle Of Palms, SC
91
About the Carolinas Golf Association (CGA)
The CGA is a 501(c)(3) not-for-profit educational organization that was founded in 1909 to promote and to protect the game of golf in the Carolinas by providing competitions, education, support and benefits to golf clubs and golfers. The CGA is the second largest golf association in the country with over 700 member clubs represented by nearly 150,000 individuals.
The CGA annually conducts 48 championships and five team match competitions for men, women, juniors, and seniors. It also runs over 150 One-Day (net and gross) events as well as qualifying for USGA national championships. The CGA serves golf in the Carolinas with numerous programs such as: the USGA Handicap System; tournament management software and support; course measuring and course/slope ratings; agronomy consultation; answers about the Rules of Golf, Rules of Amateur Status, and Handicapping; Carolinas Golf Magazine; Interclub series; Tarheel Youth Golf Association; Carolinas Golf Hall of Fame; expense assistance for USGA Junior and Girls' Junior qualifiers from the Carolinas; and the Carolinas Golf Foundation (CGF). The CGF has distributed nearly $2,000,000 since 1977 to benefit Carolinas' golf initiatives including junior and women's programs.
For more information about the CGA, visit our website.
##30##