Final Results US Am Q NorthStone CC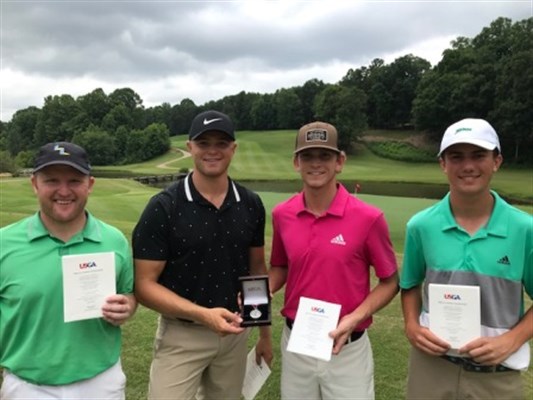 John Eades, Blake Wagoner, Jacob Bridgeman, Alex Heffner
HUNTERSVILLE, NC – Final results from U.S. Amateur Championship Sectional Qualifying hosted by NorthStone Country Club in Huntersville, NC on Tuesday, July 9, 2019(6,900 yards, par 36-36—72, Rating: 73.8/147).
Jacob Bridgeman of Inman, SC and Blake Wagoner from Cornelius, NC earned medalist honors with two day totals of 10-under par, 134. John Eades from Charlotte, NC advanced after rounds of 67-69, for a 136 total. Alex Heffner of Harrisburg, NC, was the final qualifier finishing at seven-under par, 137.
Alex Goff of Kings Mountain, NC is the first alternate. Matthew Sharpstene of Asheville, NC is the second alternate.
After 18-holes the field was cut to the low 40% + ties for the final 18.
Four qualifying spots and two alternate positions are available at this qualifying site. The four qualifiers will advance to the 2019 United States Amateur Championship a Pinehurst Country Club in Pinehurst, NC on August 12-18, 2019.
Final Qualifying Results
Pos.
Player
City, State
Total To Par
R1
R2
Total
Details
T1
Jacob Bridgeman
Inman, SC
-10
68
66
134
T1
Blake Wagoner
Cornelius, NC
-10
67
67
134
3
John Eades
Charlotte, NC
-8
67
69
136
4
Alex Heffner
Harrisburg, NC
-7
69
68
137
The following players did not make the cut
CUT
Alex Goff
Kings Mountain, NC
-6
70
68
138
1st Alt
CUT
Matthew Sharpstene
Asheville, NC
-5
69
70
139
2nd Alt
CUT
Jamie Wilson
Mount Pleasant, SC
-4
70
70
140
CUT
Zach Roberts
Holly Springs, NC
-3
72
69
141
CUT
Harry Corbin
Inman, SC
-2
69
73
142
CUT
Ike Joy
Denver, NC
-2
68
74
142
CUT
Samuel Echikson
Charlotte, NC
-2
72
70
142
CUT
Ben Woodruff
Huntersville, NC
-1
70
73
143
CUT
Jackson Van Paris
Pinehurst, NC
-1
70
73
143
CUT
Will Stewart
Charlotte, NC
-1
74
69
143
CUT
Cameron Cappuzzo
Fort Mill, SC
E
72
72
144
CUT
Christian Park
Charlotte, NC
E
73
71
144
CUT
Scott Park
Charlotte, NC
E
73
71
144
CUT
Gene Zeigler
Florence, SC
+1
68
77
145
CUT
Jack Marcotte
Apex, NC
+1
69
76
145
CUT
Michael Childress
Salisbury, NC
+1
72
73
145
CUT
Jack Heath
Charlotte, NC
+1
69
76
145
CUT
Brady Hinkle
Lancaster, SC
+1
74
71
145
CUT
Drew Hackett
Charlotte, NC
+1
74
71
145
CUT
Jackson Skeen
Jonesborough, TN
+1
74
71
145
CUT
Carson Ownbey
Canton, NC
+1
73
72
145
CUT
John Obrien
Columbia, SC
+2
72
74
146
CUT
Stephen Woodard
Charlotte, NC
+2
71
75
146
CUT
Taisuke Ono
Charlotte, NC
+2
69
77
146
CUT
Josh Lendach
Raleigh, NC
+2
71
75
146
CUT
Nicholas Mayfield
Rock Hill, SC
+2
74
72
146
CUT
Jay Roberts
Davidson, NC
+2
73
73
146
CUT
Joe Jaspers
Huntersville, NC
+2
73
73
146
CUT
Raymond Grant
Gastonia, NC
+3
74
73
147
CUT
Zachary Reuland
Rock Hill, SC
+4
71
77
148
CUT
Marc Mitchell
Atlanta, GA
+4
74
74
148
CUT
Tim Bunten
Concord, NC
+4
74
74
148
CUT
Deven Cerda
Charlotte, NC
+7
73
78
151
CUT
Dylan Ray
East Bend, NC
+8
69
83
152
CUT
Jonathan Henry
Davidson, NC
+8
72
80
152
CUT
Drew Davis
Lexington, NC
+9
74
79
153
CUT
Charlie Barr
Salisbury, NC
+10
73
81
154
CUT
Michael Rials
Florence, SC
+10
72
82
154
CUT
Nathan Franks
Roebuck, SC
+10
74
80
154
CUT
Abhay Gupta
Concord, NC
+10
74
80
154
CUT
Jeffrey Brunelle
Charlotte, NC
+11
73
82
155
CUT
Keegan Vaugh
Myrtle Beach, SC
+12
74
82
156
WD
Cody Sundberg
Charlotte, NC
-
73
WD
WD
18-Hole Cut
CUT
Jack Parrott
Columbia, SC
+3
75
75
CUT
Skip Corneliussen
Summerfield, NC
+3
75
75
CUT
Will Hanna
Raleigh, NC
+3
75
75
CUT
Zachary Gilbert
Davidson, NC
+3
75
75
CUT
Andrew Wilmoth
Raleigh, NC
+4
76
76
CUT
Austin Alexander
Rutherfordton, NC
+4
76
76
CUT
Brad Clark
Durham, NC
+4
76
76
CUT
Luke Williams
Charlotte, NC
+4
76
76
CUT
Malin Muckenfuss
Charlotte, NC
+4
76
76
CUT
Bailey Patrick
Charlotte, NC
+4
76
76
CUT
Bubba Aughtry
Concord, NC
+4
76
76
CUT
Samuel Brucker
Franklin, TN
+4
76
76
CUT
Todd Grear
Mooresville, NC
+4
76
76
CUT
Augustus Kern
Mooresville, NC
+5
77
77
CUT
Daniel Welborn
Charlotte, NC
+5
77
77
CUT
Jace Arko
Cornelius, NC
+5
77
77
CUT
Jacob Shamblin
Matthews, NC
+5
77
77
CUT
Chase Wilson
Matthews, NC
+5
77
77
CUT
Graham Chase
Charlotte, NC
+5
77
77
CUT
Jackson Brimfield
Chapel Hill, NC
+5
77
77
CUT
Kerney Black
Rural Hall, NC
+5
77
77
CUT
Narayan Mohan
Charlotte, NC
+5
77
77
CUT
Patten Williams
Davidson, NC
+5
77
77
CUT
Jay Livingston
Fort Mill, SC
+6
78
78
CUT
John Moheyer
Huntersville, NC
+6
78
78
CUT
Ronald Uszenski
Cornelius, NC
+6
78
78
CUT
Thomas Deal
Cornelius, NC
+6
78
78
CUT
Greg Harrold
York, SC
+6
78
78
CUT
Joshua Allen
Wilson, NC
+6
78
78
CUT
Kevin Omundson
Huntersville, NC
+6
78
78
CUT
Jordan Reeves
Asheboro, NC
+7
79
79
CUT
Thomas Dulski
Huntersville, NC
+7
79
79
CUT
Bruce Bevins II
Matthews, NC
+7
79
79
CUT
Paul Simson
Raleigh, NC
+7
79
79
CUT
Dawson Daniels
Greensboro, NC
+8
80
80
CUT
Derrick Oyervides
Greer, SC
+8
80
80
CUT
Jack Phenecie
Davidson, NC
+8
80
80
CUT
Carter Busse
Davidson, NC
+8
80
80
CUT
Christian Fleetwood
Conway, NC
+8
80
80
CUT
Ross Henson
Charlotte, NC
+8
80
80
CUT
Benjamin Bailey
Huntersville, NC
+9
81
81
CUT
Jay Jay Howard
Concord, NC
+9
81
81
CUT
John Cornett
Boone, NC
+10
82
82
CUT
Chase Clayton
Locust, NC
+11
83
83
CUT
Aaron Boggs
Pinehurst, NC
+12
84
84
CUT
Austin Northern
Blowing Rock, NC
+12
84
84
CUT
Taylor Ferguson
Charlotte, NC
+12
84
84
CUT
Andrew Johnson
Millers Creek, NC
+13
85
85
CUT
Brandon Jones
Sanford, NC
+13
85
85
CUT
Donald Barksdale
Statesville, NC
+13
85
85
CUT
Seve Anfindsen
Apex, NC
+13
85
85
CUT
Josh McWhorter
Deep Gap, NC
+14
86
86
CUT
Garrett Cox
Charlotte, NC
+15
87
87
CUT
John Del Priore
Charlotte, NC
+15
87
87
CUT
Alex Odom
Macon, GA
+16
88
88
CUT
Gregory Carroll
Pinehurst, NC
+17
89
89
CUT
Evan Marion
Mount Airy, NC
+18
90
90
CUT
Michael McBride II
Greenville, SC
+18
90
90
CUT
Challen Morgan
Lakeland, FL
+20
92
92
WD
Colin Niebuhr
Charlotte, NC
-
WD
WD
WD
John Olsen
Mooresville, NC
-
WD
WD