Mathews Takes the Early Lead at the Dogwood Girls'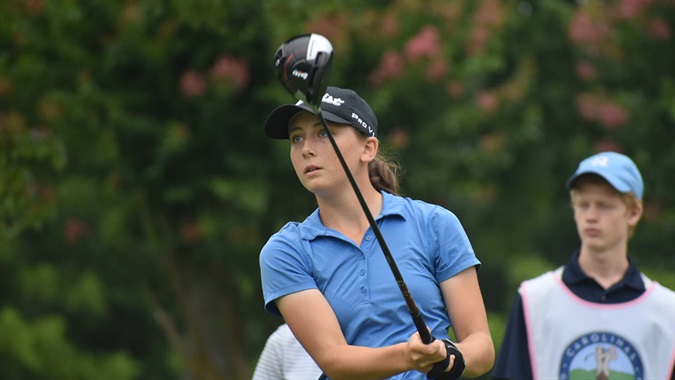 SALEM GLEN, N.C. (July 9, 2019) -- Round one results of the 15th Dogwood State Junior Girls' Championship at Salem Glen Golf & Country Club in Clemmons, N.C. on Tuesday, July 9, 2019. (5,856 yards, Par 36-35--71)
Related: Championship Web Site | Full Field of Players | Starting Times | Scoring | History
Overcast weather and light wind opened the doors for good scores at the Dogwood State Junior Girls' Championship. Emily Mathews of Mebane, N.C. sits at the top of the leaderboard with an opening round of two-under-par, 69.
"I was just playing really solid on the front. I was dropping some 10 footers and hitting it pretty close" said Mathews. "I think for the next two days, I'm gonna focus on every shot individually. I'm not gonna think about where I am in regards to the leaderboard but I think that motivates me to play even better"
Mathews enters round two with a one-shot lead over Megan Morris of Cary, N.C. and Jaclyn Kenzel of Southern Pines, N.C who both navigated Salem Glen at one-under par, 70.
Morris played the front nine bogey free with birdies on Nos. 7 and 9 to make the turn at two-under-par, 34. A few stumbles on the back nine did not stop her as she was able to pick herself up and birdie the No. 17. Her confidence and familiarity of the course assisted in the success of today's performance.
"I know I like this course. I've played here before and I really enjoy it. The front nine was pretty breezy. I kinda got into a flow and kept going" said Morris.
Deborah Spair of Raleigh, N.C. finished round one at even par, 71 to sit in fourth position. Round two begins at 8 a.m. tomorrow.
15th Dogwood State Junior Girls' Championship
Salem Glen Golf & Country Club | Clemmons, N.C.
Round One Results
| | | | | | |
| --- | --- | --- | --- | --- | --- |
| Pos. | Player | City, State | Grad Year | To Par | R1 |
| 1 | Emily Mathews | Mebane, NC | 2023 | -2 | 69 |
| T2 | Jaclyn Kenzel | Southern Pines, NC | 2020 | -1 | 70 |
| T2 | Megan Morris | Cary, NC | 2021 | -1 | 70 |
| 4 | Deborah Spair | Raleigh, NC | 2020 | E | 71 |
| 5 | Katelyn Kenthack | Southern Pines, NC | 2020 | +1 | 72 |
| T6 | Kelley Topiwala | Matthews, NC | 2020 | +2 | 73 |
| T6 | Mallory Fobes | East Bend, NC | 2019 | +2 | 73 |
| T8 | Carson Jenkins | Raleigh, NC | 2019 | +3 | 74 |
| T8 | Trinity Muthomi | Kernersville, NC | 2022 | +3 | 74 |
| T8 | Victoria Ladd | Greensboro, NC | 2019 | +3 | 74 |
| T11 | Becca Connolly | Winston Salem, NC | 2020 | +4 | 75 |
| T11 | Erin Singleton | Apex, NC | 2020 | +4 | 75 |
| T11 | Grayson Warren | Washington, NC | 2021 | +4 | 75 |
| T11 | Kayla Dowell | Mebane, NC | 2021 | +4 | 75 |
| T11 | Macie Burcham | Greensboro, NC | 2021 | +4 | 75 |
| T11 | Sasha Hayes | Winston salem, NC | 2019 | +4 | 75 |
| T17 | Erica Boyd | Charlotte, NC | 2020 | +5 | 76 |
| T17 | Katelyn David | Waxhaw, NC | 2019 | +5 | 76 |
| T17 | Mara Hirtle | Pinehurst, NC | 2020 | +5 | 76 |
| 20 | Kallie Pavlish | Charlotte, NC | 2020 | +6 | 77 |
| T21 | Hailey Pendleton | Waxhaw, NC | 2020 | +7 | 78 |
| T21 | Ryann Sinclair | Mooresville, NC | 2019 | +7 | 78 |
| T23 | Halynn Lee | Cary, NC | 2021 | +8 | 79 |
| T23 | Victoria Cook | Reidsville, NC | 2020 | +8 | 79 |
| T25 | Amber Capote | Waxhaw, NC | 2020 | +9 | 80 |
| T25 | Grace Holcomb | Wilmington, NC | 2021 | +9 | 80 |
| T27 | Anna Claire Bridge | Raleigh, NC | 2021 | +10 | 81 |
| T27 | Gabriela Cruz | High Point, NC | 2021 | +10 | 81 |
| T29 | Bailee Twiford | Coinjock, NC | 2019 | +11 | 82 |
| T29 | Braelyn Pippin | Waxhaw, NC | 2020 | +11 | 82 |
| 31 | Morgan Ketchum | Winston-Salem, NC | 2022 | +12 | 83 |
| 32 | Lauren Hackler | Thomasville, NC | 2020 | +14 | 85 |
| T33 | Ella Kue | King Mountain, NC | 2023 | +15 | 86 |
| T33 | Mary Paige King | Clemmons, NC | 2023 | +15 | 86 |
| T35 | Ainslee Conrad | Lexington, NC | 2020 | +18 | 89 |
| T35 | Caroline Isaacson | Greensboro, NC | 2020 | +18 | 89 |
| 37 | Paige Sidney | Clemmons, NC | 2024 | +44 | 115 |