Three Tied at the Top of the Carolinas Am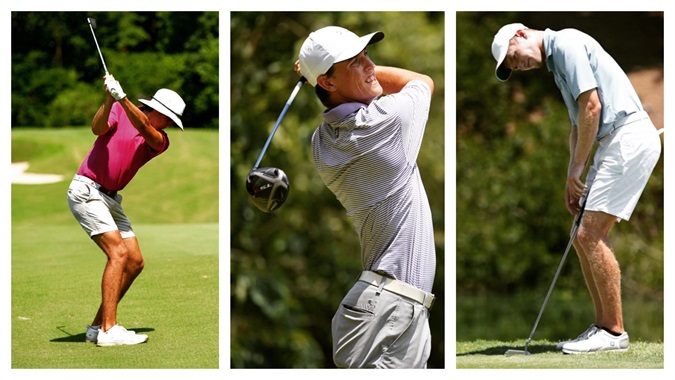 CHAPEL HILL, N.C. (July 13, 2019) -- Third round results of the 105th Carolinas Amateur Championship at Governors Club in Chapel Hill, N.C. on Saturday, July 13, 2019.
Related: Championship Web Site | Full Field of Players | Starting Times | Scoring | History | Photos
We have a three-way tie at the top heading into the final round of the Carolinas Amateur Championship. Jamie Wilson of Mount Pleasant, S.C. shot the low round of the tournament, an 8-under-par, 64 to break the course record at Governors Club.
"I tried to keep myself from thinking of a number but that's hard to do when you're nine-under through fifteen," said Wilson. "I started thinking "what if, what if." I tried my best to stay away from those thoughts but they come anyways."
Wilson had nine birdies in round three and his only blemish was a three-putt bogey on the par-4, 18th hole. Wilson said he was able to feed off playing with his fellow University of South Carolina men's golf teammate, Jack Parrott of Columbia, S.C.
"In the past when I've gone low, I've gotten ahead of myself and I tried to not to today," Wilson said. "It definitely helped playing with (Jack). We just had fun out there and it was nice to keep it light. Even in the heat of both of us taking it low it was nice to take our minds off of it, just kind of mess around, have fun and enjoy it."
Parrott is also tied for first place heading into the final round after shooting his personal best competitive round; a six-under-par, 66.
"When you are playing with a player, especially as good of friends as we are - teammates and everything - we had a great time out there," said Parrott. "We were just acting stupid out there but it was fun and it took our minds off the golf. It was just a fun round we were playing. It definitely helped a lot."
The two teammates will be paired together in the final group tomorrow along with the defending champion, Joshua Martin of Pinehurst, N.C.
Martin began the day with a two-shot lead and got it up to four-shots on the front side. He finished the day with a solid round of 2-under-par, 70 and is still in a great position to defend the title.
"I played kind of similar to yesterday I just didn't finish it off the way I should've," said Martin. "I played the last four holes two-over-par so it's not the way you want to finish especially when there are some good birdie opportunities. I played pretty solid for the rest of the round so you have to take the positives and just look forward to tomorrow. I still have a chance to win."
The three will have a two-shot lead over their nearest competitor, Davis Womble of Winston-Salem, N.C. Womble shot a 7-under, 65 in round three and now sits at 8-under-par for the championship.
105th Carolinas Amateur Championship
Governors Club | Chapel Hill, N.C.
Third Round Results
| | | | | | | | |
| --- | --- | --- | --- | --- | --- | --- | --- |
| Pos. | Player | City, State | To Par | R1 | R2 | R3 | Total |
| T1 | Jamie Wilson | Mount Pleasant, SC | -10 | 68 | 74 | 64 | 206 |
| T1 | Jack Parrott | Columbia, SC | -10 | 68 | 72 | 66 | 206 |
| T1 | Joshua Martin | Pinehurst, NC | -10 | 69 | 67 | 70 | 206 |
| 4 | Davis Womble | Winston-Salem, NC | -8 | 68 | 75 | 65 | 208 |
| 5 | Luke Hackworth | Charlotte, NC | -7 | 68 | 71 | 70 | 209 |
| T6 | Peter Fountain | Raleigh, NC | -6 | 70 | 68 | 72 | 210 |
| T6 | Walker Jones | Sumter, SC | -6 | 72 | 71 | 67 | 210 |
| T8 | Jake Carter | Aiken, SC | -2 | 69 | 74 | 71 | 214 |
| T8 | Matthew Crenshaw | Burlington, NC | -2 | 76 | 68 | 70 | 214 |
| T10 | Ben Woodruff | Huntersville, NC | -1 | 66 | 78 | 71 | 215 |
| T10 | Scott Lincicome | Pinehurst, NC | -1 | 71 | 73 | 71 | 215 |
| T10 | Sherrill Britt | West End, NC | -1 | 70 | 75 | 70 | 215 |
| T10 | Austin Bonfiglio | Holly Springs, NC | -1 | 74 | 73 | 68 | 215 |
| T14 | Raymond Wooten | Clemson, SC | E | 71 | 72 | 73 | 216 |
| T14 | Joe Jaspers | Huntersville, NC | E | 72 | 73 | 71 | 216 |
| T14 | Timothy Driver | Holly Springs, NC | E | 76 | 71 | 69 | 216 |
| T17 | Robert Lutomski | Simpsonville, SC | +1 | 76 | 69 | 72 | 217 |
| T17 | Ike Joy | Denver, NC | +1 | 74 | 72 | 71 | 217 |
| T17 | Jordan Sease | Lexington, SC | +1 | 76 | 70 | 71 | 217 |
| T20 | Garrett Risner | Holly Springs, NC | +2 | 70 | 74 | 74 | 218 |
| T20 | Harry Reynolds | Greenville, SC | +2 | 72 | 73 | 73 | 218 |
| T20 | Michael Childress | Salisbury, NC | +2 | 71 | 73 | 74 | 218 |
| T20 | Thomas Todd III | Laurens, SC | +2 | 77 | 71 | 70 | 218 |
| T20 | Zach Bishop | Travelers Rest, SC | +2 | 71 | 75 | 72 | 218 |
| T20 | Spencer Oxendine | Fayetteville, NC | +2 | 75 | 73 | 70 | 218 |
| T26 | Scott Park | Charlotte, NC | +3 | 75 | 75 | 69 | 219 |
| T26 | Daniel Neveu | Pinehurst, NC | +3 | 69 | 76 | 74 | 219 |
| T26 | Pierce Robinson | Kings Mountain, NC | +3 | 75 | 71 | 73 | 219 |
| T29 | Brandon Reece | Rolesville, NC | +4 | 71 | 75 | 74 | 220 |
| T29 | Brian Langley | Bluffton, SC | +4 | 77 | 71 | 72 | 220 |
| T31 | Avery Price | Gastonia, NC | +5 | 75 | 72 | 74 | 221 |
| T31 | Christian Park | Charlotte, NC | +5 | 69 | 78 | 74 | 221 |
| T31 | Carson Ownbey | Canton, NC | +5 | 79 | 69 | 73 | 221 |
| T31 | James Lightsey | Indian Land, SC | +5 | 75 | 72 | 74 | 221 |
| T31 | Zach Roberts | Holly Springs, NC | +5 | 72 | 77 | 72 | 221 |
| T31 | Will Stewart | Charlotte, NC | +5 | 70 | 71 | 80 | 221 |
| T31 | Preston Ball | Raleigh, NC | +5 | 78 | 72 | 71 | 221 |
| T38 | Chris Akers | Asheville, NC | +6 | 77 | 70 | 75 | 222 |
| T38 | Sam Echikson | Charlotte, NC | +6 | 74 | 72 | 76 | 222 |
| T38 | Davis Richards | Oak Island, NC | +6 | 73 | 77 | 72 | 222 |
| T38 | Henry Augenstein | Columbia, SC | +6 | 76 | 72 | 74 | 222 |
| 42 | Jake Scruggs | Shelby, NC | +7 | 75 | 74 | 74 | 223 |
| T43 | Paul Simson | Raleigh, NC | +8 | 76 | 68 | 80 | 224 |
| T43 | Nick Willis | Cowpens, SC | +8 | 74 | 75 | 75 | 224 |
| T43 | Jack Massei | Pinehurst, NC | +8 | 77 | 72 | 75 | 224 |
| T43 | Andrew Sapp | Greenville, NC | +8 | 74 | 75 | 75 | 224 |
| T43 | Dylan Lukes | Chapel Hill, NC | +8 | 71 | 79 | 74 | 224 |
| 48 | Blake Taylor | Atkinson, NC | +9 | 75 | 73 | 77 | 225 |
| T49 | Brett McLamb | Coats, NC | +10 | 72 | 75 | 79 | 226 |
| T49 | Ryan Marter | Columbia, SC | +10 | 80 | 69 | 77 | 226 |
| T49 | Clayson Good | Durham, NC | +10 | 75 | 75 | 76 | 226 |
| T49 | Pierce Fox | Greenville, SC | +10 | 75 | 75 | 76 | 226 |
| T53 | Devon Horne | Hendersonville, NC | +11 | 73 | 76 | 78 | 227 |
| T53 | Chris Cassetta | High Point, NC | +11 | 74 | 76 | 77 | 227 |
| T55 | Elliott Johnson | Beaufort, SC | +12 | 73 | 77 | 78 | 228 |
| T55 | Patrick Stephenson | Four Oaks, NC | +12 | 75 | 74 | 79 | 228 |
| T57 | Bobby Few | Lugoff, SC | +14 | 71 | 75 | 84 | 230 |
| T57 | Brian Hicks | Cary, NC | +14 | 74 | 76 | 80 | 230 |
| 59 | Steven Brame | Henderson, NC | +16 | 73 | 77 | 82 | 232 |
| WD | Jonathan Jackson | Siler City, NC | | 78 | 67 | WD | 145 |
| CUT | John Nieters | Clemmons, NC | +7 | 75 | 76 | | - |
| CUT | Will Dull | Charlotte, NC | +7 | 79 | 72 | | - |
| CUT | Addison Manring | Stoneville, NC | +7 | 80 | 71 | | - |
| CUT | Cameron Akers | Asheville, NC | +7 | 74 | 77 | | - |
| CUT | Eric Williams | Goldsboro, NC | +7 | 76 | 75 | | - |
| CUT | Greg Earnhardt | Greensboro, NC | +7 | 79 | 72 | | - |
| CUT | Seth Taylor | Gaffney, SC | +7 | 70 | 81 | | - |
| CUT | Kurtis Grant | Southern Pines, NC | +8 | 74 | 78 | | - |
| CUT | Parker Fain | Boiling Springs, SC | +8 | 76 | 76 | | - |
| CUT | Randall Hudson | New Bern, NC | +8 | 75 | 77 | | - |
| CUT | Riley Boyette | Charleston, SC | +8 | 76 | 76 | | - |
| CUT | Ronnie Uszenski | Cornelius, NC | +8 | 72 | 80 | | - |
| CUT | Austin Duncan | Bessemer City, NC | +8 | 73 | 79 | | - |
| CUT | Connor Moore | Bluffton, SC | +8 | 78 | 74 | | - |
| CUT | Gray Matthews | Raleigh, NC | +8 | 77 | 75 | | - |
| CUT | Harrison Frye | High Point, NC | +8 | 75 | 77 | | - |
| CUT | John O'Brien | Columbia, SC | +8 | 74 | 78 | | - |
| CUT | Anthony Conn | Raleigh, NC | +9 | 78 | 75 | | - |
| CUT | Hunter Oxendine | Fayetteville, NC | +9 | 74 | 79 | | - |
| CUT | Luke Perrino | Mooresville, NC | +9 | 74 | 79 | | - |
| CUT | Nicholas Boone | Clyde, NC | +9 | 73 | 80 | | - |
| CUT | Colin Trahan | North Augusta, SC | +9 | 75 | 78 | | - |
| CUT | Brock Elder | Whitsett, NC | +10 | 73 | 81 | | - |
| CUT | Gary Pugh | Asheboro, NC | +10 | 79 | 75 | | - |
| CUT | John Bearrie | Landrum, SC | +10 | 75 | 79 | | - |
| CUT | Nic Brown | Wendell, NC | +10 | 80 | 74 | | - |
| CUT | Connor Armistead | Charlotte, NC | +10 | 78 | 76 | | - |
| CUT | Jackson Brimfield | Chapel Hill, NC | +10 | 80 | 74 | | - |
| CUT | Thomas Owen | Fayetteville, NC | +10 | 78 | 76 | | - |
| CUT | Fred Gahl | Raleigh, NC | +11 | 75 | 80 | | - |
| CUT | Mason Elmore | Charlotte, NC | +11 | 77 | 78 | | - |
| CUT | Reid Clark | Raleigh, NC | +11 | 79 | 76 | | - |
| CUT | Stephen Abrams | Wilson, NC | +11 | 74 | 81 | | - |
| CUT | Brad Clark | Durham, NC | +12 | 79 | 77 | | - |
| CUT | Britt Mitchell | Creedmoor, NC | +12 | 80 | 76 | | - |
| CUT | Robert Dargan | Columbia, SC | +12 | 74 | 82 | | - |
| CUT | Jimbo Stanley | Raleigh, NC | +12 | 79 | 77 | | - |
| CUT | Louis Lambert | Charlotte, NC | +12 | 77 | 79 | | - |
| CUT | Mickey Lankford | North Charleston, SC | +12 | 75 | 81 | | - |
| CUT | Seth Robertson | Inman, SC | +12 | 79 | 77 | | - |
| CUT | William Jamieson | Cary, NC | +12 | 78 | 78 | | - |
| CUT | Caden Baker | Mebane, NC | +13 | 76 | 81 | | - |
| CUT | George Kilgore | Morrisville, NC | +13 | 80 | 77 | | - |
| CUT | Brad Dawson | Mebane, NC | +13 | 76 | 81 | | - |
| CUT | Kell Graham | Greensboro, NC | +13 | 81 | 76 | | - |
| CUT | Matt Teaster | Spartanburg, SC | +13 | 75 | 82 | | - |
| CUT | Rafe Reynolds | Greenville, SC | +13 | 77 | 80 | | - |
| CUT | Stephen Lavenets | Willow Spring, NC | +13 | 82 | 75 | | - |
| CUT | Walker Simas | Charlotte, NC | +13 | 78 | 79 | | - |
| CUT | Austin Northern | Blowing Rock, NC | +14 | 82 | 76 | | - |
| CUT | Chance Watson | Newland, NC | +14 | 78 | 80 | | - |
| CUT | Garett Heffner | Apex, NC | +14 | 76 | 82 | | - |
| CUT | John Del Priore | Charlotte, NC | +14 | 81 | 77 | | - |
| CUT | Jonathan Maull | Charleston, SC | +14 | 77 | 81 | | - |
| CUT | James Wiley | Raleigh, NC | +15 | 78 | 81 | | - |
| CUT | Jackson Bode | Pinehurst, NC | +15 | 81 | 78 | | - |
| CUT | Trey Capps | Garner, NC | +15 | 76 | 83 | | - |
| CUT | Eston Lee | Four Oaks, NC | +16 | 85 | 75 | | - |
| CUT | Joey Funderburg | Wilmington, NC | +16 | 78 | 82 | | - |
| CUT | Jordan Smith | Summerfield, NC | +16 | 77 | 83 | | - |
| CUT | Zac Lewis | Wilmington, NC | +17 | 79 | 82 | | - |
| CUT | Benjamin Buben | Charlotte, NC | +17 | 81 | 80 | | - |
| CUT | Cameron Hall | Kings Mountain, NC | +17 | 84 | 77 | | - |
| CUT | Michael Rials | Florence, SC | +18 | 77 | 85 | | - |
| CUT | Jackson Steiner | Charlotte, NC | +18 | 83 | 79 | | - |
| CUT | Josh Nichols | Apex, NC | +19 | 79 | 84 | | - |
| CUT | Thomas Eubanks | Charlotte, NC | +19 | 84 | 79 | | - |
| CUT | Tyler Shuler | Bryson City, NC | +19 | 78 | 85 | | - |
| CUT | Ryan Burk | Chapel Hill, NC | +20 | 85 | 79 | | - |
| CUT | Brandon Bradosky | Ladson, SC | +21 | 84 | 81 | | - |
| CUT | Christopher Wooten | Winston-Salem, NC | +21 | 82 | 83 | | - |
| CUT | Drew Haywood | Chapel Hill, NC | +21 | 78 | 87 | | - |
| CUT | Jordan Reeves | Asheboro, NC | +22 | 82 | 84 | | - |
| CUT | Luke Cashion | Waxhaw, NC | +24 | 85 | 83 | | - |
| CUT | Grayson Cheek | Wilkesboro, NC | +25 | 81 | 88 | | - |
| CUT | Richard Youden | Winston-Salem, NC | +26 | 84 | 86 | | - |
| CUT | Simon Boteler | Raleigh, NC | +26 | 82 | 88 | | - |
| CUT | Drew Wood | Pinehurst, NC | +30 | 84 | 90 | | - |
| WD | Brad Coleman | Jamestown, NC | +- | 89 | WD | | WD |