U.S. Amateur Qualifying Results Finley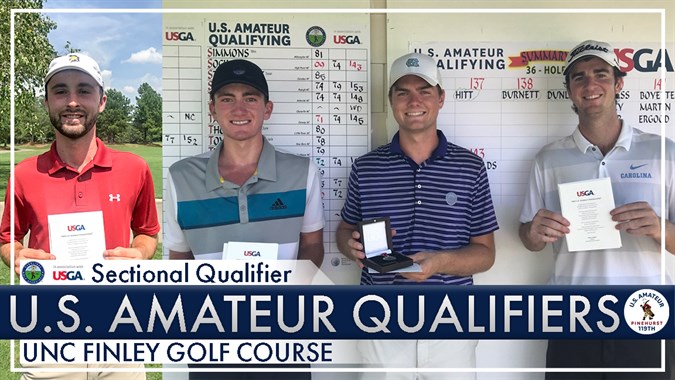 CHAPEL HILL, NC – Final results from U.S. Amateur Championship Sectional Qualifying hosted by UNC Finley Golf Club in Chapel Hill, NC on Wednesday, July 17, 2019(7,223 yards, par 36-36—72, Rating: 74.9/138).
Austin Hitt from Longwood, FL earned medalist honors with two-day total of seven-under par, 137. Ryan Burnett from Charlotte, NC took the second spot with rounds of 70-68. Nick Dunlap of Greer, SC advanced after rounds of 68-71, for a 139 total. The final qualifying spot went to Nick Lyerly of Salisbury, NC after a one hole playoff.
Timothy Driver of Holly Springs, NC is the first alternate. Wilson Andress of Macon, GA, is the second alternate.
Four qualifying spots and two alternate positions are available at this qualifying site. The four qualifiers will advance to the 2019 United States Amateur Championship a Pinehurst Country Club in Pinehurst, NC on August 12-18, 2019.
After 18-holes the field was cut to the low 40% + ties for the final 18.
Final Qualifying Results
Pos.
Player
City, State
To Par
R1
R2
Total
Details
1
Austin Hitt
Longwood, FL
-7
69
68
137
2
Ryan Burnett
Charlotte, NC
-6
70
68
138
3
Nick Dunlap
Greer, SC
-5
68
71
139
4
Nick Lyerly
Salisbury, NC
-4
69
71
140
The following players did not make the cut
CUT
Timothy Driver
Holly Springs, NC
-4
67
73
140
1st Alternate
CUT
Wilson Andress
Macon, GA
-4
72
68
140
2nd Alternate
CUT
Bryson Boyette
Wilson, NC
-3
73
68
141
CUT
Doug Ergood
Mount Laurel, NJ
-3
67
74
141
CUT
Joshua Martin
Pinehurst, NC
-3
70
71
141
CUT
Chad Wilfong
Charlotte, NC
-2
70
72
142
CUT
Harry Reynolds
Greenville, SC
-1
73
70
143
CUT
Conner Sock
High Point, NC
-1
69
74
143
CUT
Blake Brantley
Winston Salem, NC
E
75
69
144
CUT
Noah Connor
Reidsville, NC
E
70
74
144
CUT
Trey Capps
Garner, NC
E
74
70
144
CUT
Zack Taylor
Conway, SC
+1
71
74
145
CUT
Jake Scruggs
Shelby, NC
+1
73
72
145
CUT
Kurtis Grant
Southern Pines, NC
+1
70
75
145
CUT
William Dull
Charlotte, NC
+1
75
70
145
CUT
Brett McLamb
Coats, NC
+2
71
75
146
CUT
Daulet Tuleubayev
New York, NY
+2
72
74
146
CUT
Robert Lutomski
Simpsonville, SC
+2
74
72
146
CUT
Andrew Dibitetto
Chapel Hill, NC
+3
73
74
147
CUT
Ethan Lukes
Chapel Hill, NC
+3
74
73
147
CUT
Will Tamplin
Asheville, NC
+4
74
74
148
CUT
George McNeely
Carmel, CA
+4
73
75
148
CUT
Viraj Garewal
Raleigh, NC
+5
73
76
149
CUT
Zachary Griffith
Chapel Hill, NC
+5
72
77
149
CUT
Brock Elder
Whitsett, NC
+5
73
76
149
CUT
Pierce Fox
Greenville, SC
+5
73
76
149
CUT
Jeff Boyan
High Point, NC
+6
74
76
150
CUT
Harrison Wierse
Wilmington, NC
+6
73
77
150
CUT
Kevin Burris
Norwood, NC
+6
73
77
150
CUT
Randall Hudson
New Bern, NC
+6
75
75
150
CUT
Will Davis
Jacksonville, FL
+6
75
75
150
CUT
Luis Park
Virginia Beach, VA
+8
75
77
152
CUT
Ben Buben
Charlotte, NC
+8
75
77
152
CUT
Jimbo Stanley
Raleigh, NC
+9
74
79
153
CUT
Gavin Lindstrom
Hilton Head Island, SC
+10
74
80
154
CUT
Austin Schone
Galena, OH
+11
75
80
155
WD
Zake Masterson
Bluffton, SC
-
73
WD
WD
WD
Wes Artac
Leander, TX
-
75
WD
WD
The following players did not make the 18-Hole cut
CUT
Andrew Austin
Apex, NC
+4
76
76
CUT
Christopher Dorsett
Mount Airy, NC
+4
76
76
CUT
Matthew Ashley
Charlotte, NC
+4
76
76
CUT
Connor Jones
Raleigh, NC
+4
76
76
CUT
Ethan Hall
Morehead City, NC
+4
76
76
CUT
John Costa
Lillington, NC
+4
76
76
CUT
Kenan Poole
Raleigh, NC
+4
76
76
CUT
Parker Shimp
Charlotte, NC
+4
76
76
CUT
Stephen Abrams
Wilson, NC
+4
76
76
CUT
Zack Byers
Shelby, NC
+4
76
76
CUT
Ben Esposito
Pittsboro, NC
+5
77
77
CUT
Frank Gilliam
Raleigh, NC
+5
77
77
CUT
Harley Abrams
Evanston, IL
+5
77
77
CUT
Benjamin Crow
Pinehurst, NC
+5
77
77
CUT
Chris Akers
Asheville, NC
+5
77
77
CUT
Erik Ehlert
Wrightsville Beach, NC
+5
77
77
CUT
Jackson Bode
Pinehurst, NC
+5
77
77
CUT
Mack Pearsall
Greensboro, NC
+5
77
77
CUT
Mariano Leyva
Lewisville, NC
+5
77
77
CUT
Cade Hancock
Elizabethtown, NC
+6
78
78
CUT
Grainger Howle
Darlington, SC
+6
78
78
CUT
Jack Towarnicky
New Bern, NC
+6
78
78
CUT
John Massei
Pinehurst, NC
+6
78
78
CUT
Joseph Keene
Daniel Island, SC
+6
78
78
CUT
Matthew Kowalski
Milan, OH
+6
78
78
CUT
Owen Kose
Holly Springs, NC
+6
78
78
CUT
Patrick Larkin
Durham, NC
+6
78
78
CUT
Ryan Moylan
Vero Beach, FL
+6
78
78
CUT
Samuel Merrell
Greer, SC
+6
78
78
CUT
Tanner Bibey
Walnut Cove, NC
+6
78
78
CUT
Tommy Miller
Boone, NC
+6
78
78
CUT
Drew Wood
Pinehurst, NC
+6
78
78
CUT
Gus Lascola
Durham, NC
+6
78
78
CUT
Louis Lambert
Charlotte, NC
+6
78
78
CUT
Mason Elmore
Charlotte, NC
+6
78
78
CUT
Jake Blum
Stanley, NC
+7
79
79
CUT
Rob Webster
Ponte Vedra Beach, FL
+7
79
79
CUT
Samuel Nester
Mount Airy, NC
+7
79
79
CUT
Cody Lissner
Greensboro, NC
+7
79
79
CUT
Eston Lee
Four Oaks, NC
+7
79
79
CUT
Joe Tucker
Matthews, NC
+7
79
79
CUT
Kyle Kushnir
Raleigh, NC
+7
79
79
CUT
Paul Kester
Wrightsville Beach, NC
+7
79
79
CUT
Hayden Rousselle
Sullivans Island, SC
+8
80
80
CUT
Joseph Pritchard
Pinehurst, NC
+8
80
80
CUT
Kareem Elkassem
Raleigh, NC
+8
80
80
CUT
James Moore
Kernersville, NC
+8
80
80
CUT
McClure Thompson
Little River, SC
+8
80
80
CUT
Solomon Park
Martinsville, VA
+9
81
81
CUT
Logan Nerad
Huntersville, NC
+9
81
81
CUT
Wes Simmons
Wilmington, NC
+9
81
81
CUT
Justin Lenzini
Algonquin, IL
+11
83
83
CUT
Samuel Cudjoe
Knightdale, NC
+11
83
83
CUT
Sean Stanistreet
Camillus, NY
+13
85
85
CUT
Grayson Cheek
Wilkesboro, NC
+15
87
87
CUT
Eric Bradford
Chapel Hill, NC
+16
88
88
WD
Davis Richards
Oak Island, NC
-
WD
WD
WD
William Carter
Laurinburg, NC
-
WD
WD
NC
Dean Norman
Greensboro, NC
-
NC
NC