53rd Carolinas Father-Son Championship Results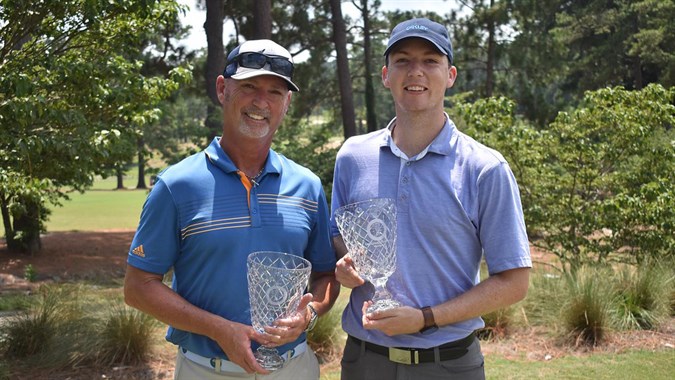 SOUTHERN PINES, N.C. (July 19, 2019) -- Results of the 53rd Carolinas Father-Son at Pinehurst Area Courses in Pinehurst, N.C. on July 19, 2019.
Related: Championship Web Site | Full Field of Players | Starting Times | History | Photos
Championship Division (A, B, C)
Nicholas Adams of Goldsboro, N.C. and Stan Adams of Dudley, N.C. have successfully defended their championship after a three-way playoff for the title. They shot 4-under-par, 68 in the modified alternate shot format to tie with Christian and Scott Park of Charlotte, N.C. and Neil and Steve Wilkinson of Wilmington, N.C. for the lead. After a two-hole playoff the Adams took home the hardware for the second year in a row.
Daniel and Daniel Boone Jr. of Fuquay Varina, N.C. secured first in Division B with an even par, 72. Division C had a tie for first between Jim and Jake Arlington of Apex, N.C. and William and Billy Sturtevant of Fuquay Varina, N.C. at 1-over-par, 73.
Second Division (D, E, F)
Divisions D, E, and F were played at Country Club of Whispering Pines. Dylan Stewart of Mint Hill, N.C. and Patrick Stewart of North Myrtle Beach, S.C. took first place in Division D with 4-under-par, 68. Jordan Kustas and Peter Harrison of Charlotte, N.C. captured the title in Division E with a 1-over-par, 73 finish. Division F was claimed by Spencer Leonard of Thomasville, N.C.and Ben Leonard of Lexington, N.C. who shot an even-par, 72.
Third Division (G, H, I, J)
Divisions G, H, and I were played at Legacy Golf Links while Division J was played at Pinehurst No. 1. Justice and Steve Aheron of Stoneville, N.C. shot a 3-under-par, 69 to take down Division G along with Spell and Bob Carr of Clinton, N.C. who also carded 69 to win first in Division H. Chase and Frank Werner of Raleigh, N.C. tied Aiken and McDowell of Creedmoor, N.C. for the Division I title with matching 3-over-par, 75. Connor and Glenn Key of Pilot Mountain, N.C. tied with Steven and Zack Wright of Durham to capture Division J with 10-over-par, 80.
13 & Under Division
The 13 & Under Division was contested at Pinehurst No. 1. Landon and Scott Morse of Indian Trail, N.C. were crowned as champions in the division with a 1-under-par, 69 finish.
Open (Pro-Am) Division
The Open (Pro-Am) Division was contested at Foxfire Golf & Country Club. Jerry and Kyle Haas of Winston Salem, NC took home the title with an 11-under-par, 61.
Super Senior Division (A, B, C, D)
The Super Senior Divisions A, B, and C were played at Longleaf Country Club and Division D was played at Pinehurst No. 1. Barry Burnett of Charlotte, N.C. and Scott Burnett of Mint Hill, N.C. captured the victory in Division A with 5-under-par, 67 which was the lowest score of the entire tournament. Division B was won by yet another tie with Craig Welton of Fuquay Varina, N.C. and Rob Welton of Seven Lakes, N.C. along with Don Hill of Mount Olive, N.C. and Donald Hill of Burlington, N.C. They both shot 1-under-par, 71 to win their division. James Steele and Van Southard of Matthews, N.C. finished their round as winners in Division C with 4-over-par, 76. Division D was won by Patrick and Steve Piner of Beaufort, N.C. with a 7-over-par, 77 finish at Pinehurst No. 1.
The CGA would like to thank all of the different clubs that hosted this event. Thank you to all the members and staff who allowed the use of their facilities and for all of their hard work during the championship.
Each team plays alternate shot except that both team members hit from each tee and then select the ball to be played (modified alternate shot). A team must complete the hole with the ball selected
Entry is open to any team comprised of a father and son, stepfather and stepson, father-in-law and son-in-law or grandfather and grandson. At least one member of each team must: 1.be a legal resident of one of the Carolinas; 2.be a member in good standing of a club which is a member of the Carolinas Golf Association (CGA) and have an active GHIN®USGA Handicap Index® at a CGA member club oris a golf professional employed at a CGA member club. A team is eligible if one partner is an amateur member of a CGA member club or if one partner is a golf professional employed by a CGA member club. Pro-Pro teams are NOT eligible.
53rd Carolinas Father-Son Championship
Pinehurst, N.C.
Results
Mid Pines (Division A)
| | | | | |
| --- | --- | --- | --- | --- |
| Pos. | Players | City, State | To Par | Total |
| T1 | Stan Adams + Nicholas Adams | Goldsboro, NC, Dudley, NC | -4 | 68 |
| T1 | Scott Park + Christian Park | Charlotte, NC | -4 | 68 |
| T1 | Steve Wilkinson + Neil Wilkinson | Wilmington, NC | -4 | 68 |
| T4 | Walter Todd + Neal Todd | Laurens, SC | -2 | 70 |
| T4 | Chris Locker + Jay Locker | Chapin, SC | -2 | 70 |
| 6 | Chase Tickle + Chuck Tickle | Raleigh, NC | E | 72 |
| T7 | Mitchell Tanis + Russ Tanis | Pineville, NC | +1 | 73 |
| T7 | Scott Crocker + Jackson Crocker | Kinston, NC | +1 | 73 |
| T7 | Mike Lendach + Josh Lendach | Raleigh, NC | +1 | 73 |
| T10 | John Nims + Clay Nims | Charlotte, NC, Nashville, TN | +3 | 75 |
| T10 | Paul Simson + Phillip Simson | Raleigh, NC | +3 | 75 |
| T10 | Jason Hawley + Landon Hawley | Charlotte, NC | +3 | 75 |
| T10 | Scott Newton + Grady Newton | Wallburg, NC | +3 | 75 |
| T14 | Chuck Wilfong + Chad Wilfong | Thomasville, NC, Charlotte, NC | +4 | 76 |
| T14 | Coston Fogleman + Wiley Fogleman | Hillsborough, NC | +4 | 76 |
| T14 | John Coleman + Doug Coleman | Hickory, NC | +4 | 76 |
| T17 | Matt Fitzgerald + Jack Fitzgerald | Wilmington, NC | +8 | 80 |
| T17 | Walker Taylor + Bates Taylor | Wilmington, NC | +8 | 80 |
| 19 | Phil Seaman + PJ Seaman | Charlotte, NC | +10 | 82 |
Mid Pines (Division B)
| | | | | |
| --- | --- | --- | --- | --- |
| Pos. | Players | City, State | To Par | Total |
| 1 | Daniel Boone + Daniel Boone Jr. | Fuquay Varina, NC | E | 72 |
| T2 | Jeff Childress + Michael Childress | Salisbury, NC | +2 | 74 |
| T2 | Robert Thompson III + Robert Thompson IV | Greenville, SC | +2 | 74 |
| T4 | John Daniels + Dawson Daniels | Greensboro, NC | +4 | 76 |
| T4 | Russell Morrison + Davis Morrison | Charlotte, NC, Arlington, VA | +4 | 76 |
| 6 | Ted Danser + Taylor Danser | Charlotte, NC | +5 | 77 |
| T7 | Jim Blalock + Will Blalock | Gastonia, NC | +6 | 78 |
| T7 | Brock Olson + Mike Olson | Wake Forest, NC | +6 | 78 |
| T7 | Michael Moore + Colby Moore | Advance, NC | +6 | 78 |
| T10 | Bill Collis + William Collis | Greensboro, NC | +7 | 79 |
| T10 | Lee Bailey + Christian Bailey | Indian Trial, NC, Matthews, NC | +7 | 79 |
| T10 | Charlie Hall + Patrick Hall | Bluffton, SC | +7 | 79 |
| T10 | Chuck Nance + Hogan Nance | Monroe, NC | +7 | 79 |
| T14 | Nile Brisson + Jeff Brisson | Myrtle Beach, SC, Elizabethtown, NC | +8 | 80 |
| T14 | Andy Burnette + Andrew Burnette | Raleigh, NC | +8 | 80 |
| T14 | Peter Melvin + William Melvin | Pinehurst, NC, Charlotte, NC | +8 | 80 |
| T14 | David Smith + Dray Smith | Albemarle, NC | +8 | 80 |
| T18 | Erick Banks + Jackson Bailey | Matthews, NC | +9 | 81 |
| T18 | Drew Davis + Andrew Davis | Lexington, NC, Fletcher, NC | +9 | 81 |
| 20 | Larry Tucker + Jackson Tucker | Matthews, NC | +10 | 82 |
Mid Pines (Division C)
| | | | | |
| --- | --- | --- | --- | --- |
| Pos. | Players | City, State | To Par | Total |
| T1 | Jim Arlington + Jake Arlington | Apex, NC | +1 | 73 |
| T1 | William Sturtevant + Billy Sturtevant | Fuquay Varina, NC | +1 | 73 |
| T3 | David Herring + William Herring | Lillington, NC | +2 | 74 |
| T3 | Jack Winters + Jay Winters | Durham, NC | +2 | 74 |
| T3 | Paul Davis + Thomas Davis | Darlington, SC | +2 | 74 |
| T3 | Jon Massey + Ryder Massey | Wake Forest, NC | +2 | 74 |
| T7 | Robert Beasley + Bob Beasley | Greensboro, NC | +3 | 75 |
| T7 | Steve Crouse + Luke Crouse | Reidsville, NC | +3 | 75 |
| 9 | Michael Del Priore + John Del Priore | Charlotte, NC | +5 | 77 |
| T10 | Rick Powers + Wesley Aitken | Oxford, NC | +6 | 78 |
| T10 | David Boyce Sr + David Boyce | Charlotte, NC | +6 | 78 |
| T12 | Daniel Williams + James Williams | Cary, NC, Wendell, NC | +8 | 80 |
| T12 | Christopher Finan + Sean Finan | Winston-Salem, NC, Winston Salem, NC | +8 | 80 |
| T12 | Eric Taylor + Matthew Taylor | Greensboro, NC, Wake Forest, NC | +8 | 80 |
| T12 | Jeremy Musgrave + Sam Musgrave | Trinity, NC, Jackson Springs, NC | +8 | 80 |
| 16 | Gary Robinson + Sutton Dreier | Fayetteville, NC | +9 | 81 |
| 17 | Mike Hardin + Eli Hardin | Shelby, NC | +11 | 83 |
| 18 | Kurt Snyder + Noah Snyder | Greensboro, NC | +15 | 87 |
| 19 | Jeff Helms + Lucas Helms | Monroe, NC | +16 | 88 |
CC of Whispering Pines (Division D)
| | | | | |
| --- | --- | --- | --- | --- |
| Pos. | Players | City, State | To Par | Total |
| 1 | Dylan Stewart + Patrick Stewart | Mint Hill, NC, North Myrtle Beach, SC | -4 | 68 |
| T2 | Vin Marcello + Nick Marcello | Huntersville, NC | -1 | 71 |
| T2 | David Elliott + Rob Elliott | Asheboro, NC | -1 | 71 |
| T2 | Britt Mitchell + Young Mitchell | Creedmoor, NC | -1 | 71 |
| 5 | Robert Stanley + Jimbo Stanley | Raleigh, NC | E | 72 |
| T6 | Kemp Hooper + Sullivan Hooper | Leesville, SC | +1 | 73 |
| T6 | Trent Gregory + Trevor Gregory | Wake Forest, NC | +1 | 73 |
| T6 | Chris Jacobson + Will Jacobson | Raleigh, NC | +1 | 73 |
| T6 | John Treece + Kenny Treece | Raleigh, NC, Monroe, NC | +1 | 73 |
| 10 | Linwood Johnson III + Linwood Johnson II | Raleigh, NC | +3 | 75 |
| T11 | Brad George + Heyward George | Raleigh, NC | +4 | 76 |
| T11 | Bryan Griffin + John Griffin | Greensboro, NC | +4 | 76 |
| T13 | James Herring + Jay Herring | Matthews, NC | +5 | 77 |
| T13 | Everett Eynon + Skip Eynon | Columbia, SC | +5 | 77 |
| T15 | Daryl McCarthy + Cole McCarthy | Wilmington, NC | +6 | 78 |
| T15 | Rick Hess + Blake Hess | Greenville, NC | +6 | 78 |
| T15 | Joshua Hudgins + Tim Hudgins | High Point, NC, King, NC | +6 | 78 |
| 18 | Glenn Walthall + Carson Walthall | Charlotte, NC | +7 | 79 |
| 19 | Duncan Isley + Angus Isley | Durham, NC | +8 | 80 |
| 20 | Michael Harwood + Chance Harwood | Stanfield, NC | +9 | 81 |
| 21 | Cass Baltz + Scott Baltz | Durham, NC, Raleigh, NC | +10 | 82 |
| 22 | Christopher Rae + Craig Rae | Concord, NC, Salisbury, NC | +11 | 83 |
| 23 | Paul Malkasian + Chance Malkasian | Myrtle beach, SC, Surfside, SC | +15 | 87 |
CC of Whispering Pines (Division E)
| | | | | |
| --- | --- | --- | --- | --- |
| Pos. | Players | City, State | To Par | Total |
| 1 | Jordan Kustas + Peter Harrison | Charlotte, NC | +1 | 73 |
| 2 | Jack Roberts + Tom Roberts | Greenville, SC | +2 | 74 |
| 3 | Brendan Coale + Mike Coale | Huntersville, NC | +3 | 75 |
| T4 | James Dockins + Randy Dockins | Charlotte, NC | +4 | 76 |
| T4 | Daniel Havens + Kirby Kim | Cary, NC | +4 | 76 |
| T6 | Alex Herron + Jim Herron | Charlotte, NC | +5 | 77 |
| T6 | Jackson Maynor + Benjamin Maynor | Concord, NC | +5 | 77 |
| T6 | Sean Weber + Andy Weber | Raleigh, NC | +5 | 77 |
| T9 | Jack Whitehouse + James Whitehouse | Asheville, NC | +7 | 79 |
| T9 | Will Strickland + Bubba Strickland | Wilson, NC | +7 | 79 |
| T9 | Jordan Smith + Gary Smith | Summerfield, NC | +7 | 79 |
| T12 | Caden Baker + Todd Baker | Mebane, NC | +8 | 80 |
| T12 | Shawn Brooks + Larry Brooks | Mocksville, NC | +8 | 80 |
| T12 | Brant Phillips + Chris Phillips | Locust, NC | +8 | 80 |
| 15 | Reid Johnson + Cale Johnson | Willow Spring, NC, Williow Spring, NC | +9 | 81 |
| 16 | Alex Boone + Jeremy Boone | Clyde, NC, Canton, NC | +11 | 83 |
| 17 | Zach Green + Thomas Green | Asheboro, NC | +13 | 85 |
| 18 | Fitz Miller + Dan Miller | Cary, NC | +17 | 89 |
CC of Whispering Pines (Division F)
| | | | | |
| --- | --- | --- | --- | --- |
| Pos. | Players | City, State | To Par | Total |
| 1 | Spencer Leonard + Ben Leonard | Thomasville, NC, Lexington, NC | E | 72 |
| 2 | Lawson Harkey + Jamie Harkey | Crouse, NC, Lincolnton, NC | +1 | 73 |
| 3 | Michael Whitehead + Chuck Whitehead | Raleigh, NC, Horse Shoe, NC | +4 | 76 |
| T4 | Alexander Murphy + James Murphy | Monroe, NC | +5 | 77 |
| T4 | Andrew Barnes + John Barnes | Charlotte, NC | +5 | 77 |
| T4 | Candler Matthews + Mike Matthews | Wilson, NC | +5 | 77 |
| T4 | Barrett McGrath Jr. + Barrett McGrath | Pinehurst, NC | +5 | 77 |
| T8 | Kirby Yeargin + Ben Yeargin | Wendell, NC | +6 | 78 |
| T8 | Brian Kuehl + Dick Kuehl | Concord, NC, Sanford, NC | +6 | 78 |
| T8 | Drake Kane + Charles Kane | Raleigh, NC | +6 | 78 |
| T8 | Mark Harper Jr. + Mark Harper Sr. | Winston-salem, NC | +6 | 78 |
| T12 | Carson Holroyd + Ryan Holroyd | Columbia, SC | +7 | 79 |
| T12 | Andrew Nance + Bill Nance | Concord, NC, Clinton, NC | +7 | 79 |
| T12 | Matthew Pasek + Gary Pasek | Belmont, NC, Charlotte, NC | +7 | 79 |
| T15 | John Stolzenbach + Mike Stolzenbach | Denver, NC | +9 | 81 |
| T15 | Wil Sutton + David Fillippeli | Lagrange, NC, Kinston, NC | +9 | 81 |
| T17 | Brian Boadwine + Dan Boadwine | Raleigh, NC, Salem, VA | +12 | 84 |
| T17 | Robert Saunders + Rob Saunders | Winston Salem, NC | +12 | 84 |
| WD | Ben Johnson + Jim Johnson | Newton, NC | | WD |
Legacy Golf Links (Division G)
| | | | | |
| --- | --- | --- | --- | --- |
| Pos. | Players | City, State | To Par | Total |
| 1 | Justice Aheron + Steve Aheron | Stoneville, NC | -3 | 69 |
| 2 | Ben Jarrett + Jon Jarrett | Charlotte, NC | -1 | 71 |
| 3 | Brian Buckmaster + Mike Buckmaster | Wake Forest, NC | +1 | 73 |
| T4 | John Paul Sullivan + John Sullivan | Belmont, NC | +2 | 74 |
| T4 | Chris Kelly + Greg Kelly | Pinehurst, NC | +2 | 74 |
| T4 | Trevor Tugman + Jeff Tugman | Wesley Chapel, NC | +2 | 74 |
| T7 | Faheem Amod + Faisal Amod | Raleigh, NC, Plymouth, NC | +3 | 75 |
| T7 | Josh Bloom + Mitchell Bloom | Holly Springs, NC | +3 | 75 |
| T9 | Sam Wilson + Steve Wilson | Davidson, NC | +4 | 76 |
| T9 | Bryce Lannen + David Waggoner | Sneads Ferry, NC, Holly Ridge, NC | +4 | 76 |
| T9 | Winston Wise + Rusty Wise | Cherryville, NC | +4 | 76 |
| T9 | Joey Keegan + Rich Keegan | Wilmington, NC | +4 | 76 |
| T13 | Richard Shore III + Richard Shore | Winston-Salem, NC | +6 | 78 |
| T13 | Emery Hollar Jr. + Emery Hollar | Spartanburg, SC | +6 | 78 |
| T13 | Jake Rowe + Doug Rowe | Lake Wylie, SC | +6 | 78 |
| 16 | Gregg Hiller + Keith Hiller | Jersey City, NJ, Clemmons, NC | +7 | 79 |
| 17 | Madison Souder + Kevin Souder | Charlotte, NC | +9 | 81 |
| T18 | Cory Crumley + Mitch Crumley | King, NC, Pinnacle, NC | +11 | 83 |
| T18 | John Derrick + Lee Derrick | Greensboro, NC | +11 | 83 |
| 20 | Jackson Thomas + Paul Thomas | Lake Wylie, SC, York, SC | +12 | 84 |
| 21 | Timothy Batchelor + Rick Batchelor | Wilmington, NC, Wallace, NC | +14 | 86 |
Legacy Golf Links (Division H)
| | | | | |
| --- | --- | --- | --- | --- |
| Pos. | Players | City, State | To Par | Total |
| 1 | Spell Carr + Bob Carr | Clinton, NC | -3 | 69 |
| 2 | Aaron Fox + Ryan Fox | Wake Forest, NC, West End, NC | E | 72 |
| T3 | Cole Howard + Jeff Howard | Benson, NC | +2 | 74 |
| T3 | Cale Allison + Mike Allison | Durham, NC | +2 | 74 |
| 5 | Clay Stanley + Craig Stanley | Greenville, NC | +3 | 75 |
| 6 | Fletcher Meadows + Jason Meadows | Mooresville, NC | +4 | 76 |
| T7 | Dalton Pike + Anthony Pike | Kernersville, NC | +5 | 77 |
| T7 | Lucas Tate + Chris Tate | Arden, NC | +5 | 77 |
| 9 | John Keffer + Mike Keffer | Kannapolis, NC | +6 | 78 |
| T10 | Terry Welles + John Welles | Durham, NC, Charlotte, NC | +8 | 80 |
| T10 | Brian Guill + Jim Guill | Charlotte, NC, Lancaster, SC | +8 | 80 |
| T10 | Michael Gruber + Jeff Gruber | Charlotte, NC | +8 | 80 |
| T10 | Seth Cox + Tim Neal | Booneville, NC, Winston Salem, NC | +8 | 80 |
| T14 | William Seate + Marc Seate | Raleigh, NC | +9 | 81 |
| T14 | John Beard Jr. + John Beard | Greensboro, NC | +9 | 81 |
| T14 | Taylor Brawley + Bill Brawley | Statesville, NC | +9 | 81 |
| 17 | Matthew Mullen + Matt Mullen | Wake Forest, NC | +11 | 83 |
| 18 | Alan Foy + Chip Foy | Raleigh, NC, Kings Mountain, NC | +14 | 86 |
| 19 | Benjamin Duff + Barry Duff | Cary, NC, Charlotte, NC | +15 | 87 |
| 20 | Ryan Cassas + Devin Cassas | Cary, NC | +17 | 89 |
Legacy Golf Links (Division I)
| | | | | |
| --- | --- | --- | --- | --- |
| Pos. | Players | City, State | To Par | Total |
| T1 | Chase Werner + Frank Werner | Raleigh, NC | +3 | 75 |
| T1 | Aiken Mcdowell + David McDowell | Creedmoor, NC | +3 | 75 |
| 3 | Connor Moroney + Scott Moroney | Denver, NC | +5 | 77 |
| 4 | Blake Miller + Gary Eubanks | Greensboro, NC | +6 | 78 |
| 5 | Ben Peters + Jonathan Peters | Winston-salem, NC, Winston Salem, NC | +8 | 80 |
| T6 | David Bishop + Matt Bishop | Camden, SC | +9 | 81 |
| T6 | Kendrick Rhodes + Damon Rhodes | Locust, NC | +9 | 81 |
| T6 | Noah Parton + Robert Parton | Raleigh, NC | +9 | 81 |
| 9 | Hayden Blalock + Brian Blalock | Charlotte, NC | +10 | 82 |
| T10 | Jesse Shimer + Sandy Shimer | Kinston, NC | +11 | 83 |
| T10 | Anthony Kelly + Chip Blalock | Wilmington, NC | +11 | 83 |
| T10 | Jonathan Dollar + Bo Dollar | Wake Forest, NC, Southport, NC | +11 | 83 |
| 13 | Will Brodie + Jason Brodie | Charlotte, NC | +12 | 84 |
| 14 | Chuck Laughinghouse + Charles Laughinghouse | Winterville, NC, Emerald Isle, NC | +13 | 85 |
| 15 | Austin Jones + Mike Jones | Yadkinville, NC, Winston-Salem, NC | +14 | 86 |
| 16 | Kyle Austin + Al Austin | Mebane, NC | +17 | 89 |
| 17 | Lyle Kirkland + Tim Kirkland | Tamarac, FL, Huntersville, NC | +19 | 91 |
Pinehurst No.1 (Division J)
| | | | | |
| --- | --- | --- | --- | --- |
| Pos. | Players | City, State | To Par | Total |
| T1 | Connor Key / Glenn Key | Pilot Mountain, NC | 10 | 80 |
| T1 | Steven Wright / Zack Wright | Durham, NC | 10 | 80 |
| 3 | Benjamin Wright / Benjamin Wright, Jr. | Clinton, NC, Cordele, GA | 13 | 83 |
| 4 | Davis Palombo / Tom Palombo | Greensboro, NC | 14 | 84 |
| 5 | Jason Ross / Stephen Ross | Fuquay Varina, NC | 15 | 85 |
| T6 | Maylon Kirby / Stephen Overbey | Trent Woods, NC | 16 | 86 |
| T6 | Daniel Gaeckle / Jeff Gaeckle | Charlotte, NC | 16 | 86 |
| T8 | Andrew Grindrod / Gary Grindrod | Norfolk, VA, Hilton Head Island, SC | 20 | 90 |
| T8 | Carl Edwards / Jess Edwards | Kinston, NC, Morehead City, NC | 20 | 90 |
| 10 | Jeb Ivey / Timothy Ivey | Merry Hill, NC, Woodberry Forest, VA | 21 | 91 |
| 11 | Derek Schoch / Greg Macdonald | Lutherville, MD, Pittsboro, NC | 23 | 93 |
| 12 | Dustin Walker / Russell Walker | Chapel Hill, NC | 24 | 94 |
| 13 | Sam Duty / Stephen Duty | Davidson, NC | 28 | 98 |
Pinehurst No.1 (13 & Under Division – Flight A)
| | | | | |
| --- | --- | --- | --- | --- |
| Pos. | Players | City, State | To Par | Total |
| 1 | Landon Morse / Scott Morse | Indian Trail, NC | -1 | 69 |
| T2 | Jaydon Delvechio / Jody Delvechio | Newton, NC | 1 | 71 |
| T2 | Jeffrey Hedden / Tripp Hedden | Hilton Head, SC | 1 | 71 |
| 4 | Hayden Magnussen / Kelly Magnussen | Greensboro, NC | 2 | 72 |
| 5 | Ernie Newton / Lincoln Newton | Winston salem, NC, Wallburg, NC | 3 | 73 |
| 6 | Alan Fesperman / Warren Fesperman | Salisbury, NC | 6 | 76 |
| 7 | David Gibson / James Gibson | Lexington, SC | 7 | 77 |
| T8 | Hunter Shull / Reston Shull | Charlotte, NC | 10 | 80 |
| T8 | Bennett Brewer / Paul Brewer | Raleigh, NC | 10 | 80 |
| T8 | Bradley Williams / Lake Williams | Greenville, NC | 10 | 80 |
| 11 | Joseph Shull / Walker Shull | Charlotte, NC | 11 | 81 |
| T12 | Hampton Cogdill / Jason Cogdill | Pfafftown, NC | 12 | 82 |
| T12 | Shane Wagner / Will Wagner | Charlotte, NC | 12 | 82 |
| 14 | Andrew Bartlett / Wes Bartlett | Greensboro, NC | 13 | 83 |
| 15 | Mark Hall II / Mark Hall III | Taylorsville, NC | 16 | 86 |
Pinehurst No.1 (13 & Under Division – Flight B)
| | | | | |
| --- | --- | --- | --- | --- |
| Pos. | Players | City, State | To Par | Total |
| 1 | William Webb / Woody Webb | Raleigh, NC | 1 | 71 |
| T2 | Cameron Harvey / Scott Harvey | Kernersville, NC | 8 | 78 |
| T2 | Marion Moore / Walter Mims | Orangeburg, SC | 8 | 78 |
| 4 | Aiden Bragg / Bobby Smith | Clinton, SC | 12 | 82 |
| 5 | Jack Lindley / Matt Lindley | Raleigh, NC | 13 | 83 |
| 6 | John Jackson / Robert Jackson | Charlotte, NC | 14 | 84 |
| 7 | Charles Gauley / Mark Gauley | Raleigh, NC | 15 | 85 |
| T8 | Aaron Lael / Brewer Lael | Newton, NC | 16 | 86 |
| T8 | Alex Jones / Dan Jones | Greensboro, NC | 16 | 86 |
| 10 | Alex Stewart / Frank Stewart | Clemmons, NC | 17 | 87 |
| 11 | Trae McKee / Tyler Mckee | Dudley, NC | 18 | 88 |
| 12 | Jack Clayman / Todd Clayman | Cameron, NC | 21 | 91 |
| 13 | Joe Harpe / Wyatt Harpe | Advance, NC | 24 | 94 |
| 14 | John Bluth / Spencer Bluth | Raleigh, NC | 30 | 100 |
| 15 | Colin Yoder / Will Yoder | Greensboro, NC | 33 | 103 |
| 16 | Anderson Levine / Kent Levine | Wake Forest, NC | 36 | 106 |
Foxfire (Grey) -Open Division - Open (Pro-Am) Division
| | | | | | |
| --- | --- | --- | --- | --- | --- |
| 1 | Jerry Haas / Kyle Haas | Winston Salem, NC | 65 | -11 | 61 |
| 2 | Holland Giles / Ron Giles | Pinehurst, NC | 70 | -4 | 68 |
| 3 | Jimmy McMullen / Tucker McMullen | Clemmons, NC | 79 | -3 | 69 |
| T4 | Ben Hynson / Nick Hynson | Cary, NC | 74 | -2 | 70 |
| T4 | Kevin McCallister / Ron McCallister | Oak Ridge, NC, Mills River, NC | 74 | -2 | 70 |
| T6 | Steve Isley, Jr / Walker Isley | Oak Island, NC | 71 | -1 | 71 |
| T6 | Andy Younts / Drew Younts | Greensboro, NC, Reidsville, NC | 72 | -1 | 71 |
| T6 | Avery Chunn / Randy Chunn | Rural Hall, NC | 77 | -1 | 71 |
| T9 | Elijah Hodges / Scott Hodges | Rougemont, NC | 90 | +1 | 73 |
| T9 | Connor Keating / Greg Keating | Daniel Island, SC | 77 | +1 | 73 |
| T9 | Alan Cress / Walker Cress | Concord, NC | 73 | +1 | 73 |
| 12 | Bill Jones / William Jones | Conway, SC | 79 | +3 | 75 |
| T13 | Andrew Haarlow / Chris Haarlow | Greensboro, NC | 80 | +6 | 78 |
| T13 | Craig Kenley / Karsten Kenley | Myrtle Beach, SC | 78 | +6 | 78 |
| 15 | Anthony Lohbauer / Jim Lohbauer | Huntersville, NC | 83 | +7 | 79 |
| 16 | Brandon Turner / George Turner | Asheboro, NC | 84 | +8 | 80 |
Longleaf CC (Super Senior Division A)
| | | | | |
| --- | --- | --- | --- | --- |
| Pos. | Players | City, State | To Par | Total |
| 1 | Barry Burnett / Scott Burnett | Charlotte, NC, Mint Hill, NC | -5 | 67 |
| 2 | Brent Parrish / Jack Parrish | Clinton, NC | -1 | 71 |
| 3 | Cliff Seastrunk / Jason Seastrunk | Raleigh, NC | E | 72 |
| 4 | John McPhaul / Press McPhaul | Raleigh, NC, Southern Pines, NC | +2 | 74 |
| T5 | Colby Patterson / Rufty Patterson | Spencer, NC, Salisbury, NC | +3 | 75 |
| T5 | Garrett Kachellek / Jim Kachellek | Charlotte, NC | +3 | 75 |
| T5 | Brian Hogan / Dick Hogan | Charlotte, NC, Burlington, NC | +3 | 75 |
| T8 | Brent Pridgen / Jim Pridgen | Jamestown, NC, Lewisville, NC | +4 | 76 |
| T8 | Adam Andrews / Paul Andrews | Ayden, NC, Hampstead, NC | +4 | 76 |
| T8 | Bill Chamberlin / Chris Chamberlin | Rock Hill, SC | +4 | 76 |
| 11 | Chris Bitzenhofer / Jerry Bitzenhofer | Raleigh, NC, Mount Olive, NC | +5 | 77 |
| 12 | Jordan Fink / Ricky Fink | Hartsville, SC | +6 | 78 |
| 13 | Jeff Revier / Ryan Revier | Waxhaw, NC, Charlotte, NC | +7 | 79 |
| T14 | Bern Gregory / Ed Gregory | Mooresville, NC, Wilkesboro, NC | +9 | 81 |
| T14 | Bo Heath / Jeff Heath | Raleigh, NC, Clinton, NC | +9 | 81 |
| 16 | Craig Brookes / Rick Brookes | Cramerton, NC, Charlotte, NC | +10 | 82 |
| 17 | Bob Campbell / Rob Campbell | Charlotte, NC, Belmont, NC | +12 | 84 |
| 18 | Bob Pope / Will Pope | Wilson, NC | +14 | 86 |
Longleaf CC (Super Senior Division B)
| | | | | |
| --- | --- | --- | --- | --- |
| Pos. | Players | City, State | To Par | Total |
| T1 | Craig Welton / Rob Welton | Fuquay Varina, NC, Seven Lakes, NC | -1 | 71 |
| T1 | Don Hill / Donald Hill | Mount Olive, NC, Burlington, NC | -1 | 71 |
| T3 | Donald Detweiler / Walker Detweiler | Raleigh, NC | +3 | 75 |
| T3 | Matthew Hammond / Scott Hammond | Clayton, NC, Holly Springs, NC | +3 | 75 |
| T3 | Gary Calloway / Ryan Calloway | Holly Springs, NC, Hoschton, GA | +3 | 75 |
| T3 | Brian Toothman / Dennis Toothman | Raleigh, NC, Apex, NC | +3 | 75 |
| T7 | John Diachenko / John Diachenko Jr. | Yadkinville, NC, Winston Salem, NC | +5 | 77 |
| T7 | Joseph Nevins / Patrick Nevins | Washington, Other, Kiawah Island, SC | +5 | 77 |
| T7 | Aaron Sarver / Sid Sarver | Wilmington, NC, Asheville, NC | +5 | 77 |
| T10 | Arnold Harpe / Scott Cornatzer | Mocksville, NC, Advance, NC | +7 | 79 |
| T10 | Bill Foster / Scott Foster | Raleigh, NC, Fayetteville, NC | +7 | 79 |
| T10 | Phil Rathman / Terry Rathman | Gastonia, NC | +7 | 79 |
| T13 | Greg Howren / Joe Howren | Charlotte, NC | +9 | 81 |
| T13 | Aaron York / Michael York | Durham, NC, Cornelius, NC | +9 | 81 |
| T15 | Jim Greyard / Will Greyard | Fort Mill, SC, Pawley's Island, SC | +10 | 82 |
| T15 | Bill Kerns / Daniel Kerns | Huntersville, NC | +10 | 82 |
| 17 | Davis Diethrich / Paul Diethrich | Raleigh, NC, Allison Park, PA | +11 | 83 |
| 18 | Colby Mavropoulos / Eddie Streetman | Lexington, NC, Kannapolis, NC | +12 | 84 |
| T19 | Drew Turner / Todd Turner | West End, NC, Norfolk, VA | +14 | 86 |
| T19 | Thomas Johnson / Tom Johnson | Clayton, NC, Pinehurst, NC | +14 | 86 |
| NC | Brian Tarr / William Tarr | Southern Pines, NC, Raleigh, NC | | NC |
Longleaf CC (Super Senior Division C)
| | | | | |
| --- | --- | --- | --- | --- |
| Pos. | Players | City, State | To Par | Total |
| 1 | James Steele / Van Southard | Matthews, NC | +4 | 76 |
| T2 | Thomas Cirucci / Thomas Cirucci Jr. | Hendersonville, NC, Fort Mill, SC | +8 | 80 |
| T2 | Patrick Kelly / Philip Kelly | Beaufort, SC, Blythewood, SC | +8 | 80 |
| T4 | Kevin Galvin / Matthew Sullivan | West End, NC, Indian Trail, NC | +9 | 81 |
| T4 | Bill Clark / Steve Clark | Midland, NC, Charlotte, NC | +9 | 81 |
| T6 | David Harrison / Preston Harrison | Yadkinville, NC | +10 | 82 |
| T6 | Bill Morgan / Will Morgan | Laurinburg, NC, West End, NC | +10 | 82 |
| T6 | Rick Davenport / Travis Davenport | Rocky Mount, NC, Rocky mount, NC | +10 | 82 |
| T6 | Al LaPorta / Gerald LaPorta | Huntersville, NC, Tega Cay, SC | +10 | 82 |
| T6 | Robert Richardson / Ryan Richardson | Kernersville, NC, Durham, NC | +10 | 82 |
| T11 | Randy Sain / Steve Sain | Hickory, NC, Maiden, NC | +12 | 84 |
| T11 | John Ruggiero / John Ruggiero Jr. | Winston Salem, NC | +12 | 84 |
| T13 | C Strickland / Robbie Strickland | Nashville, NC | +15 | 87 |
| T13 | Gary Petersen / Scott Petersen | Spring Lake, NC, Pinehurst, NC | +15 | 87 |
| T13 | Doug Weathers / Jason Weathers | Raleigh, NC, Shelby, NC | +15 | 87 |
| 16 | James McDougle / Robert Allen | Apex, NC, Cary, NC | +16 | 88 |
| T17 | Nick Foland / Ray Foland | Morrisville, NC, Cary, NC | +18 | 90 |
| T17 | Dennis Rouse / Kevin Rouse | Wilmington, NC, Hampstead, NC | +18 | 90 |
| 19 | Russell Pait / Will Pait | Southern Pines, NC | +22 | 94 |
Pinehurst No.1 (Super Senior Division D)
| | | | | |
| --- | --- | --- | --- | --- |
| Pos. | Players | City, State | To Par | Total |
| 1 | Patrick Piner / Steve Piner | Beaufort, NC | 7 | 77 |
| T2 | Brian Harpster / James Harpster | Reidsville, NC, Canfield, OH | 12 | 82 |
| T2 | Edwin Strickland / Grady Strickland | Warrenton, NC, Greensboro, NC | 12 | 82 |
| T4 | Andrew Foster / Doug Foster | Fayetteville, NC, Morehead City, NC | 14 | 84 |
| T4 | Bob Tomasulo / Matt Tomasulo | Raleigh, NC | 14 | 84 |
| T4 | Jeff Blanchard / Raun Blanchard | Greensboro, NC | 14 | 84 |
| T4 | Jeff Bumgarner / Jerrry Burgess | Cherryville, NC | 14 | 84 |
| 8 | Bryan Valentine / Jim Valentine | Burlington, NC, Greensboro, NC | 15 | 85 |
| T9 | David Holler / James Holler | Apex, NC, Raleigh, NC | 16 | 86 |
| T9 | Don Fowler / Donnie Fowler | Charlotte, NC | 16 | 86 |
| T11 | Peter Van Drumpt / Thomas Van Drumpt | Wilmington, NC | 17 | 87 |
| T11 | Frank Huie / Scott Huie | Greensboro, NC, Charlotte, NC | 17 | 87 |
| T11 | Darby Worrell / Ray Fesperman | Jacksonville, NC, Leland, NC | 17 | 87 |
| 14 | Carroll Kratzer / Robert Kratzer | Wake Forest, NC, Greenville, NC | 18 | 88 |
| 15 | Larry Mankins / Scott Mankins | Wake Forest, NC, King, NC | 21 | 91 |
| 16 | Philip Leonard Jr. / Philip Leonard Sr. | Wake Forest, NC | 24 | 94 |
| 17 | Pat Jones / Russell Jones | Salemburg, NC | 38 | 108 |
| 18 | Jim Dyer / Mason Dyer | Snow Hill, NC, Morganfield, KY | 39 | 109 |