22nd Parent-Child Championship Results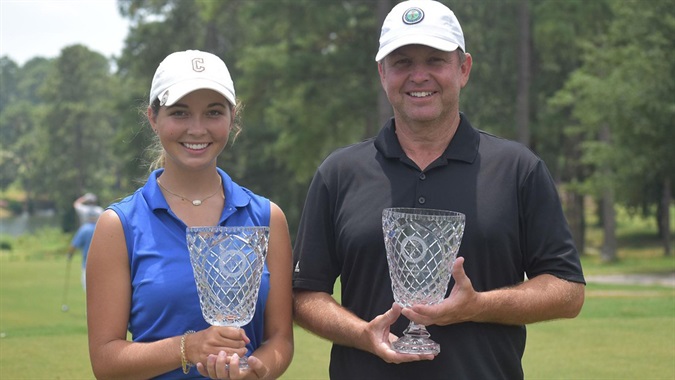 JACKSON SPRINGS, N.C. (July 19, 2019) -- Results of the 22nd Carolinas Parent-Child Championship at Foxfire Golf & Country Club in Jackson Springs, N.C. on July 19, 2019.
Related: Championship Web Site | Full Field of Players | Starting Times | Scoring | History | Photos
Jodee and Kevin Tindal of Rock Hill S.C. captured the overall championship trophy at the 22nd Carolinas Parent-Child Championship with a score of three-under-par, 69.
"It's pretty exciting. I think we won it a few years back and we haven't done too good since then so it feels good to finally play well again" said Jodee.
The duo opened their round with two bogeys but did not let that stop their momentum as they were able to come back with three birdies to make the turn at one-under-par, 35.
The front nine lifted their confidence as they opened the back nine with three pars and took their game up a notch with three back-to-back birdies. Even with a bogey on No. 17, they were able to capture the title by two strokes.
"It's certainly a day we look forward to all year. Anytime you get to come out with your family and do anything succeed or fail, it's wonderful" said Kevin.
Emma and Steve Charles of Hartsville, S.C. finished in first place in the amateur division with a score of two-under-par, 70.
22nd Carolinas Parent-Child Championship
Pinehurst, N.C.
Results
Flight A
Pos.
Players
City, State
To Par
Total
1
Jodee Tindal / Kevin Tindal
Rock Hill, SC
-3
69
2
Emma Charles / Steve Charles
Hartsville, SC
-2
70
3
Jeff Burcham / Macie Burcham
Greensboro, NC
E
72
4
Jon Isaacson / Madison Isaacson
Greensboro, NC
+1
73
5
Kathryn Carson / Tom Carson
Mooresville, NC
+3
75
T6
Annika Wood / Scott Winebarger
United States Minor Outlying Islands, Elkin, NC
+4
76
T6
Elle Crichton / Matt Crichton
Cary, NC
+4
76
T6
Kevin Miller / Sadler Miller
Clayton, NC
+4
76
T6
Lionel Sutton / Savannah Sutton
La Grange, NC
+4
76
10
Frank Poole / Makalyn Poole
Williamston, SC
+5
77
T11
Eric Freedman / Hailey Freedman
Chapel Hill, NC
+8
80
T11
Holly McCann / Matt McCann
Raleigh, NC
+8
80
13
Casey Burroughs / Scott Burroughs
Wake Forest, NC
+10
82
Flight B
Pos.
Players
City, State
To Par
Total
1
Atley Gabriel / Suzanne Gabriel
Claremont, NC
+1
73
T2
Terry Blackwell / Toni Blackwell
Fayetteville, NC
+2
74
T2
Debby Robillard / Jessica Shao
North Myrtle Beach, SC
+2
74
4
Jessie Bunn / John Bunn
Raleigh, NC
+3
75
5
Drew Hall / Niza Hall
Hilton Head Island, SC
+5
77
T6
Hunter Treece / Mary Helen Treece
Monroe, NC
+6
78
T6
Ava Lucas / Robert Christino
Raleigh, NC
+6
78
T8
Mike Wood / Savanna Wood
Boone, NC
+9
81
T8
Allison Lebo / Matthew Lebo
North Augusta, SC
+9
81
T10
Kevin King / Mary Paige King
Clemmons, NC
+12
84
T10
Leigh Armentrout / Shelby Armentrout
Greensboro, NC, Raleigh, NC
+12
84
Flight C
Pos.
Players
City, State
To Par
Total
1
Matthew Hiller / Peyton Hiller
Clemmons, NC
+3
75
2
Jenna Kim / Yon Kim
Raleigh, NC, Knoxville, TN
+5
77
3
Mattie Noonkester / Tadd Noonkester
Ararat, NC
+12
84
T4
David Shackelford / Sydney Shackelford
Cary, NC, Raleigh, NC
+15
87
T4
Cynthia Smith / Derrick Smith
York, SC
+15
87
T4
Sherry Marsh / Wes Stanley
Greensboro, NC, Southport, NC
+15
87
T7
Eliza Ofsanko / Jason Ofsanko
Greensboro, NC
+16
88
T7
Peyton Nichols / Robert Nichols
Winterville, NC
+16
88
9
Cassidy Lytch / Colby Lytch
Bolivia, NC
+19
91
10
Jessica Dean / Trannis Dean
Raleigh, NC
+20
92
DQ
Jeff Haarlow / Molly Haarlow
Pinehurst, NC
-
DQ