US Amateur Qual Results Benvenue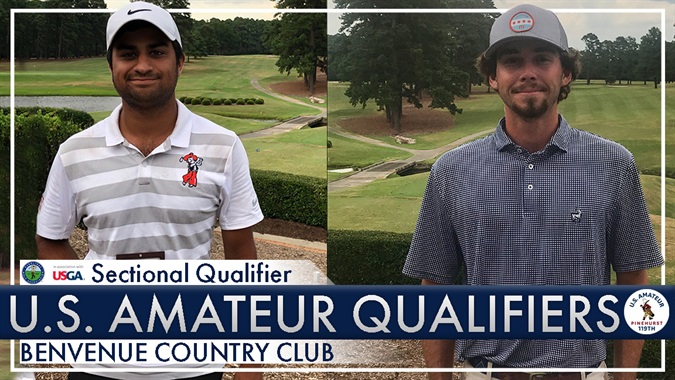 ROCKY MOUNT, N.C. (July 22, 2019) -- Final results from 2019 U.S. Amateur Sectional Qualifying at Benvenue Country Club in Rocky Mount, N.C. on Monday, July 22, 2019 (6525 yards, par 36-36--72, Course/Slope rating: 71.3/134).
Two qualifying spots and two alternate positions were available at this qualifying site.
Aman Gupta from Concord, NC and Scott Stevens from Chattanooga, TN filled the two qualifying spots. Aman Gupta was medalist with rounds of 72 and 66 to finish six-under par with a total score of 138. Scott Stevens shot rounds of 70 and 69 to finish with five-under par 139. Spencer Oxendine from Fayetteville, NC was first alternate and Ryan Gioffre from Greensboro, NC was second alternate.
The two qualifiers will advance to the US Amateur Championship at Pinehurst Resort and Country Club in Pinehurst, NC from August 12-18, 2019.
Hole-by-hole scoring can be viewed here: https://www.golfgenius.com/pages/1799819
This qualifier was conducted by the Carolinas Golf Association on behalf of the United States Golf Association.
U.S. Amateur Sectoinal Qualifying Results
Benvenue Country CLub
Rocky Mount, N.C.
Pos.

Player

City, State

Total To Par

R1

R2

Total Strokes

Details

1

Aman Gupta

Concord, NC

-6

72

66

138

2

Scott Stevens

Chattanooga, TN

-5

70

69

139

The following players did not make the cut

CUT

Spencer Oxendine

Fayetteville, NC

-5

68

71

139

First Alt.

CUT

Ryan Gioffre

Greensboro, NC

-5

70

69

139

Second Alt.

CUT

Stephen Behr

Atlanta, GA

-4

70

70

140

CUT

Fulton Smith

Pinehurst, NC

-4

68

72

140

CUT

Eric Bae

Pinehurst, NC

-3

71

70

141

CUT

Grayson Wotnosky

Wake Forest, NC

-2

76

66

142

CUT

Zachary Bishop

Travelers Rest, SC

-1

72

71

143

CUT

Connery Meyer

Marietta, GA

E

71

73

144

CUT

Matthew Younts

Greensboro, NC

E

72

72

144

CUT

Michael Sims

Lexington, SC

E

74

70

144

CUT

Derek Wallace

Smithfield, NC

+1

70

75

145

CUT

J.D. Bass

Asheboro, NC

+1

73

72

145

CUT

Scott Odell

Claxton, GA

+1

69

76

145

CUT

Cabrick Waters

Gaffney, SC

+2

75

71

146

CUT

Bogle Larue

Knoxville, TN

+3

74

73

147

CUT

Sihan Sandhu

Ashburn, VA

+3

76

71

147

CUT

Steven Brame

Henderson, NC

+3

70

77

147

CUT

Thomas Owen

Fayetteville, NC

+3

76

71

147

CUT

JD Lehman

Travelers Rest, SC

+4

74

74

148

CUT

Blake McShea

Zebulon, NC

+5

72

77

149

CUT

Quinn Riley

Raleigh, NC

+5

73

76

149

CUT

Walker Cress

Concord, NC

+5

73

76

149

CUT

Alex Johnson

Charlotte, NC

+6

79

71

150

CUT

Korky Kemp

Greensboro, NC

+6

75

75

150

CUT

Stephen Lavenets

Willow Spring, NC

+6

75

75

150

CUT

Bradley Mogire

Dubai, United Arab Emirates

+6

77

73

150

CUT

Joseph Jarrard

Gainesville, GA

+6

78

72

150

CUT

Joshua Chriswell

Trenton, SC

+6

75

75

150

CUT

Mark Goodall

Pinehurst, NC

+7

75

76

151

CUT

Symon Balbin

Pinehurst, NC

+7

74

77

151

CUT

Thomas Eubanks

Charlotte, NC

+7

74

77

151

CUT

Trey Broome

Raleigh, NC

+8

77

75

152

CUT

Will Hawley

Raleigh, NC

+8

76

76

152

CUT

Clayton Holland

Greensboro, NC

+8

73

79

152

CUT

Michael Coe

Morrisville, NC

+8

78

74

152

CUT

Preston Ball

Raleigh, NC

+9

77

76

153

CUT

James Wiley

Raleigh, NC

+9

73

80

153

CUT

Jacob Lowe

Angier, NC

+10

73

81

154

CUT

Justin Poole

Wendell, NC

+10

75

79

154

CUT

Nicholas Mathews

Mebane, NC

+10

74

80

154

CUT

Jonathan Honeywell

Whispering Pines, NC

+11

79

76

155

CUT

Nicolas Brown

Wendell, NC

+11

73

82

155

CUT

Maxwell White

Tampa, FL

+12

78

78

156

CUT

Patrick Schweitz

Clayton, NC

+12

82

74

156

CUT

Tyler Hayes

Nashville, TN

+14

79

79

158

CUT

Nick Ciampa

Raleigh, NC

+14

78

80

158

CUT

Christopher Sperrazza

Raleigh, NC

+15

85

74

159

CUT

David Shields

Goldsboro, NC

+15

80

79

159

CUT

Will Morgan

West End, NC

+15

82

77

159

CUT

Kyle Austin

Mebane, NC

+16

76

84

160

CUT

Lincoln Jackson

Alexandria, VA

+17

78

83

161

CUT

Mitchell Tanis

Pineville, NC

+17

85

76

161

CUT

Sam Davidson

Asheboro, NC

+17

79

82

161

CUT

Collin Adams

Charlotte, NC

+20

80

84

164

CUT

Laurent Span

Raleigh, NC

+20

81

83

164

CUT

Zac Lewis

Wilmington, NC

+20

83

81

164

CUT

Kaden Welch

Johnstown, OH

+21

84

81

165

CUT

Dane Anderson

Charlotte, NC

+22

86

80

166

CUT

Connor Haskins

Lumberton, NC

+24

87

81

168

CUT

Scott Bradsher

Wilmington, NC

+25

84

85

169

CUT

Chris Vlahos

Charlotte, NC

+28

85

87

172

WD

J.D. McNeill

Raleigh, NC

-

76

WD

WD

WD

James Kasza

Roanoke, VA

-

78

WD

WD

WD

Charlie Hanson

Richmond, VA

-

81

WD

WD

WD

Jeremy Ray

Pfafftown, NC

-

82

WD

WD

WD

Brian Hepler

Wilmington, NC

-

WD

WD

WD

WD

Walker Taylor

Wrightsville Beach, NC

-

WD

WD

WD