Woodruff Wins the 10th NC Match Play Championship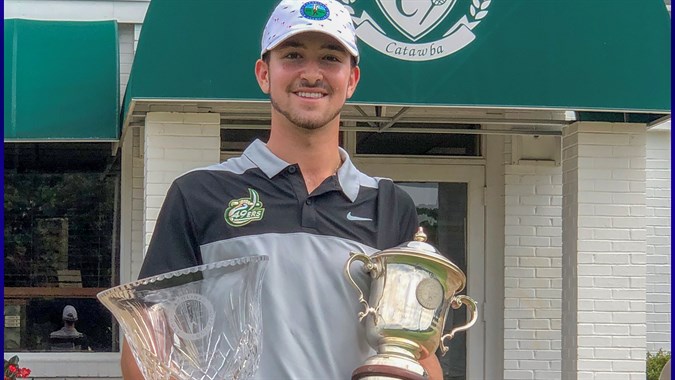 Ben Woodruff wins the 10th N.C. Match Play Championship at Catawba Country Club in Newton, N.C.
NEWTON, N.C. (August 4, 2019) – Final results of the 10th North Carolina Amateur Match Play Championship at Catawba Country Club in Newton, N.C. on Sunday, August 4, 2019. (6635 yards, Par 35-35--70)
Related: Championship Web Site | Full Field of Players | Starting Times | Scoring | History
After 36 holes of stroke play and five grueling match play rounds later, Ben Woodruff of Huntersville, N.C is the 10th North Carolina Amateur Match Play Champion.
It was a back-and-forth battle but Woodruff's opponent, Zack Swanson of Charlotte, N.C. drew first blood in the final match with a birdie on the par-5, second hole to take the early 1 up lead.
"I'll be honest. I know Zack is a really solid player," said Woodruff. "I knew what I was up against which can be an advantage or a disadvantage but I think he was very comfortable knowing what he was up against."
Woodruff got one back and tied the match on the par-4, fourth hole but Swanson got it right back with par on No. 5. The long par-4, fifth hole at Catawba Country Club, which typically plays as a par five for members, stretched out to 474 yards and was one of the hardest hole for the week playing at an average of .38 strokes over par. A birdie on the par-4, eighth hole by Woodruff meant the two players were tied heading into the back nine.
"Towards the beginning I was a little nervous. I'll be the first to admit that," said Woodruff. "I just got back to what I was doing all week; just swinging aggressive at it and I think it definitely paid off there as I got more and more momentum."
The match was tied through No. 11, but Woodruff took back the lead on No. 12 and never let it go. A par on the par-3, 13th hole was good enough to move Woodruff 2 up over Swanson. Swanson birdie the next hole to cut the deficit to one. Woodruff held a 1 up lead going into the final hole and had a lengthy birdie putt on the No. 18 green to close out the match.
"Heading into 18 green, I went in with the mindset that (Swanson) was going to make his putt," Woodruff said. "So I told myself 'let's do what we can to get this in the hole' and sure enough, I did."
Woodruff called on his Charlotte 49ers teammate, Carson Ownbey, to caddy for him in the final match. Ownbey finished as the runner-up in this championship last year and that experience was a good source of guidance for Woodruff.
"He helped me keep the mood light," Woodruff said. "When I'm on the golf course I'm very serious and try not to let things bother me. He helped me embrace it.
Ownbey and Woodruff teamed up in 2018 to claim the Carolinas Four-Ball Championship but this is Woodruff's first individual CGA title.
"It's just going to prove to me what I can do," said Woodruff. "A lot of people say, 'I really think I was close.' I got things going this week and I'm glad I was finally able to get over that hump. This is my first win so I'm very happy with what's to come."
The CGA would like to thank the members and staff of Catawba Country Club for their amazing hospitality and support at the North Carolina Amateur Match Play Championship. A special thank you to Head Golf Professional, Jason Akel and Golf Course Superintendent, Robert Arrington.
10th North Carolina Amateur Match Play Championship
Catawba Country Club, Newton, NC
Championship Match Play Results
Final Results
Ben Woodruff of Huntersville, N.C. def. Zack Swanson of Charlotte, N.C., 1 up