Simson/Detweiler Take Early Lead at NC Senior Four-Ball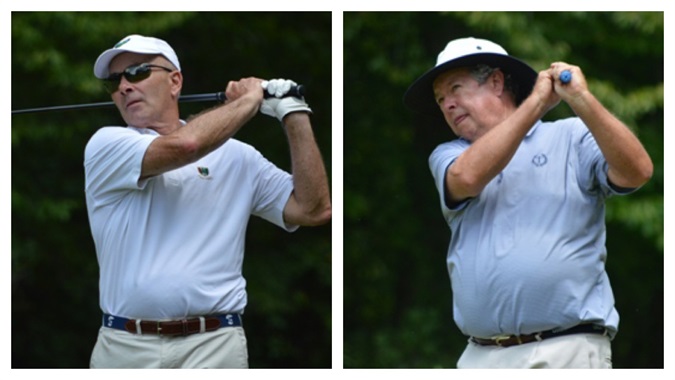 MEBANE, N.C. (August 8, 2019) – First round results of the 19th North Carolina Senior Four-Ball Championship at Mill Creek Golf Club in Mebane, N.C. on August 8, 2019.
Related: Championship Web Site | Starting Times | Scoring | History
Two-time N.C. Senior Four-Ball champions, Paul Simson of Raleigh, N.C. and Don Detweiler of Raleigh, N.C., have gotten off to a strong start for a third title run. Simson and Detweiler fired an 8-under-par, 64 in the first round of this year's championship to take an early one-shot lead over their nearest competitors.
The duo joined forces earlier this year to capture the title at the 3rd N.C. Super Senior Four-Ball at Pinewild Country Club. As a team, they have seven CGA four-ball championship victories.
Mark Kozel of Cary, N.C. and William Jamieson of Chapel Hill, N.C. are only one shot off of the lead after an opening round score of 7-under-par, 65. They're currently tied for second place with our 2017 champions, Nolan Mills III of Charlotte, N.C. and Robby Kirby of Charlotte, N.C.
Last year's champions, Kelly Stimart of Charlotte, N.C. and Johnny Elam of Charlotte, N.C. are sitting comfortably in a tie for fourth place after an opening round of 6-under-par, 66. Also tied for fourth place are the 2006 champions, Bob Desjardins of Mathews, N.C. and Bill Boles of Wilson, N.C.
The championship format is 54 holes of four-ball stroke play. Round 2 will begin Friday morning at 8:30 a.m. After 36 holes, the field is cut to the low 30 scores and ties. A tie for the overall championship is decided by an on-course playoff.
Schedule of rounds:
Thursday, August 8
Round 1
Tee times off #1 and #10 tees (8:00AM/12:30PM)
Friday, August 9
Round 2
Tee times off #1 and #10 tees (8:30AM/12:30PM)
Field cut to low 30 teams
Saturday, August 10
Final Round
Tee times off #1 and #10 tees (8:00AM –9:20AM)