Simson and Detweiler Win the NC Senior Four-Ball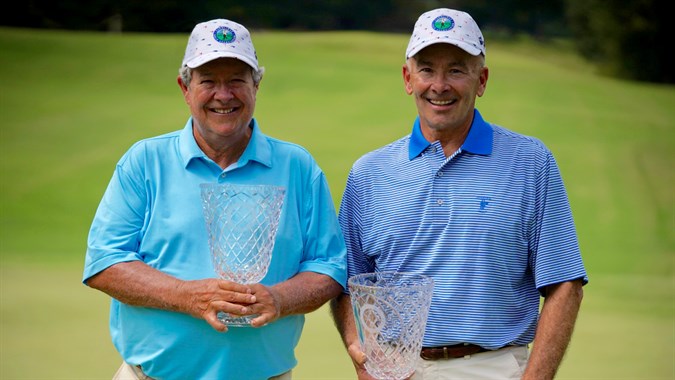 MEBANE, N.C. (August 10, 2019) – Final results of the 19th North Carolina Senior Four-Ball Championship at Mill Creek Golf Club in Mebane, N.C. on August 10, 2019.
Related: Championship Web Site | Starting Times | Scoring | History
They've done it again. Paul Simson and Don Detweiler of Raleigh, N.C. persevered through a six-hole, three-team playoff to win their third N.C. Senior Four-Ball Championship. The win marks their eighth CGA four-ball championship win as a team.
"The older you get, the better it gets," said Detweiler. "It's a fun place to play. I knew we'd love this course because I knew we could score here. It's just a beautiful course."
The two had their work cut out for them today. After 54 holes of regulation play, they found themselves tied with the defending champions, Kelly Stimart and Johnny Elam of Charlotte, N.C. and the 2006 champions, Bob Desjardins of Mathews, N.C. and Bill Boles of Wilson, N.C.
All three teams finished at 18-under-par, 198 total for the championship. The playoff started, and finished, on the par-4, 18th hole. The first three times playing No. 18, no one was able to make a birdie. For the fourth playoff hole, the groups moved to the par-4, 10th hole where we lost Desjardins and Boles after they made a bogey and the other two teams continued after making pars. The remaining two teams both made par on the par-3, 17th hole and it wasn't until their fourth time playing No. 18 that the playoff finally ended. Detweiler rolled in a 35-foot putt to win the playoff and the championship.
"There was lots of critical issues for every team out there," said Simson. "We just finally persevered and finally made a birdie."
Out of the three playoff teams, Simson and Detweiler were the only group to not make a bogey for the entire championship; 60 holes counting the playoff.
"We didn't make a lot of putts but we made enough putts," said Simson. "We had a lot of low stress holes. We only had a hole or two where we had to make a five or six footer for par."
At 66 and 68-years-old, the two are eligible for super senior events but are still dominating any tournament they enter as a team. Earlier this year, they won the North Carolina Super Senior Four-Ball Championship. They'll be the defending champions this fall at the Carolinas Super Senior Four-Ball Championship.
The Carolinas Golf Association would like to thank the club members and staff of Mill Creek Golf Club for hosting the championship. The tournament would not be possible without their dedication and hard work. A special thank you to, Head Golf Professional, Jonathon Duddley, General Manager, Mike Long, Golf Course Superintendent, Jason Bauder and Head Chef, Sean Nelson.
19th North Carolina Senior Four-Ball Championship
Mill Creek Golf Club, Mebane, N.C
Final Round Results
Pos.

Team

City, State

To Par

R1

R2

R3

Total

1

Donald Detweiler / Paul Simson

Raleigh, NC

-18

64

68

66

198

T2

Kelly Stimart / Johnny Elam

Charlotte, NC

-18

66

66

66

198

T2

Robert Desjardins / William Boles

Matthews, NC, Wilson, NC

-18

66

67

65

198

T4

Dave Davis / Linley Tate

Pine Level, NC, Greensboro, NC

-16

68

63

69

200

T4

Nolan Mills III / Robby Kirby

Charlotte, NC

-16

65

67

68

200

6

Edward Byman / Preston Edmondson

Raleigh, NC, Morrisville, NC

-15

69

67

65

201

7

Randall Sullins / Patrick Brady

Claremont, NC, Reidsville, NC

-13

67

69

67

203

T8

Dean Channell / Tuck Burkinshaw

Cary, NC

-12

71

65

68

204

T8

Gary Pugh / Steve Sharpe

Asheboro, NC, Greensboro, NC

-12

67

71

66

204

T10

Ryan Fox / Steve Kidd

West End, NC, Liberty, NC

-11

69

67

69

205

T10

John Rudolph / Todd Hendley

Charlotte, NC, Columbus, NC

-11

67

69

69

205

T10

Tony Austin / Mike Fields

Southern Pines, NC

-11

67

69

69

205

T10

Lee Morris / George Leight

Raleigh, NC, Apex, NC

-11

69

70

66

205

T10

Mark Kozel / William Jamieson

Chapel Hill, NC, Cary, NC

-11

65

74

66

205

T10

Robert Bennett / Ben Collins

Clayton, NC, Raleigh, NC

-11

70

69

66

205

T16

Tom Fagerli / Bill Long

Yadkinville, NC, Southern Pines, NC

-10

69

69

68

206

T16

David Eaker / Steve Wilson

Forest City, NC, Wilmington, NC

-10

69

71

66

206

T16

Jeff Brischke / Jim Callis

Charlotte, NC

-10

71

67

68

206

19

Wayne Moore / Bruce Bright

Durham, NC, Raleigh, NC

-9

69

66

72

207

20

Ernie Newton / Kim Mansfield

Winston Salem, NC, High Point, NC

-8

69

69

70

208

21

Jerry Sennett / Mallory McDaniel

Stanley, NC, Kannapolis, NC

-7

69

69

71

209

T22

Cliff Seastrunk / Lennie Barton

Raleigh, NC

-6

68

72

70

210

T22

Bill Piotti / Kirk Rothrock

Lexington, NC

-6

68

71

71

210

T22

Dale Bouguennec / Jack Nance

Pinehurst, NC

-6

71

70

69

210

T25

Richard Stitzer / John Nelsen

Raleigh, NC, Chapel Hill, NC

-5

69

70

72

211

T25

Mike Osborne / Glenn Sexton

Greensboro, NC

-5

69

72

70

211

27

Patrick Smithey / Dale King

Winston Salem, NC

-4

70

70

72

212

28

David Waggoner / Mike Ford

Holly Ridge, NC, Durham, NC

-3

69

71

73

213

29

Mark Wagner / Jim Hunsuck

Statesville, NC

-2

70

69

75

214

30

Terry Vereen / Allen Kinney

Caswell Beach, NC, Oak Island, NC

-1

68

73

74

215

31

Robert Vespa / Donald Moore

Summerfield, NC, Greensboro, NC

+1

67

73

77

217

32

Keith Hiller / Carl Hiller

Clemmons, NC, Raleigh, NC

+3

70

71

78

219

The following teams did not make the cut

CUT

Mike Shoffner / Chuck Tickle

Graham, NC, Raleigh, NC

-2

75

67

142

CUT

Robert Parrott / Mitch Twiddy

Raleigh, NC, Wake Forest, NC

-2

72

70

142

CUT

Ronald Carpenter / Jamie Willis

Creedmoor, NC, Durham, NC

-2

75

67

142

CUT

Andy Burnette / Kyle Obrien

Raleigh, NC

E

72

72

144

CUT

Robbie Armistead / David Craig

Raleigh, NC, Wake Forest, NC

E

71

73

144

CUT

Craig Cathey / Randy Ector

Burlington, NC

E

71

73

144

CUT

Billy Williford / David Kelley

Durham, NC, Pinehurst, NC

+1

75

70

145

CUT

Gary Roberson / Ron Clark

Burlington, NC, Mebane, NC

+1

71

74

145

CUT

Joe Davis / Joel Campanella

Gastonia, NC, Huntersville, NC

+1

72

73

145

CUT

Todd Turner / Norman Davis

West End, NC, Charlotte, NC

+1

71

74

145

CUT

Jerome Schott / Kent Kluba

Holly Springs, NC, Cary, NC

+2

73

73

146

CUT

Paul Clark / Buck Hall

Charlote, NC, Thomasville, NC

+2

76

70

146

CUT

Steven Lubbers / Sam Sparks

Raleigh, NC

+2

74

72

146

CUT

Van Nance / Brian Harris

Hickory, NC, Newton, NC

+2

75

71

146

CUT

Arch Reed / Gray Tuttle

Pinehurst, NC

+3

73

74

147

CUT

John McCallie / Clay Thomas

Durham, NC

+3

75

72

147

CUT

Lawrence Hicks / John Stratton

Greensboro, NC

+3

74

73

147

CUT

Mike Hardin / Marty Williams

Shelby, NC, Ellenboro, NC

+3

72

75

147

CUT

Michael Jones / Rob Campbell

Charlotte, NC

+4

73

75

148

CUT

Doug Glenn / Rock Pickard

Kannapolis, NC, Mooresville, NC

+4

74

74

148

CUT

Scott Grantham / Mickey Clark

New Bern, NC, Trent Woods, NC

+4

75

73

148

CUT

Tom Bagby / Mark Smith

Bermuda Run, NC, Advance, NC

+11

78

77

155