Simson Leads Carolinas Super Senior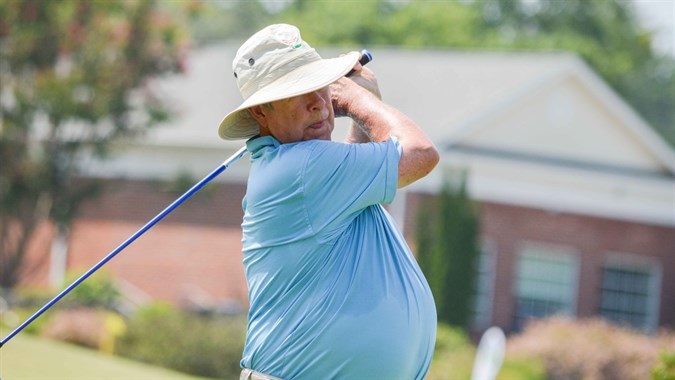 GREENVILLE, S.C. (August 13, 2019) -- First round results of the 11th Carolinas Super Senior Championship at Green Valley Country Club in Greenville, S.C. on Tuesday, August 13, 2019.
Related: Championship Web Site | Starting Times | Scoring | History
Paul Simson of Raleigh, N.C. is in good position to defend his title for the third year in a row after shooting 7-under-par, 65 in the first round of the Carolinas Super Senior Championship.
Simson made a staggering eight birdies and only one bogey in Tuesday's round. He'll take a four-shot lead over his nearest competitors into Wednesday's second and final round.
The reigning Carolinas Super Senior Men's Player of the Year, Russ Perry of Winston-Salem, N.C. is tied for second place after an opening round of 3-under-par, 69. He's tied with John Fritz of Mint Hill, N.C.
Only three other players shot under par in the Championship Division. Tim Pope of Spartanburg, S.C. sits alone in fourth place after an opening-round score of 2-under-par, 70. Jim Hunsuck of Statesville, N.C. and Robert Wildner of Hendersonville, N.C. are tied for fifth place after shooting one-under-par, 71.
Simson is coming in hot off a win last week at the N.C. Senior Four-Ball Championship at Mill Creek Golf Club. Last week's win marked the 37th lifetime CGA championship victory for Simson.
70+ Division
In the 70+ Division, Spike Smith of Pinehurst, N.C. is sitting in first place after an opening round of 3-under-par, 69. Our three-time champion, Arlis Pike of Kernersville, N.C. is one shot off the lead after a first-round score of 2-under-par, 70.
The championship is contested at 36 holes of individual stroke play. Gross scores only. A tie for the Championship Division or 70+ division is decided by an on-course playoff. Players may select the division in which to compete if eligible:
Championship Division (Men Age 65+): Approximate yardage = 6,153 yards.
70+ Division (Both team members age 70+): Approximate yardage = 5,659 yards
11th Carolinas Super Senior Championship
Green Valley Country Club, Greenville, S.C.
First Round Results
Championship Division
| | | | | | |
| --- | --- | --- | --- | --- | --- |
| Pos. | Player | City, State | To Par | R1 | Total |
| 1 | Paul Simson | Raleigh, NC | -7 | 65 | 65 |
| T2 | John Fritz | Mint Hill, NC | -3 | 69 | 69 |
| T2 | Russ Perry | Winston Salem, NC | -3 | 69 | 69 |
| 4 | Tim Pope | Spartanburg, SC | -2 | 70 | 70 |
| T5 | Jim Hunsuck | Statesville, NC | -1 | 71 | 71 |
| T5 | Robert Wildner | Hendersonville, NC | -1 | 71 | 71 |
| T7 | Mark Wagner | Statesville, NC | E | 72 | 72 |
| T7 | Frank Wrenn | Greenville, SC | E | 72 | 72 |
| T7 | Lawrence Mulvey | Travelers Rest, SC | E | 72 | 72 |
| T10 | Roger Page | Duncan, SC | +1 | 73 | 73 |
| T10 | Doug Owens | Albemarle, NC | +1 | 73 | 73 |
| T10 | John Long | Murrells Inlet, SC | +1 | 73 | 73 |
| T10 | Terry Willis | Greenville, SC | +1 | 73 | 73 |
| T14 | Cliff Seastrunk | Raleigh, NC | +2 | 74 | 74 |
| T14 | Gary Johnson | Asheville, NC | +2 | 74 | 74 |
| T14 | Nile Brisson | Myrtle Beach, SC | +2 | 74 | 74 |
| T17 | Joseph Isgett | Taylors, SC | +3 | 75 | 75 |
| T17 | Robert Dail | Wendell, NC | +3 | 75 | 75 |
| T17 | Jim Faulkner | Greenville, SC | +3 | 75 | 75 |
| T17 | Jim Wise | Columbia, SC | +3 | 75 | 75 |
| T17 | Jimmy Hamilton | Aiken, SC | +3 | 75 | 75 |
| T17 | Rick Condrey | Nebo, NC | +3 | 75 | 75 |
| T23 | Jim Gallagher | Charlotte, NC | +4 | 76 | 76 |
| T23 | Joe Padgette | North Charleston, SC | +4 | 76 | 76 |
| T23 | Kim Mansfield | High Point, NC | +4 | 76 | 76 |
| T23 | John Laehn | Aiken, SC | +4 | 76 | 76 |
| T23 | Gus Sylvan | Columbia, SC | +4 | 76 | 76 |
| T23 | Rick Cobb | Taylors, SC | +4 | 76 | 76 |
| T29 | Lawrence Hicks | Greensboro, NC | +5 | 77 | 77 |
| T29 | Ben Whipple | Marietta, SC | +5 | 77 | 77 |
| T31 | Stephen Nimocks | Murrells Inlet, SC | +6 | 78 | 78 |
| T31 | Robert Van Norden | Greenville, SC | +6 | 78 | 78 |
| T31 | Donald Detweiler | Raleigh, NC | +6 | 78 | 78 |
| T31 | Jerry Horton | Wilmington, NC | +6 | 78 | 78 |
| T31 | Junior Nance | Clarkton, NC | +6 | 78 | 78 |
| T31 | Mike Wilson | Ocean Isle Beach, NC | +6 | 78 | 78 |
| T37 | Evan Long | Charlotte, NC | +7 | 79 | 79 |
| T37 | Curtis Rudolph | Charlotte, NC | +7 | 79 | 79 |
| T37 | Billy Poteat | Hickory, NC | +7 | 79 | 79 |
| T37 | Bo Leslie | Simpsonville, SC | +7 | 79 | 79 |
| T37 | Ed Donlin | Concord, NC | +7 | 79 | 79 |
| T42 | Barry Mullinax | Travelers Rest, SC | +8 | 80 | 80 |
| T42 | Robert Turner | Daniel Island, SC | +8 | 80 | 80 |
| T44 | Benjamin Yeager | Clemmons, NC | +9 | 81 | 81 |
| T44 | Johnny Adams | Cary, NC | +9 | 81 | 81 |
| T46 | Phillip Greene | Charlotte, NC | +10 | 82 | 82 |
| T46 | Robert Phifer | Charlotte, NC | +10 | 82 | 82 |
| T48 | George Deryckere | Rocky Mount, NC | +11 | 83 | 83 |
| T48 | Paul Stroup | Charlotte, NC | +11 | 83 | 83 |
| T48 | Rick Aldous | Lexington, SC | +11 | 83 | 83 |
| T51 | Garland Yates | Asheboro, NC | +12 | 84 | 84 |
| T51 | Jim Bridges | Statesville, NC | +12 | 84 | 84 |
| T51 | Ronald Carpenter | Creedmoor, NC | +12 | 84 | 84 |
| T51 | Neal McKelligan | Pawleys Island, SC | +12 | 84 | 84 |
| T51 | Cliff Nance | Lumberton, NC | +12 | 84 | 84 |
| T56 | Frank Golden | Charlotte, NC | +13 | 85 | 85 |
| T56 | John Cashatt | Gastonia, NC | +13 | 85 | 85 |
| T58 | David Watterworth | Charlotte, NC | +14 | 86 | 86 |
| T58 | Ivory Walker | Fletcher, NC | +14 | 86 | 86 |
| 60 | Ken Eichele | Pinehurst, NC | +15 | 87 | 87 |
| 61 | Tony Koechli | Lyman, SC | +20 | 92 | 92 |
| 62 | Jerry Byrum | Weddington, NC | +34 | 106 | 106 |
| WD | David Godchaux | Arden, NC | - | WD | - |
| WD | Dick Hogan | Burlington, NC | - | WD | 77 |
| WD | Martin Gerr | Fort Mill, SC | - | WD | - |
| WD | Niles Brancati | Greenville, SC | - | WD | - |
| WD | Russ McLauchlan | Fuquay Varina, NC | - | WD | - |
70+ Division
| | | | | | |
| --- | --- | --- | --- | --- | --- |
| Pos. | Player | City, State | To Par | R1 | Total |
| 1 | Spike Smith | Pinehurst, NC | -3 | 69 | 69 |
| 2 | Arlis Pike | Kernersville, NC | -2 | 70 | 70 |
| T3 | William Weeks | Greenville, SC | -1 | 71 | 71 |
| T3 | David Crocker | Bluffton, SC | -1 | 71 | 71 |
| 5 | Robert Desjardins | Matthews, NC | E | 72 | 72 |
| T6 | Garrett Garland | Huntersville, NC | +1 | 73 | 73 |
| T6 | Ronald Rutlin | Aiken, SC | +1 | 73 | 73 |
| T6 | Bill Burling | Greensboro, NC | +1 | 73 | 73 |
| T6 | Ernie Newton | Winston salem, NC | +1 | 73 | 73 |
| T6 | William Boles | Wilson, NC | +1 | 73 | 73 |
| T11 | Lynn Martin | Travelers Rest, SC | +2 | 74 | 74 |
| T11 | Dave Moser | Charlotte, NC | +2 | 74 | 74 |
| T11 | Mike Sprouts | Winston Salem, NC | +2 | 74 | 74 |
| T14 | Gene Spencer | Blythewood, SC | +3 | 75 | 75 |
| T14 | Bob Varn | Orangeburg, SC | +3 | 75 | 75 |
| T14 | Chuck Wunsch | Pinehurst, NC | +3 | 75 | 75 |
| T14 | Rick Kline | Pinehurst, NC | +3 | 75 | 75 |
| T18 | Gary Schatz | Fort Mill, SC | +4 | 76 | 76 |
| T18 | Joe Hackler | Myrtle beach, SC | +4 | 76 | 76 |
| T18 | Philip Weber | Saint Helena Island, SC | +4 | 76 | 76 |
| T18 | Doug Tooke | Greenville, SC | +4 | 76 | 76 |
| T18 | Jared Long | Aiken, SC | +4 | 76 | 76 |
| T18 | Steve Spiegler | Charlotte, NC | +4 | 76 | 76 |
| T24 | Dick Diluzio | Travelers Rest, SC | +5 | 77 | 77 |
| T24 | Larry Whitmore | Charlotte, NC | +5 | 77 | 77 |
| T24 | Bob Norman | Rocky Mount, NC | +5 | 77 | 77 |
| T27 | Gary Strickfaden | Southern Pines, NC | +6 | 78 | 78 |
| T27 | Jack Blankenhorn | Raleigh, NC | +6 | 78 | 78 |
| T29 | Al Edwards | N. Myrtle Beach, SC | +7 | 79 | 79 |
| T29 | J. Lawson | Greensboro, NC | +7 | 79 | 79 |
| T29 | Joseph Nevins | Kiawah Island, SC | +7 | 79 | 79 |
| T29 | Terry Rathman | Gastonia, NC | +7 | 79 | 79 |
| T29 | Grover File | Anderson, SC | +7 | 79 | 79 |
| T29 | John Jourdan | Hilton Head, SC | +7 | 79 | 79 |
| T29 | Malcolm Philips | Aiken, SC | +7 | 79 | 79 |
| T36 | Mike Ridgeway | Inman, SC | +8 | 80 | 80 |
| T36 | Barnaby Henderson | Charleston, SC | +8 | 80 | 80 |
| T36 | Bernie Mazon | Fuquay Varina, NC | +8 | 80 | 80 |
| T36 | Marchall Stuart | Easley, SC | +8 | 80 | 80 |
| T36 | Wiley Barrett | Southern Pines, NC | +8 | 80 | 80 |
| T41 | Bill Riddle | Belmont, NC | +9 | 81 | 81 |
| T41 | Robert Kinsey | Murrells Inlet, SC | +9 | 81 | 81 |
| T43 | Duane Bausman | Awendaw, SC | +10 | 82 | 82 |
| T43 | Jim de Leon | Bluffton, SC | +10 | 82 | 82 |
| T45 | Frank Wilson | Inman, SC | +11 | 83 | 83 |
| T45 | Arnold Edwards | Charlotte, NC | +11 | 83 | 83 |
| T45 | Edward Mills | Fairview, NC | +11 | 83 | 83 |
| T45 | Eric Muller | Pawleys Island, SC | +11 | 83 | 83 |
| 49 | Terry Collins | Pinehurst, NC | +12 | 84 | 84 |
| 50 | Joe Eubank | Winter Park, FL | +13 | 85 | 85 |
| 51 | Thad Roberts | Landrum, SC | +14 | 86 | 86 |
| 52 | Frank Morris | Winston-Salem, NC | +15 | 87 | 87 |
| 53 | Chuck Jarrett | Fort Mill, SC | +16 | 88 | 88 |
| 54 | Robert Stilwell | Charlotte, NC | +22 | 94 | 94 |
| WD | Barry Delapp | Hendersonville, NC | +- | WD | - |
| WD | Bob Yow | Clinton, NC | +- | WD | - |
| WD | Charlie Parks | Asheboro, NC | +- | WD | - |
| WD | Linwood Edwards | Spartanburg, SC | +- | WD | - |
| WD | Steve Joyce | Denver, NC | +- | WD | - |
Schedule of rounds:
Tuesday, August 13
Round 1 – 18 holes of stroke play
Tee times off #1 and #10 tees (8:30 AM/12: 30 PM)
Wednesday, August 14
Round 2 – 18 holes of stroke play
Tee times off #1 and #10 tees (8:30 AM/12: 30 PM)