Preview: 24th N.C. Four-Ball Championship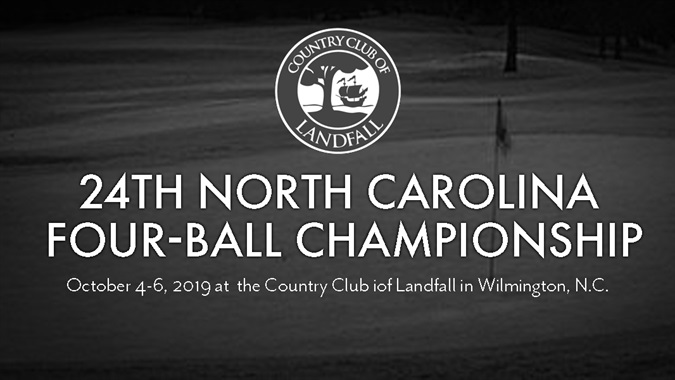 SOUTHERN PINES, N.C. (October 3, 2019) -- The Carolinas Golf Association will conduct the 24th North Carolina Four-Ball Championship at the Country Club of Landfall (Dye Course) in Wilmington, N.C. from October 4-6, 2019.
Related: Championship Web Site | Starting Times | Scoring | History
Dustin Moore of Burlington, N.C. and Greg Earnhardt of Greensboro, N.C. are back to defend their title at the 24th N.C. Four-Ball Championship hosted by the Country Club of Landfall (Dye Course) in Wilmington, N.C. This will be the seventh CGA Championship contested at Landfall and the fifth played on the Dye Course.
Last year's runners-up, Stephen Lavenets of Willow Spring, N.C. and Clay Watkins of Mebane, N.C. are back to see if they can improve on last year's performance. Earlier this year, the duo earned medalists honors in the stroke-play portion of the Carolinas Four-Ball Championship at Camden Country Club.
Also in the field is the back-to-back championship winning team of JD McNeill of Raleigh, N.C. and Jerry Richardson of Cary, N.C. The two won the Championship in 2016 and 2017. Mark Gauley of Raleigh, N.C. and Brian Gauley of Wake Forest, N.C. are the only other two-time Championship winning team in the field (2006, 2014).
A pair of senior golfers will have a chance to make more CGA history if they can win the title this week. Paul Simson and Don Detweiler of Raleigh, N.C. won the N.C. Senior Four-Ball Championship and the N.C. Super Senior Four-Ball Championship earlier this year. They'd be the first team in CGA history to win all three North Carolina four-ball championships if they can walk away with a win this week.
Half of the 2002 Championship winning team, Dean Channell of Cary, N.C. is partnered with Daniel Neveu of Pinehurst, N.C. to take another shot at the title. Channell earned medalist honors in the stroke-play portion of this year's U.S. Senior Amateur Championship at Old Chatham Club. Neveu has several top finishes this year as well, including a T2 at the Carolinas Mid-Amateur Championship.
The Championship is conducted at 54 holes of four-ball stroke play competition. After 36 holes, the field is cut to the low 30 scores and ties for the final round. An on-course playoff is used to break a tie for the championship. Top 20 scores will receive merchandise.
Entry is open to any male amateur golfer who has reached his 13th birthday by October 4, 2019, is a legal resident of North Carolina, is a member in good standing of a club which is a member of the Carolinas Golf Association (CGA) and has an active GHIN® USGA Handicap Index® at a CGA member club.
Schedule of Rounds:
Friday, October 4
Round 1 – Four-Ball Stroke Play
Tee times begin at 8:00 am/12:30 pm off #1 and #10 tees
Lunch provided for all players 11:00 am-3:00 pm
Saturday, October 5
Round 2 – Four-Ball Stroke Play
Tee times begin at 8:00 am/12:30 pm off #1 and #10 tees
Cut to low 30 teams and ties

Sunday, October 6
Round 3 – Four-Ball Stroke Play
Tee times begin at 8:00am off #1 and #10 tees
Awards ceremony immediately following play at scoreboard