Howell and Wilkinson Win the 24th N.C. Four-Ball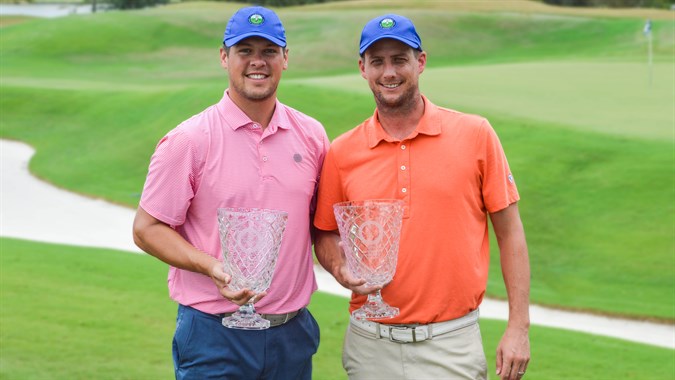 Trey Howell and Neil Wilkinson win the 24th N.C. Four-Ball Championship at CC of Landfall's Dye Course
WILMINGTON, N.C. (October 6, 2019) – Final results of the 24th North Carolina Four-Ball Championship at the Country Club of Landfall (Dye Course) in Wilmington, N.C. on October 6, 2019.
Related: Championship Web Site | Starting Times | Scoring | Stats | History
Trey Howell and Neil Wilkinson of Wilmington, N.C. used their local knowledge to pull off the come-from-behind win at the 24th N.C. Four-Ball Championship.
The two know the course very well. They worked together at the Country Club of Landfall where they played the Dye Course countless times. Wilkinson worked part-time at the host club for six years directly out of high school. Howell interned there while attending Methodist College and worked as an assistant professional after graduating.
When they saw that the N.C. Four-Ball Championship was coming to Landfall, they decided it was time to team up.
"We've played together a bunch but never as a team. We're usually playing against each other," said Howell. "I told Neil if he wanted to play it, we should do it together."
The decision turned out to be the right one. Their course knowledge paid off and they came out the gates hot shooting a 7-under-par, 65 in round one to sit in a tie for second place after 18 holes.
"I was excited and thought we could win," said Wilkinson. "It was brutally hot but the scoring was there. I felt like you had to post 67 or lower to give yourself a chance the first day. With the wind blowing and being so much cooler, it turned into survival mode the second day."
While the scoring average was 72.42 in round one, the extreme shift in weather made a noticeable impact on the field. The scoring average in round two was over a full shot higher at 73.61. Howell and Wilkinson shot 2-under-par, 70 which was good enough to put them in a tie for third place and only four-shots back of the lead heading into the final round.
"The first day we were able to ham-and-egg it pretty well. Day two, we couldn't get the lid off the hole," said Howell. "We played great, but we couldn't make a putt to save our life."
That all changed in Sunday's final round. The putters got hot at the right time and the duo was able to tie the lowest round of the tournament with a 9-under-par, 63. They combined for nine birdies, including two important birdies in the first two holes.
"The second hole is when I thought we had a chance," said Wilkinson. "To birdie that hole into the wind, I knew we'd done something big and probably would gain a shot on the field. I knew there would be some who would bogey it with the tucked pin on an island green."
Our round one and round two leaders, Davis Womble and Dan Walters of Winston-Salem, N.C., looked to be running away with the Championship after opening rounds of 63 and 68 but were one of the teams that made a costly bogey on the well-protected, second hole. The team was able to bounce back making five birdies in their next 10 holes.
Howell and Wilkinson's birdie on the par-4, 10th hole, gave them their first piece of the lead. A birdie on the par-4, 17th hole gave them the outright lead and a par on the final hole gave them the clubhouse lead.
Womble and Walters were unable to make a birdie in their last six holes and would ultimately miss forcing a playoff by one shot.
With both Howell and Wilkinson having children under the age of two, they're not sure when they'll have a chance to team up again but said they will be back to defend their title next year; wherever it may be.
Back-to-back N.C. Four-Ball champions, JD McNeill of Raleigh, N.C. and Jerry Richardson of Cary, N.C. (2016, 2017), had another strong run in this event shooting 13-under-par, 203 to finish in third place. Russell Burke and Trey Broome of Raleigh, N.C. shot 12-under-par, 204 to finish in fourth place for the Championship.
The Carolinas Golf Association would like to thank the club members and staff of the Country Club at Landfall for hosting the 24th N.C. Four-Ball Championship. A special thank you to Director of Golf, Jason Cherry and Director of Grounds, Jeff Mack.
The Championship is conducted at 54 holes of four-ball stroke play competition. After 36 holes, the field is cut to the low 30 scores and ties for the final round. An on-course playoff is used to break a tie for the championship. Top 20 scores will receive merchandise.
Entry is open to any male amateur golfer who has reached his 13th birthday by October 4, 2019, is a legal resident of North Carolina, is a member in good standing of a club which is a member of the Carolinas Golf Association (CGA) and has an active GHIN® USGA Handicap Index® at a CGA member club.
24th N.C. Four-Ball Championship
Country Club of Landfall (Dye Course) | Wilmington, N.C.
Final Results