Round Two Results of the Carolinas Women's Club Team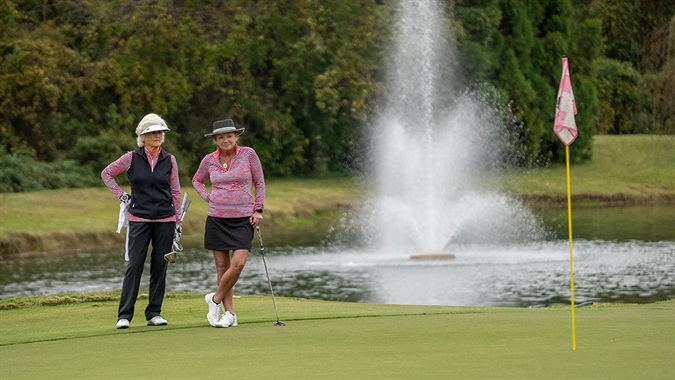 GREENSBORO, N.C. (October 30, 2019) – Second round results of the 3rd Carolinas Women's Club Team Championship at Starmount Forest Country Club in Greensboro N.C. on October 30, 2019.
Related: Championship Web Site | Starting Times | Scoring | Photos
Day two at the 3rd Carolinas Women's Club Team saw rain and soggy conditions for the 16 club teams competing. While the weather changed from Round 1 to Round 2, the two clubs gracing the top of the leaderboard did not. In the second round, defending champions Pinehurst Country Club and last year's runners-up Cowan's Ford Country Club finished with an even par 144 for a two-day aggregate of 10-under-par, 178.
The second round format was four-ball stroke play where each club's score is the aggregate total of the two four-ball sides. Cowan's Ford CC's Peg Brady and June Wang led the way with a four-under-par better ball score of 68 and Pinehurst CC's Patty Moore and Sally Means also finished under par with a one-under, 71. Donna Tanner and Kendra Muir of Pinehurst CC finished with a one-over-par, 73 and Cowan's Ford CC's Kathy Binkley and Robbie Knots carded a 76 in round two.
All players will need to be on their games in round three, the toughest of the three formats. Two-woman sides will compete in Pinehurst alternate shot stroke play on Thursday with the aggregate of the two-woman sides making up the club team score. Pinehurst CC edged out Cowan's Ford CC in the third round last year and thrives in their namesake format, but Cowan's Ford CC will be looking for redemption.
In the Carolinas Division (net scores only), Pinehurst CC's B Team leads the way with an aggregate score of 29-under-par, 259. The side of Sue McDermott and Debbie Hockman representing Pinehurst CC's B Team continued their stellar play, carding a seven-under-par, 65 in round two. However, the side of Betsy Butler and Terri Watters of Cullasaja Club fired the low round of the day in the Carolinas Division with a 8-under-par, 64.
Pinehurst CC (B) takes a four-stroke lead into the final round, with Pine Needles Resort (263) hot on their heels. While Pinehurst CC (B) and Pine Needles are separating themselves from the field, everything is up for grabs in the difficult alternate shot format in the final round.
The championship will conclude on Thursday morning with a 9:00 a.m. shotgun start.
3rd Carolinas Women's Club Team Championship
Starmount Forest Country Club | Greesnboro, N.C.
Second Round Results