Uppal Named 2019 Parrott Award Winner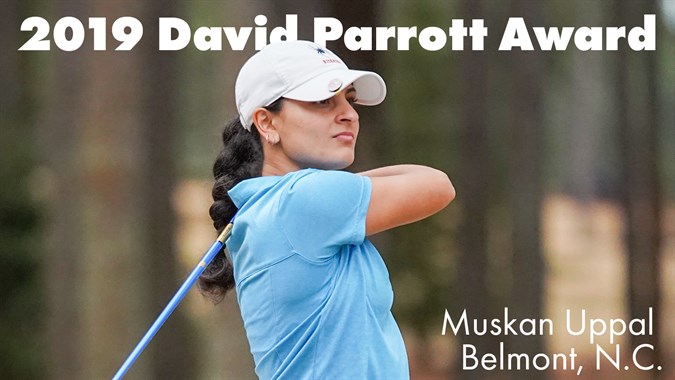 SOUTHERN PINES, N.C. (January 13, 2020) – Muskan Uppal of Belmont, N.C. has been selected as the recipient of the David Parrott Girls' Award by the Carolinas Golf Association. Uppal was chosen from the eight members that represented the CGA in the Girls' Mid-Atlantic Challenge Matches held at Brook Valley Country Club in Greenville, N.C. this past July. Uppal is currently a freshman at the University of Richmond in Richmond, Va. As a junior golfer, Uppal helped lead the Cannon School to three NCISAA state championships and four CISAA conference championships, while also receiving NCISAA All-State honors for four, straight years. Uppal is heralded by her peers, coaches and Carolinas Team captains as an outstanding teammate, leader and friend.
Uppal excelled on the golf course and in the classroom at Cannon School, where she graduated with a 4.28 GPA after a rigorous schedule of Advanced Placement and Honors courses. Although Uppal spent countless hours practicing and studying, she spent a considerable amount of time trying to grow the game of golf. Uppal has been involved with The First Tee of Greater Charlotte for the past five years, volunteering as a coach and mentoring young players about the game. Beyond just volunteering her time, Uppal also started a club donation initiative for The First Tee where she collected over 1,570 golf clubs, 3,050 golf balls and 111 golf bags over four years. Uppal lent her support through the USGA-AJGA Birdies for Charity program as well, where she raised a total of over $5,200 to be donated to The First Tee of Greater Charlotte. Uppal is a true steward of the game.
Brittany Cross, Program Director at the First Tee of Greater Charlotte, stated: "Ms. Uppal always demonstrated gratitude to be a very important part of our mission to change the lives of many children in Charlotte; and always came to our chapter of her own initiative and generous spirit. As a character education program, Ms. Uppal's involvement has been a key example to all our youth in living our Core Values, specifically Sportsmanship, Integrity, Responsibility, Courtesy and Perseverance." Uppal's high school golf coach, Pat Whisenant said, "I have never had anyone on my teams that worked as hard on her game as Muskan. She always wanted to be the best she could be in every aspect of her life. Her attitude and work ethic made everybody on our team better. She is a Champion."
The David Parrott Girls' Award is being given for the third time in 2019 to the Carolinas Girls' Team member who displays excellence in sportsmanship, ability, and academics. The award is presented by Dr. Larry and Joy Parrott of Camden, S.C. in honor of their son David. David Parrot was diagnosed with leukemia in the spring of 1982, and during his brief illness he participated in the golf camp at Duke University and competed in the SCGA South Carolina Junior Championship, finishing third in his flight. He was given the Derek Davis sportsmanship award at the championship for his effort, determination and inspiration he gave to all who knew him. David died July 29, 1982, at the age of 16.
Uppal joins a prestigious list of former David Parrot Girls' Award winners, including Gracyn Burgess of Lexington, S.C., a junior at Clemson University and Alexis Sudjianto of Charlotte, N.C., a freshman at Carnegie Mellon University. Uppal, along with the David Parrot Boys' Award recipient, will be presented the David Parrott Award on Saturday, February 8, 2020 at Pinehurst Resort during the Carolinas Golf Association's Golf Night and Annual Meeting.