Looking Back: 2019 CGA Junior Boys' Championships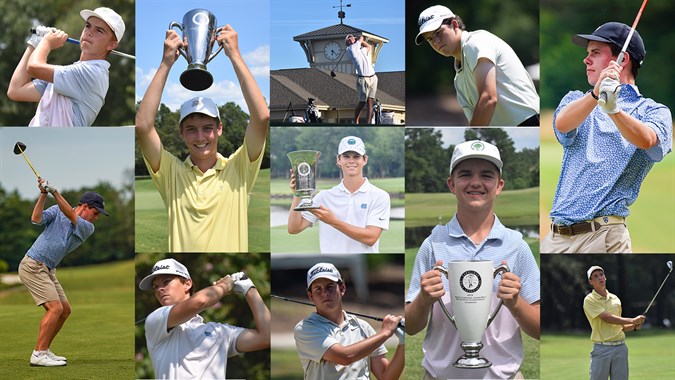 By Chris Wolff, CGA Junior Boys' Tournament Manager
Great host sites, deep and very talented fields and outstanding play made for an exceptionally entertaining 2019 CGA Junior Boys' Championship season. Below is a quick recap of each of the junior boys' championships hosted by the CGA. Click on the blue title for the full final round recap.
Click here for the 2020 CGA Junior Boys' Championship Schedule
Creed Junior Boys' Championship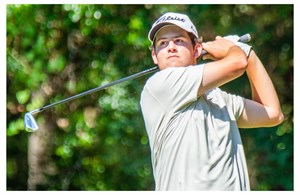 2019 Creed Junior Boys' Champion, Zachary Reuland
The season kicked off at Camden Country Club in Camden, S.C. at the 7th annual Creed Junior Boys' Invitational. For the first round, 78 players teed it up on Saturday, May 25th and were greeted with tough scoring conditions.
At the end of the day, Zachary Reuland, Carlos Garre and Randall Hudson were tied for the lead at one-under-par, 69. Scoring conditions were again difficult on Sunday, but there were low rounds out there. Trey Crenshaw shot a tournament low 67 and Alex Heffner fired a 68 to jump into contention for the championship.
First round co-leader Reuland carded birdies on Nos. 3, 7 and 8 to take control of the tournament and coast home with another 69 and a three-shot-win. Heffner and Keegan Vaugh finished tied for second at 141, with Garre finishing in fourth at 142.
Lonnie Poole Golf Course, on the campus of NC State University in Raleigh, N.C. hosted the 52nd North Carolina Junior Boys' Championship. The field of 146 played 18 holes of stroke-play qualifying on Tuesday, June 25th. However, three more holes were needed to settle a 14-for-4 playoff to decide the field of 64 as the tournament transitioned to match play.
2019 NC Junior Boys' Champion, Peter Fountain
There were plenty of first round upsets, with No. 45 seed Timmy Gannon, No. 46 seed Brian Wei, No. 47 seed Zach Pardoll, No. 48 seed Jack Hart, No. 49 seed Austin Alexander, No. 51 seed Jackson Brimfield, No. 57 seed Zane Sullivan and No. 60 seed Owen Swavely all advancing to Wednesday afternoon's Round of 32. After another long day of golf, 16 golfers remained, headlined by medalist and No. 1 seed Peter Fountain, who survived a stiff challenge when 14-year-old, No. 33 seed Bryan Fang took him to extra holes in a great 19-hole match.
The Round of 16 saw the higher seeds start to take control as six of the top nine overall seeds advanced to Thursday afternoon's quarterfinal round. In the quarters, Fountain defeated No. 9 seed Christopher Sperrazza to earn a matchup with Symon Balbin, who needed 19 holes to take out Zach Brown in a great match. In the bottom half of the bracket, No. 2 seed Alex Heffner defeated Zach Roberts to advance to play Randall Hudson, who defeated Nicholas Matthews. Fountain took an early 3 up lead through seven holes against Balbin and kept the pressure on throughout the match, winning 5 and 3. Heffner didn't lose a hole in his semifinal match and advanced 3 and 2 to setup the unlikely No. 1 versus No. 2 seed championship match. The Championship match lived up to the billing as Heffner birdied the first hole to take a 1 up lead, but Fountain battled back to win Nos. 4 and 5 to take a 1 up lead at the turn. Heffner birdied No. 12 to square the match but Fountain responded with a birdie on No. 13 to go back to 1 up. A par on No. 16 moved his lead to 2 up and a par on No. 17 clinched both the match and the 52nd NC Junior Boys' Championship title for Fountain.
South Carolina Junior Match Play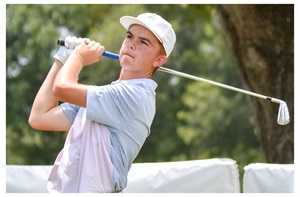 2019 SCJMP Champion, Mason Tucker
For the second week of July, Berkeley Country Club in Moncks Corner, S.C. hosted the South Carolina Junior Match Play Championship. On Tuesday morning, 61 boys and 15 girls teed it up for 18 holes of stroke play to determine the seeding for match play.
Three players, Willis Rogers of Charleston, S.C., Elliott Pope of Lugoff, S.C., and Austin Scott, of Charleston, S.C. shared medalist honors after shooting 3-under-par, 69. Four other players finished under par and four more were at even par, 72. After seeing the course under stroke play tournament conditions Tuesday, match play kicked off Wednesday morning with the boys Round of 64. No. 57 seed Palmer Mason pulled off the biggest upset of the day with a 19-hole win over No. 8 seed Oliver Rotermund. There were not many other upsets in the round as only five lower seeds moved on the Round of 32. The noys' Round of 32 matches were also affected by the Wednesday afternoon storms and many players had to come back early Thursday morning to complete their match. Mason Tucker beat Lleyton Renner (who won his Round of 64 match 9 and 8) in a tight 19-hole match. Other golfers needing extra holes to finish off their match included Andrew Kaslick, Mavrick Mullinax, Jerry Bruns, Andrew Propes and Daniel Coker. Manning Sloop had the shortest match of the day, winning 7 and 6 after a 5 and 4 win in the Round of 64.
The Round of 16 saw some high seeds fall as No. 17 seed Burns took down co-medalist, Rogers. The No. 13 seed Pake June defeated the No. 4 seed Coker, the No. 18 seed Tucker defeated co-medalist Scott, and the No. 22 seed Mullinax defeated No. 6 seed Kaslick. The boys were right back out for Quarterfinal matches on Thursday afternoon for more golf and all four matches were very closely contested. Bruns defeated Ford Reynolds 1 up, William Phipps defeated June 1 up, Tucker outlasted Max Green 1 up, and Mullinax defeated Sullivan Hooper by the comparably comfortable margin of 2 and 1.
Friday morning's Semifinal matches saw Tucker take control early and close out Mullinax 3 and 2 while Phipps outlasted Burns to win 1 up and advance. The Championship match followed a quick break for lunch and Tucker got off to a quick start winning No. 1 with a par and No. 4 with a birdie. He kept the pressure on with birdies at Nos. 6 and 7 to push the lead to 4 up, before Phipps won No. 9 with a par to break the momentum and make the turn at 3 down. After tying Nos. 10 and 11, Tucker got back to work with a birdie at No. 12 to go 4 up and then finished off the match and the championship at No. 14 with a birdie to win 5 and 4.
Phoebe Carles of Clinton, S.C. and Kayleigh Reinke of Rock Hill, S.C. each shot 77 to share medalist honors. A tightly packed field of girls were seeded right behind them with the next eight players all within GIVE shots of their 77.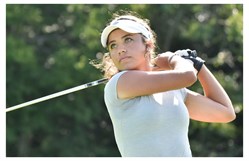 2019 SCJMP Champion, Phoebe Carles
Match play for the girls kicked off Wednesday afternoon and Carles (8 and 7), Camila Burnett (7 and 5) and Isabella Britt (4 and 2) finished off their matches quickly. Two suspensions of play for inclement weather meant not all matches could be completed before the sun went down and Gillian O'Brien (20 holes) and Hannah Altman (19 holes) had to come back early on Thursday to finish off their matches.
In the Quarterfinals, co-medalists Reinke and Carles advanced to the semifinals while Anna Grace Brock defeated Britt, 3 and 2. Altman continued her upset run by defeating No. 3 seed Lextyn Petz in 20 holes. Thursday afternoon's Semifinal match was over quickly for Carles as she defeated Altman 7 and 6 to advance to Friday. No. 5 seed Brock upset Reinke in a great 19-hole match to advance to the final match as well.
Friday morning's Championship match saw Brock get out to the early 2 up lead with a birdie at No. 3 and a par on No. 5. Carles battled back to win No. 11 with a birdie, No. 13 with a par and No. 15 with a par to take a 1 up lead. However, Brock made par on No. 16 to tie the match and Nos. 17 and 18 were both tied, sending the match to extra holes. Playing the 1st hole again, Carles made a par which was enough to win the hole and the Championship.
Carolinas Junior Boys' Championship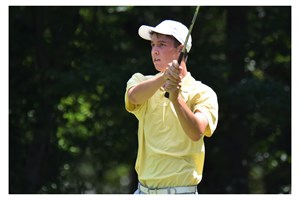 2019 Carolinas Junior Boys' Champion, Pierce Robinson
River Landing Country Club hosted yet another CGA championship when the 70th Carolinas Junior Boys arrived on July 23. The players got off to a strong start before an afternoon thunderstorm arrived, causing many of the second wave players to have to complete their round Wednesday morning. Tyler DeChellis led with a 3-under-par, 69, followed closely by Matias La Grutta, Jake Herring and Todd Moyer at 2-under-par, 70. The second round saw sunny skies throughout the day as the tournament got back on schedule and the players took advantage of soft conditions. Pierce Robinson fired a tournament low, bogey-free 65 to take the lead at 8-under-par. Herring and Moyer kept pace with strong rounds of their own to get into the final group with Robinson. Zach Roberts and Matthew Hutto each shot 4-under-par, 68 to jump up into contention as well. Thursday saw windy conditions and higher scores for the final round. Randall Hudson followed up his second round 70 with a final round 69 to vault up to 4th place. Roberts struggled with a final round 74, but still moved up into a 3rd place finish. Hutto mounted a strong charge with birdies on Nos. 11, 12, 13, 14, 15 and 18 to shoot a back 9, 5-under-par 31 and 68 overall. Robinson, however, played steady golf throughout the day and finished in style with a birdie on No. 18 to shoot even-par, 72 and win the championship at 8-under-par, 208.
Dogwood State Junior Boys' Championship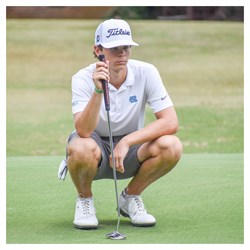 2019 Dogwood State Boys' Champion, Kenan Poole
River Run Country Club was the host of the 15th Dogwood State Junior Boys' Championship and an extremely deep field of players set up an exciting week. The scoring conditions were difficult in Round 1 as Nicholas Mathews and Andrew Plate shared the lead at 2-under-par, 70. Ayush Bodhale at 1-under-par, 71 was the only other player to break par. With three players at even-par, 72 and eight at 1-over-par, 73, there was plenty of opportunity for players to make a move during Wednesday's second round. Defending champion, Kenan Poole, shot a tournament low, six-under-par, 66 to take a four-shot-lead into the final round of his final junior golf tournament.
Joining Poole in the final group were Ike Joy at 1-under-par, 143 and Nicholas Mathews at even-par, 144. Austin Alexander fired a second round 70 to jump up to a tie for third place at even-par, 144 as well.
Thursday's final round saw the players start to figure out the course and post some good scores. Christopher Sperrazza closed well with a 3-under-par, 69 to finish in third place at 216 while Spencer Oxendine shot 2-under-par, 70 to finish in fourth place at 217. Joy got off to a hot start birdieing the first three holes to get to 4-under and two shots back of Poole, but Poole birdied Nos. 7 and 12 to push the lead back to four shots and coast home to victory. Joy finished with an even-par, 72 to finish at 1-under-par, 215 while Poole defended his title at 7-under-par, 209.
Jimmy Anderson Boys' Invitational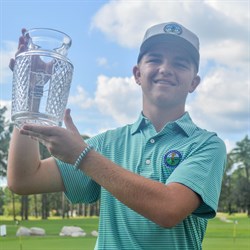 2019 Jimmy Anderson Boys' Champion, Mason Tucker
The season wrapped up where it was supposed to begin, at Jacksonville Country Club in Jacksonville, N.C. The weather finally cooperated in August and the 11th Jimmy Anderson Boys' Invitational turned out to be well worth the wait. Jacksonville CC, as always, was the host of the event which honors long-time head golf professional Jimmy Anderson and his commitment to junior golf.
The first round saw Mason Tucker close with birdies on Nos. 14, 17 and 18 to shoot a 4-under-par, 68 and take the lead. Caden Baker and Casey Osiecki both shot 2-under-par, 70 to sit in second place with Calahan Keever and Joey Pritchard in a tie for fourth place at 1-under-par, 71. Sunday's second and final round saw Keever, who started on the 10th hole, make a run at the title with an eagle on No. 5 and birdies on Nos. 7 and 8, but it wasn't enough as Tucker birdied Nos. 13, 15 and 18 to take the title by two strokes at 6-under-par, 138. Keever finished at 140, with Baker, Osiecki and Tyler Dechellis rounding out the top 5 at 143.
The CGA is excited to announce that the 2020 Junior Boys' Championship schedule is now posted online. We are looking forward to traveling to some new championship sites, as well as a couple of tried and true favorites. We're also going to be introducing two new junior championships in 2020 that we are really looking forward to and will have more information about soon.
Thank you again for your support of the CGA and we look forward to seeing you out on the course again soon. For a full schedule of 2020 CGA Junior Boys' Championships, click here.