Brooks and Thigpen to be Inducted into the Carolinas Golf Hall of Fame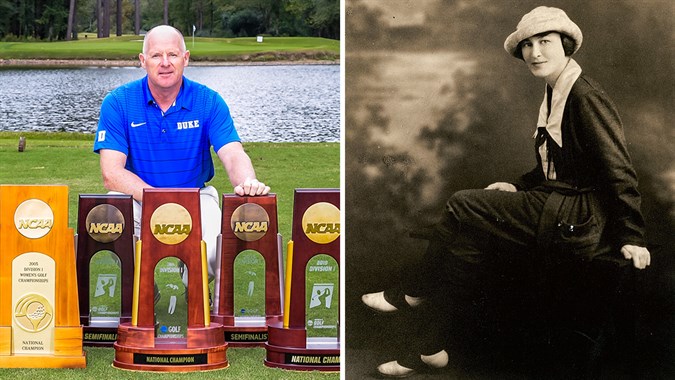 Editor's Note: Brooks and Thigpen will be inducted into the Carolinas Golf Hall of Fame on April 8, 2020 at Hope Valley Country Club in Durham, N.C.
TO ATTEND THE 2020 INDUCTION CEREMONY, CLICK HERE.
A Female Fair: 2020 Carolinas Golf Hall of Fame Inductees Include Pioneers of Women's Golf
By David Droschak
It has been 11 years since a female was inducted into the Carolinas Golf Hall of Fame, but the 2020 class of Dan Brooks and Dorathy Dotger Thigpen definitely highlight some of the most outstanding accomplishments women's golf has ever seen across the area.
Brooks, 61, who heads into his 36th season as the head coach of the Duke women's golf team, and Thigpen, who dominated the sport in the 1920s and was a star club champion spanning more than five decades, this spring will formally join an illustrious group of Carolinas Hall of Fame members that include the likes of Arnold Palmer, Peggy Kirk Bell, Raymond Floyd, Tom Fazio and Donald Ross.
Brooks has captured a remarkable seven national titles with the Blue Devils in the last 21 seasons, in addition to 20 career Atlantic Coast Conference championships and 136 team wins – the most of any women's golf coach in NCAA Division I history.
The ACC has been blessed with great coaches across many sporting lines, including Bobby Bowden in football, Mike Krzyzewski and Dean Smith in men's basketball, and Anson Dorrance in women's soccer. Brooks compares favorably with each of those legends, having been named national coach of the year seven times while leading the Blue Devils to 17 top-five national finishes.
"When I was playing college golf in Oregon and then working as a golf pro in Idaho we always thought of the Carolinas as kind of golf central," Brooks said. "And when I got in the PGA it was even more so where we thought of the Carolinas Section of the PGA as a place where great players emanated from, and there was Pinehurst and all these great places to play. And now that I'm in the Hall of Fame of the Carolinas Golf Association it is a little bit surreal. I am humbled by the experience."
"He is that guy who is always doing things at the highest level, and when he was hired it was easy to see he was all about the kids, all about the student-athletes," said former Carolinas PGA executive director Ron Schmid, who Brooks replaced at Duke. "Everything Dan does is going to be anchored with 'is this the best thing for the kids that I am working with?' He looks out for what's best for everyone else before Dan Brooks. That's a great cornerstone to have."
Brooks, a former star golfer at Oregon State and a self-proclaimed West Coast guy, flew to the East Coast in the mid 1980s, landed at Raleigh-Durham International Airport and drove to Durham to meet with then athletic director Tom Butters and men's golf coach Rod Myers.
The two B boys – Brooks and Butters – hit it off.
"I thought Duke was beautiful," Brooks recalled. "I grew up in Baker City, Ore., and spent three years in Boise so I had never seen anything like Duke, or had even been to the East Coast. There was a real culture difference but Duke really sold itself. There was no question in my mind that I wanted to work there once I visited."
Brooks was hired to lead the Duke women's golf team, along with assistant coaching duties with Myers on the men's side. The two golf coaches also ran the golf course operations.
"I wore a lot of hats and spent a lot of hours out there," Brooks said of Duke University Golf Club.
Brooks wasn't sure he could coach, or become a good teacher for that matter, saying he "hedged his bets" by taking the coaching job.
"I wasn't planning on being a coach, something I never envisioned myself doing," he said. "And then all of the sudden I'm coaching a women's team and I'm just 25 years old. I had no expectations but I came to really enjoy it."
So much so that when Myers passed away in 2007 then athletic director Joe Alleva offered Brooks the Duke men's job.
"I turned it down immediately," Brooks said. "I felt like I had developed some skills in coaching women and I just liked what I was doing."
Over the last two decades in particular, Brooks began to realize that less was more, often limiting his female squads to just six or seven golfers.
"His coaching style in some way is kind of unique in that he is not just going to keep firing to see what sticks to the wall," Schmid said. "If you look at those squads, you can just see how those kids really become a family. When the entire team is playing all the time they learn to work as a family. It's really neat to see."
Duke has won a lot under Brooks, but the coach admitted he and his team rarely talk about "winning."
"Everything we do is about the process," Brooks said. "We don't set a lot of goals. Winning is an assumption; it's there and you can count on it being there because our golfers are high achievers. The idea of winning is very, very high and we don't hide from the idea, but we just don't spend that much time on it. We try to make things competitive so they're comfortable with competition. That is kind of how I prep them and I stress keeping a perspective on things, for them to realize that golf is a game; and that you leave golf on the golf course and never take it home. It's very simple stuff but can be hard to do.
"It is important to me that my players have a life on campus other than golf. I probably ask less of them hours-wise than a lot of coaches do. We're a high academic school and there are also a lot of just amazing people at Duke so I want them to be able to be friends with and to get to know them. To inundate them with practice would not be a good thing. If golf is not everything to them in life then wins will be special and the lows won't be too devastating."
Brooks heads into the 2020 spring season with another top team that looks to repeat as national champions.
"The (hall of fame) reflection thing is a little hard because I'm still at it, still going hard, so I think more forward than I look back," Brooks said. "But probably the most astounding thing about the years I've been with the Duke women's team is how golf has evolved. The numbers the female golfers are shooting now are amazing … and how the different eras have taken scoring to different levels. You don't see those sort of scoring jumps on the men's side because the talent level in men's golf has been very deep for a long time. What has made women's golf exciting is this incredible improvement, and I've been able to be with that for all 36 years, and really observe some amazing things. Your team culture now has to be ready for freshmen to come in and be astoundingly good. It has made it very exciting."
The Wait Ends for Thigpen
As a pioneer of women's golf in the Carolinas in the early 20th century, Dorathy Dotger Thigpen's long list of golfing buddies included the likes of Richard Tufts, Dugan Aycock and Davis Love Jr., and her affection of this great game saw her playing into her 70s.
And it has taken more than three decades after her passing in 1989 to be inducted into the Carolinas Golf Hall of Fame, but like many of Mrs. Thigpen's thousands of rounds played in her illustrious career, the journey was as important as the final scorecard.
"I learned a lot on those long walks with my grandmother, and as with any fine golfer, the lessons were not limited to the game," said Susan Thigpen Carlson, Thigpen's eldest granddaughter. "The golf course was her playing field for lessons of life."
Mrs. Thigpen, winner of the first two Women's CGA Championships in Charlotte in 1922 and then again in Pinehurst in 1923, will join the Carolinas Golf Hall of Fame 2020 class posthumously this spring with Duke women's golf coach Dan Brooks. The timing is fitting since Mrs. Thigpen was the first woman on the Duke men's golf team (at the time Trinity College) during her time as a college student.
"If Richard Tufts were alive right now he would be the guy who would ask to introduce her," said Thigpen's 89-year-old son Richard Thigpen Jr., who plans to give a speech at the Hall of Fame banquet this spring in honor of his mother's golfing feats. "She had a real solid game, but her length off the tee was what impressed so many people back then."
Mrs. Thigpen grew up playing golf at Charlotte Country Club and won the women's club championship there in 1917 – at the age of 15. Thigpen dominated women's golf across the region in the 1920s, regularly scoring in the mid 80s during a period in which the top women players were shooting in the 90s.
"I remember her as a wonderful competitor," son Richard said. "One story she told me was when she was a teenager playing in a club tournament an older woman she was playing with hit a ball into a wagon rut -- which was not uncommon on the course at that time -- and momma said something along the lines of 'Well, I'm sorry.' And the woman told her, 'Young lady, don't be sorry for me, feel sorry for yourself.' I guess she realized then she needed to stay competitive if she was going to play competitive golf."
In 1923, she married Richard E. Thigpen who was alumni secretary at Duke University, and played the first round at the Donald Ross-designed Hope Valley Country Club, where she later set one of her numerous course records for female golfers.
Mrs. Thigpen gave up competitive golf in 1924 to raise her family after having played in the North-South Championship in Pinehurst a year earlier. She also won six team events in Pinehurst.
Returning to tournament play after having two children, she finished second in the 1929 Women's CGA Championship. Mrs. Thigpen also captured the women's championship at Hope Valley in 1928 and 1929. During this era, she played in the North-South Women's Tournament in Pinehurst, and gave golfing exhibitions across the state of North Carolina.
Mrs. Thigpen enjoyed golf at the club level for over 50 years, and held the low score for women at four different venues in four different cities -- Charlotte Country Club, Hope Valley in Durham, Forsyth in Winston-Salem and Asheville Country Club.
"Her knowledge of the game was broader than mere technique – she had a love of course design and its grooming, tremendous respect for the rules and a keen sense of fair play," said granddaughter Susan Thigpen Carlson.
"She was a stickler for the rules," added Richard. "She absolutely played by the rules all the way. I remember one time she was teaching me at 10 years old that you don't walk ahead of or in front of people that are hitting the ball. One, you don't do it because it's not good etiquette and two, it can be dangerous. Well, the old 18th hole at Charlotte CC was a sharp dogleg right and I had hit the ball off the tee down to the left and she was walking way over on the right side with her caddie and I pulled out a club and hit the ball that was about two feet off the ground and it hit her in the back of the left leg. She said 'that just proves what I kept telling you not to walk in front of people.' We both had a good laugh at that one."
Mrs. Thigpen died in 1989 at the age of 88.
"There is no question that momma could have been a professional golfer," Richard said. "She was such a good all-around athlete and just a suburb golfer. We're really thrilled the things that she had accomplished and contributed to the game, and the type of competitor and person that she was, is being recognized. It's all so exciting for the family."