Hodge Holds Round One Lead at Carolinas Women's Amateur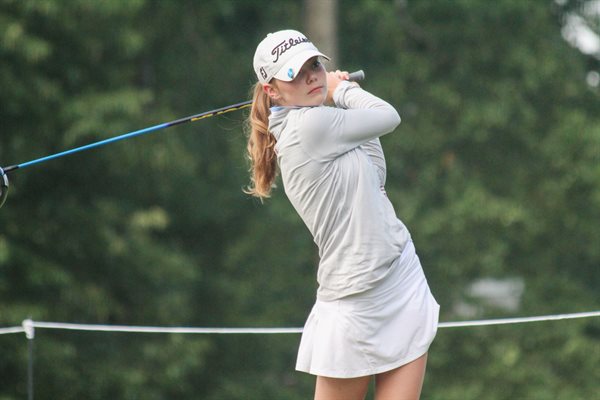 BERMUDA RUN, N.C. (June 2, 2020) -- The results from the first round of the 94th Carolinas Women's Amateur Championship at Bermuda Run Country Club in Bermuda Run, N.C. from June 2 - 4, 2020. Championship Division (6,219 yards, par 36-36--72) Carolinas Division (5,125 yards, par 36-36--72).
Related: Championship Web Site | Starting Times | Scoring | History | Photos
Alice Hodge of Mooresville, N.C. jumped out to an early lead on Tuesday at the 94th Carolinas Women's Amateur Championship with a score of 72, good for even-par.

"I think the biggest thing for me today was just to stay consistent," Hodge said. "I had a lot of pars with a few bogeys and birdies here and there. Just hitting greens and fairways was my plan. My putting overall was really consistent. I was fortunate enough to just have the putts falling in today."

Hodge said that she's benefited from being able to go out and play consistently amidst the COVID-19 pandemic, but the return to competition was welcomed, and is ready for the second round tomorrow.

"Overall I had a solid round, and I am just hoping to have another solid round tomorrow," she added. "Maybe I could get a few more birdies. Hopefully it is about the same with some nice weather too."
Morgan Ketchum of Winston-Salem, N.C. had a strong 1-over-par, 73 today, which earned her second place going into the second round.
"Since school is online now, I have been practicing a lot more and waking up early and going out to the course. I have been playing 18 every day and practicing for hours afterwards," Ketchum said.
All the long practice hours certainly paid off. Ketchum ended the day with a total of five birdies throughout her round. Ketchum said that her irons were the key and helped her hit plenty of greens in regulation.
"Tomorrow I am looking forward to just coming out and playing this course again. I am going to just try and keep my tempo and keep going," Ketchum said.
Nicole Adam of Pinehurst, N.C. is two shots off of the lead carding a 2-over-par, 74. Rachel Kuehn of Asheville, N.C. and Victoria Huskey of Greenville, S.C. are both tied for fourth after scoring a pair of 75's this afternoon.
In the Carolinas Division (played on a shorter course), Lea Anne Brown of Mt. Pleasant, S.C. holds the 18-hole lead after her round of 2-over-par, 74. Brown made four birdies during her round, including three on the front-9.
"I started out with a bogey on the first hole, then I birdied the second hole so I figured this might be an okay day. Overall I am happy with my round," Brown said. "I was very patient and wasn't expecting a lot. I just have to play my game and be steady. You can't get ahead of yourself out here. The greens are really tricky and you have to pay close attention to the slope, undulation and speed. It is a great golf course, absolutely beautiful."
Pam Prescott of Piedmont, S.C. is in second place with a score of 6-over-par, 78, while former Carolinas Women's Amateur champion Patty Moore and Sook Hee Yang are tied for third at 8-over-par, 80.
The Carolinas Women's Amateur Championship was inherited by the Carolinas Golf Association from the Carolinas Women's Golf Association in 2013. The championship began in 1922 and annually crowns the women's amateur champion of the Carolinas.
The championship is conducted at 54 holes of stroke play with a Championship division and Carolinas division (shorter course).
This competition includes gross scores only for the Championship division and gross and net scores for the Carolinas division. Players in the championship division are flighted using 36-hole scores. Players in the Carolinas division are pre-flighted within their division by Handicap Index®.
Entry is open to any female amateur golfer who maintains a residence in North Carolina or South Carolina, is a member in good standing of a club which is a member of the Carolinas Golf Association and has an active GHIN® USGA Handicap Index®.
94th Carolinas Women's Amateur Championship
Bermuda Run Country Club, Bermuda Run, N.C.
First Round Results
About the Carolinas Golf Association (CGA)
The CGA is a 501(c)(3) not-for-profit educational organization that was founded in 1909 to promote and to protect the game of golf in the Carolinas by providing competitions, education, support and benefits to golf clubs and golfers. The CGA is the second largest golf association in the country with over 700 member clubs represented by nearly 150,000 individuals.
The CGA annually conducts 48 championships and five team match competitions for men, women, juniors, and seniors. It also runs over 150 One-Day (net and gross) events as well as qualifying for USGA national championships. The CGA serves golf in the Carolinas with numerous programs such as: the USGA Handicap System; tournament management software and support; course measuring and course/slope ratings; agronomy consultation; answers about the Rules of Golf, Rules of Amateur Status, and Handicapping; Carolinas Golf Magazine; Interclub series; Tarheel Youth Golf Association; Carolinas Golf Hall of Fame; expense assistance for USGA Junior and Girls' Junior qualifiers from the Carolinas; and the Carolinas Golf Foundation (CGF). The CGF has distributed nearly $2,000,000 since 1977 to benefit Carolinas' golf initiatives including junior and women's programs.
For more information about the CGA, visit our website.
##30##