Preview: 5th Carolinian Amateur Championship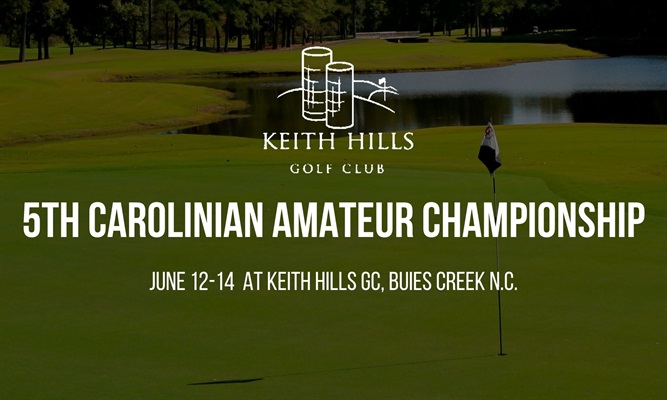 SOUTHERN PINES, N.C. (June 10, 2020) -- The Carolinas Golf Association will conduct the 5th Carolinian Amateur Championship at Keith Hills Golf Club in Buies Creek, N.C. from June 12 - 14, 2020. (6,717 yards, par 36-36--72)
The CGA will be conducting this championship under the new COVID-19 Tournament Protocols. Learn more here.
Related: Championship Web Site | Full Field of Players | Starting Times | Scoring
Players to watch:
Fulton Smith of Pinehurst, N.C. is the defending champion of the Carolinian Amateur. In last year's event, Smith tied the CGA's single-round scoring record and the Keith Hills' competitive course record with an 11-under-par, 61 in Round One. Smith captured his fourth CGA championship title in December at the 11th Carolinas Young Amateur, and he is ranked the No. 19 golfer in the Carolinas Men's Rankings. Smith recently completed his freshman year at Wake Forest University where he is a member of the men's golf team.

Peter Fountain of Raleigh, N.C. is the reigning N.C. Junior Boys' Champion. Last fall, he placed fifth in the Hope Valley Junior Invitational and second in the AJGA Pinehurst Junior. Fountain graduated from high school early this past December to enroll at the University of North Carolina where he will join the men's golf team in the fall.

Daniel Neveu of Pinehurst, N.C. is originally from Sorel-Tracy, Quebec, Canada and a graduate of the University of South Carolina. He is ranked the No. 10 golfer in the Carolinas Men's Rankings. Neveu has finished in the top-10 twice according to the World Amateur Golf Ranking, and in 2019, he placed tied for second in the Carolinas Mid-Amateur Championship and third in the Triad Amateur Golf Classic. Neveu was a member of the 2019 Carolinas Team at the Captain's Putter Matches.

Chris Cassetta of High Point, N.C. is the No. 42 golfer in the Carolinas Men's Rankings and placed 28th in the Country Club of North Carolinas Amateur and 25th in the North Carolinas Mid-Amateur Championship. He also played in the Carolinas Open, a pro event in 2019. Casetta was also a member of the 2019 Carolinas Team at the Captain's Putter Matches.

Blake McShea of Zebulon, N.C. just completed his senior year at UNC-Wilmington. This season he played in six tournaments and posted top-10 finishes in two of them at the Wolfpack Intercollegiate and John Burns Intercollegiate. During his sophomore and junior years, McShea played in all 21 tournaments for the Seahawks, totaling 62 rounds of golf. As a junior, he tied for ninth at CAA Championships and earned CAA Golfer of the Week honors.

Ethan Hall of Morehead City, N.C. is a rising sophomore at Davidson College. He is the 12th ranked golfer in the state of North Carolina according to North Carolina Junior Boys' Rankings. In 2018, he placed 27th in the Big I National Championship. Also in 2018, he was the North Carolina 3A State Individual Champion. He finished 6th at the 2018 Dogwood Invitational.

Patrick Stephenson of Four Oaks, N.C. recently graduated from East Carolina University where he posted a 73.00 scoring average and recorded two top-15 finishes during his 2019-20 season. As a junior, he was one of three players to play all 12 events for the Pirates and recorded five top-20 finishes. Prior to college, Stephenson was the top-ranked prep player in the state for the class of 2016. Stephenson is ranked the No. 41 golfer in the Carolinas Men's Rankings, and finished tied for eighth at the 2019 CPGA NC Open, tied for fifth at the 2019 CCNC Amateur and tied for sixth at the 2019 CGA Carolinas Young Amateur.
The Carolinian Amateur format is 54 holes of stroke play. After 36 holes, the field is cut to the low 70 scores and ties. Entry is open to any male golfer who has reached his 16th birthday by the first round, is a member in good standing of a club which is a member of the Carolinas Golf Association (CGA) and has a current USGA Handicap Index® at a member club that does not exceed 10.4. There is no residency requirement for this tournament.
Past Champion in this field:
Fulton Smith of Pinehurst, N.C., 2019
Scoring will be provided by the CGA throughout the championship, offering 9 and 18-hole updates. Live updates will also be available on the CGA's official Twitter account, @CGAgolf. Continue to visit the CGA website throughout this championship and all year long for complete championship coverage including scores, interviews, photos and recaps.
Schedule of rounds:
Friday, June 12
Round 1 Starting Times: 8:00 a.m. to 1:19 p.m.
Saturday, June 13
Round 2 Starting Times: 8:00 a.m. to 1:19 p.m.
Sunday, June 14
Round 3 Starting Times: 8:00 a.m. to 11:30 a.m.
About the Carolinas Golf Association (CGA)
The CGA is a 501(c)(3) not-for-profit educational organization that was founded in 1909 to promote and to protect the game of golf in the Carolinas by providing competitions, education, support and benefits to golf clubs and golfers. The CGA is the second largest golf association in the country with over 700 member clubs represented by nearly 150,000 individuals.
The CGA annually conducts 48 championships and five team match competitions for men, women, juniors, and seniors. It also runs over 150 One-Day (net and gross) events as well as qualifying for USGA national championships. The CGA serves golf in the Carolinas with numerous programs such as: the USGA Handicap System; tournament management software and support; course measuring and course/slope ratings; agronomy consultation; answers about the Rules of Golf, Rules of Amateur Status, and Handicapping; Carolinas Golf Magazine; Interclub series; Tarheel Youth Golf Association; Carolinas Golf Hall of Fame; expense assistance for USGA Junior and Girls' Junior qualifiers from the Carolinas; and the Carolinas Golf Foundation (CGF). The CGF has distributed nearly $2,000,000 since 1977 to benefit Carolinas' golf initiatives including junior and women's programs.
For more information about the CGA, visit our website.
##30##