Salzer Defeats Parrott in Matchup of Recent Champions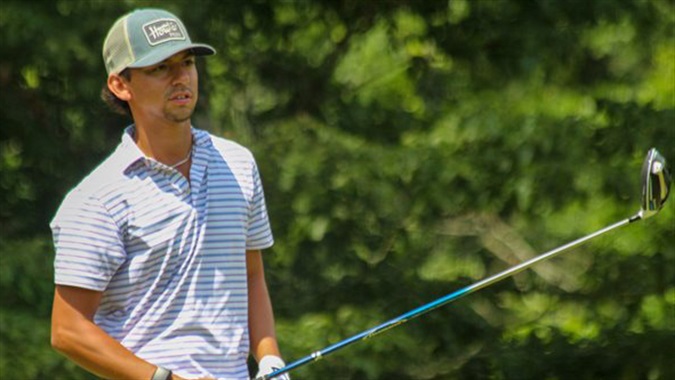 ORANGEBURG, S.C. (June 19, 2020) -- The results from the second round of match play at the 48th South Carolina Amateur Match Play Championship at Orangeburg C.C. in Orangeburg, S.C. on June 19, 2020. (7,032 yards, par 36-36--72)
Related: Championship Web Site | Bracket | History | Photos
In less than 24 hours, the field at the 48th South Carolina Amateur Match Play Championship has been cut from over 100 players to just eight, and while this afternoon was only the Round of 16, there was certainly a championship feel to the matches.
In the afternoon session, 2018 champion Christian Salzer of Sumter, S.C. took down defending champion Jack Parrott of Columbia, S.C. 2 and 1. The two collegiate golfers, playing at N.C. State University and the University of South Carolina respectively, have met in competition several times, and today, the cards just fell Salzer's way.
"It's been a lifetime of competition ever since junior golf," Salzer said. "One year, he chipped in to beat me in the South Carolina Junior, and then the next year, I beat him on the last hole. It's just always been back and forth. I love playing against him. He's one of my good friends. Luckily I got him today."
Salzer got out to a two hole advantage on the front nine, before the two played evenly for five straight holes. Parrott did his best to make a push, pulling to within one on No. 14, but Salzer's birdie on No. 15 extended his lead back to two. With a pair of three's on No. 17, the match ended and the two players began to joke about the next time that they'd play.
Salzer said that he doesn't plan to make any changes to his strategy entering tomorrow's quarterfinals, where he will be matched up against Henry Augenstein of Columbia, S.C.
Speaking of Augenstein, the rising senior on the Wofford men's golfer completed his second upset of the day, this time taking down Rob Butler of Camden, S.C. 3 and 1. This morning, Augenstein defeated second-seeded Elliott Pope of Lugoff, S.C. 4 and 3.
"It felt good," Augenstein said about his morning round. "He got off to a hot start, but I played solid, kept it in the fairway and got it done. I made a big eagle putt on No. 8, put it in there close on No. 9, and he made a few mistakes that I capitalized on."
Augenstein said that he carried the momentum of the morning into the afternoon by doing a lot of the same. During a brief weather delay, he went through his warm up routine a second time to stay focused and not look too far ahead. That plan worked, and Augenstein will be looking for a third upset of the championship tomorrow morning against Salzer.
The quarterfinals begin tomorrow morning at 8:00 a.m. with No. 1 seed Logan Sowell of Kershaw, S.C. and College of Charleston taking on eighth-seeded Tyler Gray of Lugoff, S.C. and Coastal Carolina University. Tee times run until 8:24 a.m. with the semifinal matches beginning once the quarterfinals are complete.
The South Carolina Amateur Match Play Championship is contested at 36 holes of individual stroke play to determine 32 qualifiers for match play. Five rounds of match play will determine the champion.
Entry is open to any male amateur golfer who has reached his 13th birthday by June 17, 2020, and is a legal resident of South Carolina, is a member in good standing of a club which is a member of the Carolinas Golf Association (CGA) and has an active USGA Handicap Index® that does not exceed 10.4 at a CGA member club.
48th South Carolina Amateur Match Play Championship
Orangeburg Country Club, Orangeburg, S.C.
Round of 16 Results
Tyler Gray def. Levi Moody 1 up
Austin Duncan def. Calahan Keever 2 up
Harry Reynolds def. George Eubank Jr. 2 up
Henry Augenstein def. Rob Butler 3 & 1
Christian Salzer def. Jack Parrott 2 & 1
Nicholas Mayfield def. Caleb Loundin 3 & 2
Todd White def. James Lightsey 5 & 4
Logan Sowell def. Andrew Rose 2 up
About the Carolinas Golf Association (CGA)
The CGA is a 501(c)(3) not-for-profit educational organization that was founded in 1909 to promote and to protect the game of golf in the Carolinas by providing competitions, education, support and benefits to golf clubs and golfers. The CGA is the second largest golf association in the country with over 700 member clubs represented by nearly 150,000 individuals.
The CGA annually conducts 48 championships and five team match competitions for men, women, juniors, and seniors. It also runs over 150 One-Day (net and gross) events as well as qualifying for USGA national championships. The CGA serves golf in the Carolinas with numerous programs such as: the USGA Handicap System; tournament management software and support; course measuring and course/slope ratings; agronomy consultation; answers about the Rules of Golf, Rules of Amateur Status, and Handicapping; Carolinas Golf Magazine; Interclub series; Tarheel Youth Golf Association; Carolinas Golf Hall of Fame; expense assistance for USGA Junior and Girls' Junior qualifiers from the Carolinas; and the Carolinas Golf Foundation (CGF). The CGF has distributed nearly $2,000,000 since 1977 to benefit Carolinas' golf initiatives including junior and women's programs.
For more information about the CGA, visit our website.
##30##