Quarterfinals Results - S.C. Match Play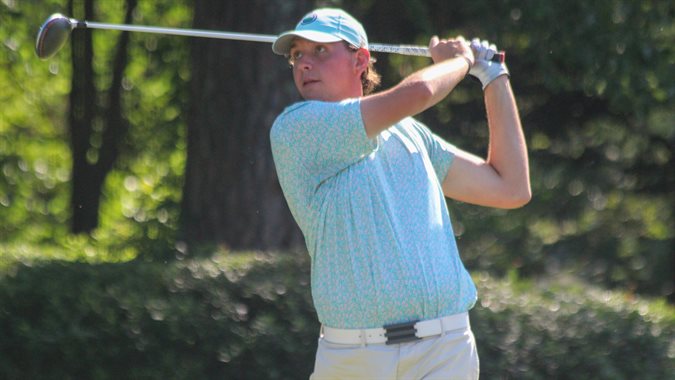 ORANGEBURG, S.C. (June 20, 2020) -- The results from the quarterfinals of match play at the 48th South Carolina Amateur Match Play Championship at Orangeburg CC in Orangeburg, S.C. on June 20, 2020. (7,032 yards, par 36-36--72)
Related: Championship Web Site | Bracket | History | Photos
The semifinal matchups are set at the 48th South Carolina Amateur Match Play Championship. Henry Augenstein of Columbia, S.C. is set to take on three-time champion Todd White of Roebuck, S.C. in one of the matchups, while stroke-play medalist Logan Sowell of Kershaw, S.C. and Harry Reynolds of Greenville, S.C. battle it out for a spot in the finals on the other side of the bracket.
Augenstein and White both took care of business winning 3&1 this morning. Augenstein, the rising senior on Wofford College's men's golf team, trailed 2018 champion Christian Salzer of Sumter, S.C. by two holes through six, but a win on the seventh hole helped spark a comeback effort as Augenstein would win five of the last 11 to clinch the match 3 up on No. 17.
As for White, he too trailed by two holes early on in his match, and a birdie on No. 5 began his run. White, who won the South Carolina Amateur Match Play Championship in 1991, 2004 and 2010, clinched his match against Nicholas Mayfield of Rock Hill, S.C. 3&1 with a par on No. 17.
Sowell and Reynolds, the two earliest matches off the tee this morning, took a little bit longer to secure their victories. Sowell, a rising senior on the men's golf team at College of Charleston, did not lead his match against Tyler Gray of Lugoff, S.C. until things were all said and done. He made par on No. 17 to tie the match, and a birdie on No. 18 clinched the win.
Reynolds was the only one of today's victories that held a lead at any point during the front nine, and just like the rest of them, he was in a close match at the turn. All four winners either were tied with or trailed their opponent when they headed to No. 10 tee. Reynolds took a two-hole lead over Austin Duncan of York, S.C. by winning holes No. 10, 11 and 12, and held on to his 1 up lead down the stretch for the win.
Augenstein and White are scheduled to tee off at 12:30 p.m. followed by Sowell and Reynolds at 12:45 p.m. Check back later for a full update with quotes and results from the entire day at Orangeburg Country Club.
The South Carolina Amateur Match Play Championship is contested at 36 holes of individual stroke play to determine 32 qualifiers for match play. Five rounds of match play will determine the champion.
Entry is open to any male amateur golfer who has reached his 13th birthday by June 17, 2020, and is a legal resident of South Carolina, is a member in good standing of a club which is a member of the Carolinas Golf Association (CGA) and has an active USGA Handicap Index® that does not exceed 10.4 at a CGA member club.
48th South Carolina Amateur Match Play Championship
Orangeburg Country Club, Orangeburg, S.C.
Quarterfinal Results
Logan Sowell def. Tyler Gray 1 up
Harry Reynolds def. Austin Duncan 1 up
Henry Augenstein def. Christian Salzer 3&1
Todd White def. Nicholas Mayfield 3&1
About the Carolinas Golf Association (CGA)
The CGA is a 501(c)(3) not-for-profit educational organization that was founded in 1909 to promote and to protect the game of golf in the Carolinas by providing competitions, education, support and benefits to golf clubs and golfers. The CGA is the second largest golf association in the country with over 700 member clubs represented by nearly 150,000 individuals.
The CGA annually conducts 48 championships and five team match competitions for men, women, juniors, and seniors. It also runs over 150 One-Day (net and gross) events as well as qualifying for USGA national championships. The CGA serves golf in the Carolinas with numerous programs such as: the USGA Handicap System; tournament management software and support; course measuring and course/slope ratings; agronomy consultation; answers about the Rules of Golf, Rules of Amateur Status, and Handicapping; Carolinas Golf Magazine; Interclub series; Tarheel Youth Golf Association; Carolinas Golf Hall of Fame; expense assistance for USGA Junior and Girls' Junior qualifiers from the Carolinas; and the Carolinas Golf Foundation (CGF). The CGF has distributed nearly $2,000,000 since 1977 to benefit Carolinas' golf initiatives including junior and women's programs.
For more information about the CGA, visit our website.
##30##