Fountain Captures the 60th N.C. Amateur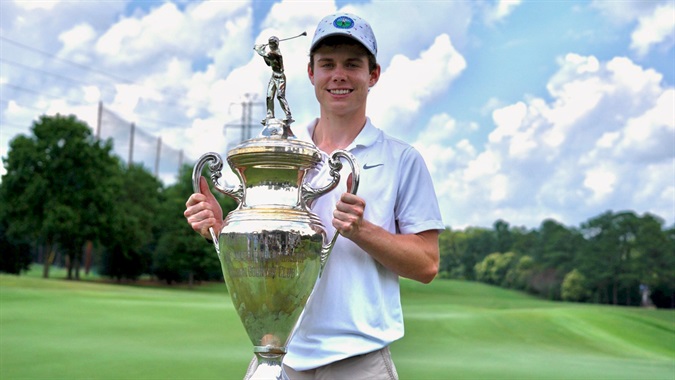 Raleigh, N.C. (June 21, 2020) -- The final results of the 60th North Carolina Amateur Championship at North Ridge Country Club's Lakes Course in Raleigh, N.C. on June 21, 2020. (6,880 yards, par 36-34--70)

Related: Championship Web Site | Full Field | Starting Times | Scoring l Photos l History
Peter Fountain of Raleigh, N.C. battled back in Sunday's final round to ultimately claim the 60th North Carolina Amateur title after a one-hole playoff.
In the final round, Fountain took a cautiously, aggressive approach, carding a 2-under-par, 68 to finish at 9-under-par, 271 total for the Championship.
Fountain had a steady first two rounds, carding 1-under, 69 in Round 1 and even par in Round 2. It wasn't until Round 3 when Fountain dominated the course and tied the low round of the week at 6-under, 64 to claim solo second on Saturday night, just one stroke behind the standout leader of the first three rounds.
"Yesterday definitely gave me more confidence going into the final round," said Fountain. "Ball striking wise, I just hit a lot better than I did the first two days so since I knew that I was hitting it well and I just had a lot more confidence going into today."
Round 3 was full of comebacks and low rounds that closed the gap between the leader, Walker Cress of Concord, N.C., and the rest of the field, from four strokes to just one. Nine players took part in the Round 3 horse race and landed within five shots of Cress' lead.
Fountain's game plan in Round 3 was to play aggressive golf and take some chances. He said that moving day was his day to get back into the tournament, but he had a different mindset going into the final round.
"Today I was definitely playing aggressively, but probably more conservatively than yesterday. Yesterday was moving day so it was my day to get back into the tournament. But once I knew that I was in the lead by a few strokes I started to play more conservatively. For example, I was thinking about hitting driver off of No. 15, but I didn't. Then I hit a three wood on No. 17 instead of driver to play it safe, but still have enough to get it to the green," said Fountain.
Fountain had a solid and steady front nine with a bogey on No. 7 and birdies on Nos. 8 and 9. On the back nine, he said that he just simply put it on cruise control on his way up to No. 18. That is when Jonathan Brightwell of Charlotte, N.C. made his move.
Fountain said, "I honestly figured that Jonathan (Brightwell) was going to make birdie on No. 18. I knew we were close and honestly he is probably one of the best players that I have ever played with. When he has a wedge in his hand, it's basically all-day birdies. So, I figured that he would make birdie which meant that I needed to make par to tie for the lead and I ended up making a nice up and down."
This last-minute tie between Brightwell and Fountain meant we were headed to a playoff starting on No. 18 to determine the next North Carolina Amateur champion.
"The playoff hole was alright, I hit a nice drive and Jonathan just got a terrible break off of the tee. He had to get on his knees and punch out leftie which was just a horrible break. Then I thought I hit a really good wedge shot, but it ended up staying on the top slope, but I managed to two putt for par," said Fountain.
The par for Fountain secured the title of the 60th North Carolina Amateur champion. This is Fountain's second CGA championship title, as he is the reigning North Carolina Junior Boys' Champion. Fountain had a lot to say about this meaningful win.
"It is really relieving to finish it. Sometimes when you have a three-shot lead you can lose it and that does not feel good. So it just feels really good to finish it today. This win definitely gives me a lot of confidence going forward. To be able to compete in a field like this, one of the strongest fields I will play in this summer and win it means a lot," said Fountain.
Recent UNC Greensboro graduate and upcoming Oklahoma University graduate transfer, Brightwell made a push in the final round carding a 4-under-par, 66; the second lowest round of the day. Brightwell birdied No. 18 to force a playoff with Fountain. An unlucky break off the first playoff hole tee forced Brightwell to make a backwards punch out to the fairway while kneeling. Brightwell was able to put his approach shot to within fifteen feet but failed to make the putt to keep his championship hopes alive. Brightwell finished the championship in solo second place with a 9-under-par, 271 total.
Tied for third place was a popular position with five players finishing at 6-under-par, 264 total. This grouping includes Cress, the 2016 N.C. Amateur Champion, Nick Lyerly of Salisbury, N.C., Spencer Oxendine of Fayetteville, N.C., Patrick Stephenson of Four Oaks, N.C. and 2020 Carolinian Champion, Tim Bunten of Concord, N.C.
The CGA would like to thank the members and staff of North Ridge Country Club for their amazing hospitality in hosting the 60th North Carolina Amateur Championship. A special note of gratitude is extended to Director of Golf, Scott Kirkland, Director of Golf Course Maintenance and Ground, Charles Sheffield and General Manager, Jeff Early.
The CGA would also like to thank the players and spectators for their understanding and adherence to the new COVID-19 tournament protocols.
60th North Carolina Amateur Championship
North Ridge Country Club (Lakes), Raleigh, N.C.
Final Results
About the Carolinas Golf Association (CGA)
The CGA is a 501(c)(3) not-for-profit educational organization that was founded in 1909 to promote and to protect the game of golf in the Carolinas by providing competitions, education, support and benefits to golf clubs and golfers. The CGA is the second largest golf association in the country with over 700 member clubs represented by nearly 150,000 individuals.
The CGA annually conducts 48 championships and five team match competitions for men, women, juniors, and seniors. It also runs over 150 One-Day (net and gross) events as well as qualifying for USGA national championships. The CGA serves golf in the Carolinas with numerous programs such as: the USGA Handicap System; tournament management software and support; course measuring and course/slope ratings; agronomy consultation; answers about the Rules of Golf, Rules of Amateur Status, and Handicapping; Carolinas Golf Magazine; Interclub series; Tarheel Youth Golf Association; Carolinas Golf Hall of Fame; expense assistance for USGA Junior and Girls' Junior qualifiers from the Carolinas; and the Carolinas Golf Foundation (CGF). The CGF has distributed nearly $2,000,000 since 1977 to benefit Carolinas' golf initiatives including junior and women's programs.
For more information about the CGA, visit our website.
##30##