US Open Local Qualifying Results - Columbia CC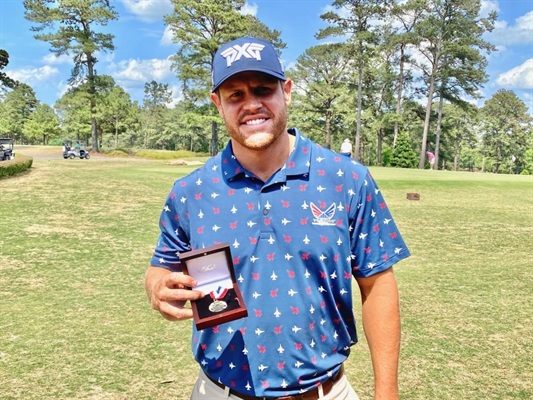 COLUMBIA, S.C. (April 29, 2021) -- Final results from U.S. Open Local Qualifying at Columbia Country Club in Columbia, S.C. on Thursday, April 29, 2021 (7,150 yards, par 36-36--72).
Five qualifying spots and two alternate positions were available at this qualifying site.
Kyle Westmoreland of Mount Pleasant, SC won medalist honors with a score of three-under-par 69. Hunter Fry of Dacula, GA, Marion Dantzler of Orangeburg, SC, Ryan Hall of Knoxville, TN and Emmanuel Kountakis of Augusta, GA punched their ticket to final qualifying with rounds of one-under-par 71. Two players finished tied for 6th at even-par-72 and competed in a two-hole playoff to determine the order of the alternate spots. High schooler Gene Ziegler of Florence, SC won the playoff and will be the 1st alternate. Will Miles of Hilton Head, SC will be the 2nd alternate.
The five qualifiers will advance to the "Longest Day in Golf" and compete at one of twelve 36-hole final qualifying sites on June 7 to earn a spot in the U.S. Open, including the new final qualifying site at Long Cove Club on Hilton Head Island, SC, which will be conducted by the Carolinas Golf Association.
This USGA Qualifier was conducted by the South Carolina Golf Association on behalf of the Carolinas Golf Association and the United States Golf Association.
Hole-by-hole scoring can be viewed here.
Pos.
Player
Affiliation
To Par
Total Score
Details
1
Kyle Westmoreland (p)
Mount Pleasant, South Carolina
-3
69
T2
Hunter Fry
Dacula, Georgia
-1
71
T2
Marion Dantzler (p)
Orangeburg, South Carolina
-1
71
T2
Ryan Hall
Knoxville, Tennessee
-1
71
T2
Emmanuel Kountakis (p)
Augusta, Georgia
-1
71
The following players did not make the cut
CUT
Gene Zeigler
Florence, South Carolina
E
72
First Alternate
CUT
Will Miles (p)
Hilton Head Island, South Carolina
E
72
Second Alternate
CUT
Justin Moose (p)
Columbia, South Carolina
+1
73
CUT
James Wilson
Mt. Pleasant, South Carolina
+1
73
CUT
Blake Maum (p)
Chattanooga, Tennessee
+1
73
CUT
Trent Phillips
Inman, South Carolina
+1
73
CUT
Peter Skirpstas (p)
Mount Pleasant, South Carolina
+1
73
CUT
McCullough Pickens (p)
St Simons Island, Georgia
+1
73
CUT
Keller Harper
Atlanta, Georgia
+1
73
CUT
Carter Pendley
Dalton, Georgia
+1
73
CUT
Levi Moody
Greenville, South Carolina
+2
74
CUT
Perry-Austin Kilburn
Monroe, Georgia
+2
74
CUT
Jack Faraci (p)
Okatie, South Carolina
+2
74
CUT
Michael Cromie (p)
Athens, Georgia
+2
74
CUT
Rafe Reynolds
Greenville, South Carolina
+2
74
CUT
William Register (p)
Burlington
+3
75
CUT
Ryan Elmore (p)
Dunwoody
+3
75
CUT
Matt Carter (p)
Easley
+4
76
CUT
Mason Tucker
Lancaster, South Carolina
+4
76
CUT
Jason Quinlan
Cumming, Georgia
+4
76
CUT
Nick Mayfield
Rock Hill, South Carolina
+4
76
CUT
Andrew Lockliear
Bonneau, South Carolina
+4
76
CUT
Cody Clepper
Sumter, South Carolina
+4
76
CUT
David Hrubala
Spartanburg, South Carolina
+5
77
CUT
Corey Chrzanowski
Suwanee, Georgia
+5
77
CUT
Kyle Bachkosky
Peachtree City, Georgia
+5
77
CUT
Robert Lutomski
Simpsonville, South Carolina
+5
77
CUT
Travis Gantt
Moncks Corner, South Carolina
+5
77
CUT
Elliott Pope
Lugoff, South Carolina
+5
77
CUT
David Kostyal II (p)
Wilmington
+6
78
CUT
Ben Smith
Novi, Michigan
+6
78
CUT
Dylan Fincher
Martinez, Georgia
+7
79
CUT
Troy Kennedy (p)
Fort Mill
+7
79
CUT
Shaw James
Chapin, South Carolina
+7
79
CUT
Samuel Caldwell
Irmo, South Carolina
+7
79
CUT
Mac Scott
Birmingham, Alabama
+7
79
CUT
Jack Crosby
Memphis, Tennessee
+7
79
CUT
Brad Sill (p)
Spartanburg
+8
80
CUT
Gage Weeks
Evans, Georgia
+8
80
CUT
Scott Glaze (p)
Charleston
+8
80
CUT
Kyle Garcia
Waxhaw, North Carolina
+8
80
CUT
John Obrien
Columbia, South Carolina
+8
80
CUT
Luke Koenig
Statham, Georgia
+8
80
CUT
Derek O'Neill (p)
Ladson
+8
80
CUT
Caleb Loudin
Summerville, South Carolina
+9
81
CUT
Ian Glanton
Metter, Georgia
+9
81
CUT
Liam Shinn
Columbia, South Carolina
+9
81
CUT
Logan Hjelm (p)
Myrtle Beach
+9
81
CUT
Brady Hinkle
Lancaster, South Carolina
+9
81
CUT
Alex Shead (p)
Appling
+9
81
CUT
Holden Grigg
myrtle beach, South Carolina
+10
82
CUT
Skyler Mcfaddin
Ninety Six, South Carolina
+10
82
CUT
Lamar Gresham
Atlanta, Georgia
+10
82
CUT
Spencer Benton
Gilbert, South Carolina
+10
82
CUT
Jacob Lamothe (p)
North Augusta
+11
83
CUT
Adam Wooldridge
Savannah, Georgia
+11
83
CUT
Palmer Mason
Irmo, South Carolina
+12
84
CUT
Josiah Grimm
Monroe, North Carolina
+13
85
CUT
Ishaan Vasudeva
Columbia, South Carolina
+13
85
CUT
Brandon Phillips (p)
Lexington
+13
85
CUT
Tony Casciano
Fort Mill, South Carolina
+14
86
CUT
Greg Harrold
York, South Carolina
+14
86
CUT
Rich Montgomery
Little River, South Carolina
+15
87
CUT
Jimmy Taylor
Charlotte, North Carolina
+15
87
CUT
Evan Hyma (p)
Ridgeland
+16
88
CUT
Robert Silky (p)
Dublin
+17
89
CUT
Jake Snelgrove
Charleston, South Carolina
+19
91
CUT
Matthew Proffitt
Lexington, South Carolina
+20
92
CUT
Matthew Norris (p)
Starr
+21
93
CUT
Rob Brock (p)
Kingsland
+22
94
WD
Trae Ely
Charlotte, North Carolina
-
WD
WD
Matt Bettencourt (p)
Duncan
-
WD
WD
Stephen Heard
Greenville, South Carolina
-
WD
WD
Zach Seeler
Hilton Head Island, South Carolina
-
WD
WD
Zack Gordon
Gaffney, South Carolina
-
WD
WD
Mike Ramsden (p)
Mount Pleasant
-
WD
NC
Chris Wellde (p)
Ellicott City
-
NC
NS
Broc Everett (p)
West Des Moines
-
NS
NS
Dakota Bjorgen
Mooresville, North Carolina
-
NS