Registration for Father-Son and Parent-Child Delayed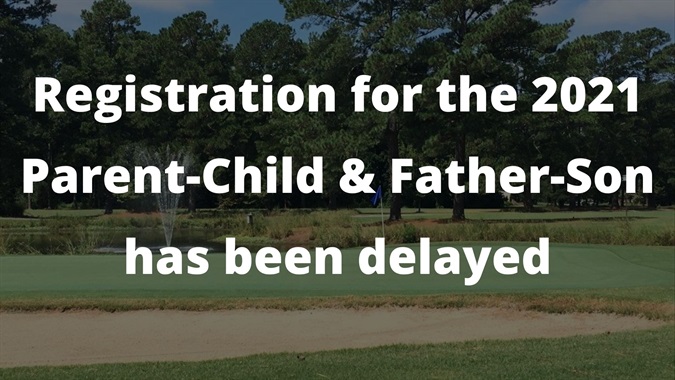 SOUTHERN PINES, N.C. (April 30, 2021) - Two of our typical rotated host site courses for the Carolinas Father-Son and the Carolinas Parent-Child Championships are undergoing renovations. Instead of limiting the field size, the Carolinas Golf Association is making an effort to add more sites to help with the increased interest in the Carolinas Father-Son and Carolinas Parent-Child Championships!

We thank you for your understanding and look forward to seeing you for this year's Parent-Child and Father-Son Championships!

Entries Open: May 11th, 2021 at 8:00pm

Registration: Entries are accepted online. To register online, BOTH players must have a USGA TM profile created. CLICK HERE to create your USGA TM Profile.

Date: July 16, 2021

Entry Fee: $140.00 per team

Format: Each team plays alternate shot except that both team members hit from each tee and then select the ball to be played (modified alternate shot). A team must complete the hole with the ball selected.

About the Carolinas Golf Association (CGA)
The CGA is a 501(c)(3) not-for-profit educational organization that was founded in 1909 to promote and to protect the game of golf in the Carolinas by providing competitions, education, support and benefits to golf clubs and golfers. The CGA is the second largest golf association in the country with over 700 member clubs represented by nearly 150,000 individuals.
The CGA annually conducts 48 championships and five team match competitions for men, women, juniors, and seniors. It also runs over 150 One-Day (net and gross) events as well as qualifying for USGA national championships. The CGA serves golf in the Carolinas with numerous programs such as: the USGA Handicap System; tournament management software and support; course measuring and course/slope ratings; agronomy consultation; answers about the Rules of Golf, Rules of Amateur Status, and Handicapping; Carolinas Golf Magazine; Interclub series; Tarheel Youth Golf Association; Carolinas Golf Hall of Fame; expense assistance for USGA Junior and Girls' Junior qualifiers from the Carolinas; and the Carolinas Golf Foundation (CGF). The CGF has distributed nearly $2,000,000 since 1977 to benefit Carolinas' golf initiatives including junior and women's programs.
For more information about the CGA, visit our website.
##30##