US Amateur Qualifying - Mill Creek Golf Club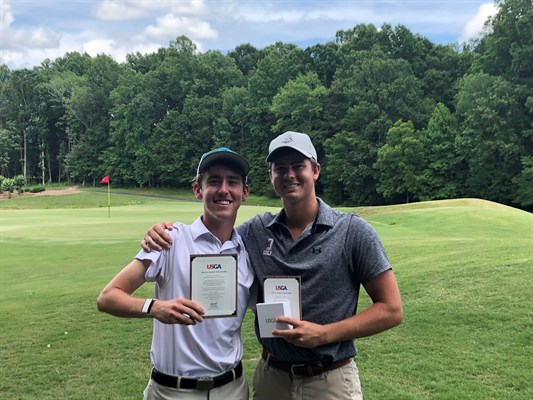 MEBANE, N.C. (July 1, 2021) -- Final results from U.S. Amateur Qualifying at Mill Creek Golf Club in Mebane, N.C. from Wednesday, June 30 and Thursday, July 1, 2021 (6,992 yards, par 36-36--72).
Two qualifying spots and two alternate positions were available at this qualifying site.
Ethan Hall of Morehead City, N.C. won medalist honors with a two-day total of five-under-par 139. Caden Baker of Mebane, N.C. claimed the second qualifying spot with a two-day total of four-under-par 140. Two players shot three-under-par 141 and went to a playoff to determine the order of the two alternate positions. Garrett Risner of Holly Springs, N.C. earned the first alternate position with a birdie on the seventh playoff hole. Michael Sanders of Davidson, N.C. is the second alternate.
The qualifiers will advance to play at the championship at Oakmont Country Club in Oakmont, PA from August 9-15, 2021.
This USGA Qualifier was conducted by the Carolinas Golf Association, on behalf of the United States Golf Association.
Hole-by-hole scoring can be viewed here.
US Amateur Qualifying Results
Mill Creek Club, Mebane, N.C.
June 30 – July 1, 2021
Pos.

Player

Affiliation

To Par

R1

R2

Total

Details

1

Ethan Hall

Morehead City, North Carolina

-5

71

68

139

2

Caden Baker

Mebane, North Carolina

-4

69

71

140

The following players did not make the cut

CUT

Garrett Risner

Holly Springs, North Carolina

-3

70

71

141

First Alternate

CUT

Michael Sanders

Davidson, North Carolina

-3

73

68

141

Second Alternate

CUT

Viraj Garewal

Raleigh, North Carolina

-2

69

73

142

CUT

Wade Boteler

Burlington, North Carolina

-1

71

72

143

CUT

Ben Shields

Towson, Maryland

-1

71

72

143

CUT

Erik Martin

Alpharetta, Georgia

-1

69

74

143

CUT

Jacob Calamaro

Duluth, Georgia

1

77

68

145

CUT

Garrett Clark

Mebane, North Carolina

1

75

70

145

CUT

Ike Joy

Denver, North Carolina

1

72

73

145

CUT

Thad Hudgens

Longwood, Florida

1

71

74

145

CUT

Jake Clodfelter

Trinity, North Carolina

2

76

70

146

CUT

Elliott Pope

Lugoff, South Carolina

2

74

72

146

CUT

Matias La Grutta

Cary, North Carolina

2

73

73

146

CUT

Ervin Chang

Lynchburg, Virginia

2

72

74

146

CUT

William Webb

Raleigh, North Carolina

2

72

74

146

CUT

Thomas Bonney

Greensboro, North Carolina

2

71

75

146

CUT

Luke Nelson

Raleigh, North Carolina

4

76

72

148

CUT

Grayson Wotnosky

Wake Forest, North Carolina

4

76

72

148

CUT

Walker Isley

Oak Island, North Carolina

4

74

74

148

CUT

Kris Jackson

Greenville, North Carolina

4

72

76

148

CUT

A.J. Shaffer

Horse Shoe, North Carolina

5

70

79

149

CUT

Jake Conklin

Cary, North Carolina

6

77

73

150

CUT

Davis Womble

Winston-Salem, North Carolina

6

74

76

150

CUT

Garrett Rowland

Dawsonville, Georgia

6

73

77

150

CUT

Korky Kemp

Greensboro, North Carolina

8

78

74

152

CUT

Narayan Mohan

Charlotte, North Carolina

8

75

77

152

CUT

Daniel Adkins

Holly Springs, North Carolina

8

73

79

152

CUT

Kyle Austin

Mebane, North Carolina

8

79

73

152

CUT

Connor Thomas

Conway, South Carolina

9

77

76

153

CUT

Brian Krusoe

Raleigh, North Carolina

9

78

75

153

CUT

Ryan Demit

Milton, Georgia

10

76

78

154

CUT

Drew Van Dyke

Charlotte, North Carolina

10

78

76

154

CUT

Trevor Mitchell

Oak Ridge, North Carolina

10

78

76

154

CUT

Justin Poole

Wendell, North Carolina

10

75

79

154

CUT

Jeremy Ray

Pfafftown, North Carolina

10

78

76

154

CUT

Trey Schneider

Mooresville, North Carolina

10

78

76

154

CUT

Christian Park

Charlotte, North Carolina

10

72

82

154

CUT

Kenan Poole

Raleigh, North Carolina

11

76

79

155

CUT

Evan Mendyk

summerfield, North Carolina

11

78

77

155

CUT

Stephen Abrams

Wilson, North Carolina

11

78

77

155

CUT

Kunakorn Kai Wen Tang

Raleigh, North Carolina

12

77

79

156

CUT

Simon Burgos

Raleigh, North Carolina

12

75

81

156

CUT

Ryan Hodges

Mcleansville, North Carolina

12

80

76

156

CUT

Keegan Hoff

Charlotte, North Carolina

13

74

83

157

CUT

Casey Osiecki

New Bern, North Carolina

13

79

78

157

CUT

James Bohn

Cary, North Carolina

13

82

75

157

CUT

Brandon Jones

Sanford, North Carolina

14

76

82

158

CUT

Benjamin Peters

Winston Salem, North Carolina

15

77

82

159

CUT

Jonathan Shuskey

Fort Mitchell, Alabama

15

81

78

159

CUT

Logan Sessoms

Fayetteville, North Carolina

16

78

82

160

CUT

David Banks

Richlands, North Carolina

17

79

82

161

CUT

Matt Kelly

Winston Salem, North Carolina

18

80

82

162

CUT

Stuart Augustine

Fayetteville, North Carolina

19

78

85

163

CUT

Bruce Bevins

Matthews, North Carolina

19

83

80

163

CUT

Brock Olson

Wake Forest, North Carolina

20

80

84

164

CUT

Austin Hill

Charlotte, North Carolina

20

86

78

164

CUT

Sam Nester

Mount Airy, North Carolina

21

80

85

165

CUT

Tyler Partee

Thomasville, North Carolina

23

83

84

167

CUT

Derek Schroer

Fletcher, North Carolina

24

87

81

168

WD

Nathan Spoon

Graham, North Carolina

-

75

WD

WD

WD

Jordan Holley

Atlanta, Georgia

-

76

WD

WD

WD

Zach Roberts

Holly Springs, North Carolina

-

77

WD

WD

WD

Caleb Click

Little River, South Carolina

-

81

WD

WD

WD

Luis Castro

Chapel Hill, North Carolina

-

83

WD

WD

WD

Christopher Dorsett

Mount Airy, North Carolina

-

85

WD

WD

WD

Dakota Bjorgen

Mooresville, North Carolina

-

88

WD

WD

WD

Brad Clark

Durham, North Carolina

-

WD

WD

WD

Caleb Manuel

Topsham, Maine

-

WD

WD

WD

Colin Browning

Charlotte, North Carolina

-

WD

WD

WD

Jackson Bode

Pinehurst, North Carolina

-

WD

WD

WD

Luke Walmet

Daniel Island, South Carolina

-

WD

WD

WD

Martin Sumichrast II

Charlotte, North Carolina

-

WD

WD

WD

Stephen Carroll

Concord, North Carolina

-

WD

WD

WD

Zachary Herold

Gilbert, South Carolina

-

WD

WD

WD

Cameron Spencer

Salisbury, North Carolina

-

WD

WD

WD

Todd Grear

Mooresville, North Carolina

-

WD

WD

WD

Tony Casciano

Fort Mill, South Carolina

-

WD

WD

WD

Layne Lambert

Matthews, North Carolina

-

77

WD

WD