Fobes Finishes in the Top Spot, 23rd Carolinas Women's Match Play Championship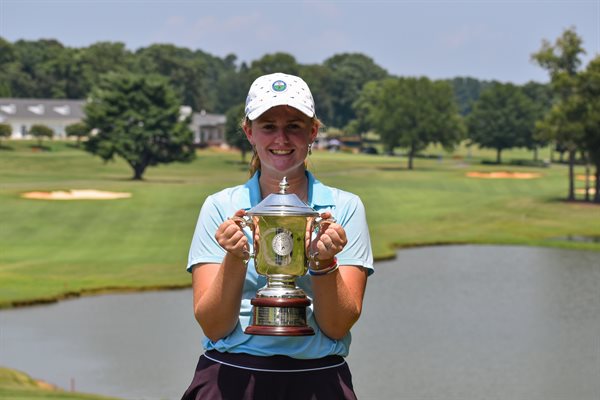 GASTONIA, N.C. (July 29, 2021) -- Semifinal and Championship match results of the 23rd Carolinas Women's Match Play Championship at Gaston Country Club in Gastonia, N.C. from July 27-29, 2021.
Related: Championship Web Site | Full Field of Players | Starting Times | Scoring | History | Photos
The Peggy Kirk Bell Trophy has been in storage for 735 days prior to today, after last year's championship was canceled due to COVID-19. Mallory Fobes of East Bend, N.C. hoisted the trophy in all of its glory at the 23rd Carolinas Women's Match Play Championship, hosted by Gaston Country Club in Gastonia, N.C. On Thursday.
"It feels great. I loved winning my second CGA on this course. It was so amazing," Fobes said following her round. "I had a great caddie and I loved playing against Jessica Spicer, it was so much fun."
Semifinal Results
No. 21 Mallory Fobes of East Bend, N.C. entered Thursday morning's matchup against No. 8 Kathryn Carson of Mooresville, N.C. full of energy, hoping to make a run for the finals match in the afternoon. Before Fobes could even start imagining hoisting the trophy, she first had to overcome the No. 8 seed and local fan favorite, Kathryn Carson. Their match was back and forth on the front nine, trading pars and birdies. Eventually, on the par 4, tenth hole Fobes would make a stand going 2-up.
Carson would not bow out without a fight though, birdieing the next two holes to bring the match back to even. Fobes responded quickly with a birdie on No.13 and par on No. 15 to win the match 2-Up.
No. 6 Jessica Spicer of Bahama, N.C. earned her spot in the Championship match after she secured a win against the No. 15 Kennedy Carroll of Mount Pleasant, S.C.
Their morning match was also a stalemate, trading pars and birdies throughout the entire round, halving a majority of their holes. However on the par 4, fifteenth hole, Spicer would sneak in a birdie to go 2-Up with three holes to play. Then, on No. 17 Spicer rolled in a lengthy birdie putt to punch her ticket to the Championship match in the afternoon, winning 3 & 1.
Championship Match
The recent alumna of the Hokies women's golf program at Virginia Tech, Jessica Spicer, and the rising Junior at the University of North Carolina at Wilmington, Mallory Fobes, battled it out on Thursday afternoon with the same aspirations to hoist the Peggy Kirk Bell trophy for all to see. The match was competitive throughout its entirety, but Fobes at a glance seemed to have more grit.
Prior to the start of the Championship match, Fobes said that she was "playing really good golf right now," and that she was "hoping to just play her best in the finals match." And that she did.
On the par 5, seventh hole at Gaston Country Club, Fobes would drop in one of only 13 birdies the hole saw this week, to give her a 1-Up lead. Then, on the par-4, ninth hole, Fobes again from the left greenside fringe rolled in a birdie, one of only nine this week, giving her a 2-Up advantage making the turn.
"Yeah, it was a tremendous relief entering the back nine with a few hole advantage over anyone, let alone Jessica Spicer," the East Bend native said. "She is always on top of her game and is always close to the top of the leaderboard."
Fobes kept the birdies falling on her inward nine to take control of the match. However, starting on the par-5, 13th hole, Spicer would make a push for the title. After Fobes' approach shot into No.13's green fell short into an adjacent creek, Spicer reduced Fobes' hold to 2-Up.
"To be honest, I really was not paying all that much attention to the score of the match, I just knew I could not give up." Fobes said.
With three holes remaining, Spicer made her final push, birdieing No.15 to only have a one hole deficit. Although the Bahama native made a valiant effort to extend the match into a potential playoff, Fobes birdied the 18th and was crowned the 23rd Carolinas Women's Match Play Champion. This marks the second CGA Championship in the record books for Fobes; the first one was at the 2019 Dogwood State Junior Girls Championship.
The CGA would like to thank the members and staff at Gaston Country Club for hosting the event. Special thanks go to Tim Carpenter, Golf Course Superintendent and Thomas Troncosco, the Head Golf Professional.
Semifinal Results:
No. 21 Mallory Fobes def. No. 8 Kathryn Carson 2 & 1
No. 6 Jessica Spicer def. No. 15 Kennedy Carroll 3 & 1
Championship Match Results:
No. 21 Mallory Fobes def. No.6 Jessica Spicer 2 Up
First Flight
Championship Match Results:
No. 3 Toni Blackwell of Fayetteville, N.C. def. No. 5 Lauren Denhard of Salisbury, N.C., 2 Up
About the Carolinas Golf Association (CGA)
The CGA is a 501(c)(3) not-for-profit educational organization that was founded in 1909 to promote and to protect the game of golf in the Carolinas by providing competitions, education, support and benefits to golf clubs and golfers. The CGA is the second largest golf association in the country with over 700 member clubs represented by nearly 150,000 individuals.
The CGA annually conducts 48 championships and five team match competitions for men, women, juniors, and seniors. It also runs over 150 One-Day (net and gross) events as well as qualifying for USGA national championships. The CGA serves golf in the Carolinas with numerous programs such as: the USGA Handicap System; tournament management software and support; course measuring and course/slope ratings; agronomy consultation; answers about the Rules of Golf, Rules of Amateur Status, and Handicapping; Carolinas Golf Magazine; Interclub series; Tarheel Youth Golf Association; Carolinas Golf Hall of Fame; expense assistance for USGA Junior and Girls' Junior qualifiers from the Carolinas; and the Carolinas Golf Foundation (CGF). The CGF has distributed nearly $2,000,000 since 1977 to benefit Carolinas' golf initiatives including junior and women's programs.
For more information about the CGA, visit our website.
##30##