Womble Wins the 12th NC Amateur Match Play Championship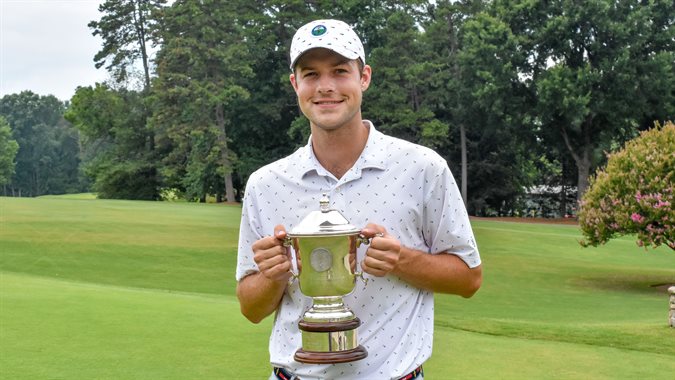 WINSTON-SALEM, N.C. (August 1, 2021) -- The final results of the 12th North Carolina Amateur Match Play Championship at Forsyth Country Club in Winston-Salem, N.C. on August 1, 2021. The field competed at 6,784 yards, par 36-35--71.


Related: Championship Web Site | Full Field | Starting Times | Scoring | History | Photos


What do you get from two chip-ins, a 90-foot putt for birdie and 13 match standing changes? The 12th North Carolina Amateur Match Play Championship Match. Davis Womble of Winston-Salem, N.C. and Cyrus Stewart of Raleigh, N.C., teammates at Wake Forest University for three years, returned home to Winston-Salem today for the ultimate match play showdown in Deactown.


The tension and nerves were high as two good friends set their friendship aside for the morning to battle for the 12th North Carolina Amateur Match Play Championship title. Womble's first shot of the day hit a tree on the left, which resulted in a lost ball in a penalty area and a less than ideal start to the match. Stewart followed that with a great up and down to take the first hole.


On No. 2, both competitors hit solid shots off the tee. Stewart's second stroke was a beautiful pitch shot from about 50 yards which he holed out for eagle. Womble followed with a key bunker shot that nearly dropped in on top of Stewart's ball, but it landed just a few feet away. He lost the hole with a birdie and Stewart took a 2 up lead through 2.


"When I went to No. 3 tee, I just had to just give myself a chance to get back in the match," said Womble. "Cyrus fortunately gave me a chance there by leaving it short of the green with a tough pin. I was able to make a three and get back in the match there."


For the remainder of the front-nine, Womble and Stewart played a game of back-and-forth between Stewart leading and settling for a tie. Womble won No. 5 with a birdie to tie the match. Stewart took No. 6 with a birdie to go 1 up. The 2020 Carolinas Mid-Amateur Champion extended his lead with another birdie on No. 8 to go 2 up. Womble immediately answered back with, you guessed it, another birdie on No. 9 to make the turn 1 down.


The level of talent displayed by both Womble and Stewart on Nos. 10 and 11 can best be described as momentous. On No. 10, Stewart hit his drive to the right of the fairway into a wooded area, while Womble smoked his drive just to the right of the green. Stewart chipped his second shot to the top of a hill on the right side of the green, which rolled back down the hill about 10 yards right next to Womble's first shot. Womble took advantage of the opportunity and chipped to about 10 feet for a look at birdie. Stewart promptly forced a birdie from Womble by holing out for the second time in the match. Womble missed his putt and Stewart took No. 10 with a birdie.


On the 211 yard, par-3 No. 11, Womble hit his tee shot on the front left side of the green. With a back middle pin location, he stared down about a 90-foot putt while Stewart landed on the right fringe about 30 feet from the hole. The 2010 Carolinas Junior Boys' Champion read the green perfectly and drained a monumental 90-footer for birdie to go to 1 down through 11.


That putt got the momentum going for Womble and he took No. 12 with a par to tie the match. Stewart and Womble both birdied No. 13 and parred No. 14 to head to No. 15 tied.


"On No. 15 I hit it a little left and caught a tree and it came back down the cart path like 30 yards backwards to about 260 (yards) behind some trees," said Womble. "I hit a 3-iron, just absolutely smoked it to about 20 feet. It was an unbelievable shot for me and it put the pressure back on Cyrus to execute. I was fortunate that Cyrus wasn't able to get up-and-down on the par-5 for birdie and I hit a nice putt over a ridge and had a tap in. That was definitely another turning point in the match."


This was the first time that Womble took the lead in the match, but Stewart did not let that last long as he made a solid par on No. 16 to bring the match back to a tie. The eventual champion remarked on the last two holes. "It was really tight to the end," said Womble. "I got lucky on No. 17. Cyrus missed a really tough putt from about four feet and then we just tied 18 for the victory."


Davis Womble captured the 12th North Carolina Amateur Match Play Championship 1 up on the 18th green after a hard-fought match against "a gracious runner-up and even better buddy," as Womble describes Stewart.


"It is just different playing as a mid-am. I only play about three or four individual tournaments a year. When I was younger and in contention a lot it was not as nerve wracking and I was more comfortable in the spot so it was a lot easier to win more often," said Womble. "It is honestly outstanding to win and it feels great. Hopefully I can build on that momentum and keep that with me for the next couple of years as I try to compete on the highest level from a mid-am perspective."


This is Womble's first win in six years and his third CGA championship title as he won the 2007 North Carolina Junior Boys' 13 and Under Championship and 2010 Carolinas Junior Boys' Championship.


The gratified champion noted, "It is awesome to have my parents here. They come a lot so it is nice to have them see me win. It is just fantastic that it was in Winston too. I was able to stay in my own bed and be close by for a relatively stress-free week and playing with Cyrus, who is a good buddy of mine, was just a lot of fun."


The Carolinas Golf Association would like to extend a special thank you to the members and staff of Forsyth Country Club for their warm welcome and hospitality, especially Head Golf Professional Chase Adams, Golf Course Superintendent Matt Jones, in hosting the 12th North Carolina Amateur Match Play Championship.


12th North Carolina Amateur Match Play Championship
Forsyth Country Club, Winston-Salem, N.C.
Final Results

Davis Womble, Winston-Salem, N.C. def. Cyrus Stewart, Raleigh, N.C., 1 up
About the Carolinas Golf Association (CGA)
The CGA is a 501(c)(3) not-for-profit educational organization that was founded in 1909 to promote and to protect the game of golf in the Carolinas by providing competitions, education, support and benefits to golf clubs and golfers. The CGA is the second largest golf association in the country with over 700 member clubs represented by nearly 150,000 individuals.
The CGA annually conducts 48 championships and five team match competitions for men, women, juniors, and seniors. It also runs over 150 One-Day (net and gross) events as well as qualifying for USGA national championships. The CGA serves golf in the Carolinas with numerous programs such as: the USGA Handicap System; tournament management software and support; course measuring and course/slope ratings; agronomy consultation; answers about the Rules of Golf, Rules of Amateur Status, and Handicapping; Carolinas Golf Magazine; Interclub series; Tarheel Youth Golf Association; Carolinas Golf Hall of Fame; expense assistance for USGA Junior and Girls' Junior qualifiers from the Carolinas; and the Carolinas Golf Foundation (CGF). The CGF has distributed nearly $2,000,000 since 1977 to benefit Carolinas' golf initiatives including junior and women's programs.
For more information about the CGA, visit our website.
##30##