Carolinas Girls Sweep Mid-Atlantic Challenge Matches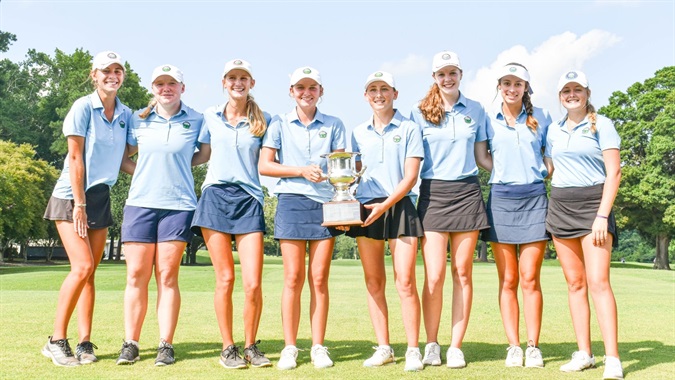 GREENVILLE, N.C. (August 8, 2021) -- Final results of the 20th Mid-Atlantic Junior Girls' Challenge Matches at Greenville Country Club in Greenville, N.C. on August 8, 2021. (6,035 yards; Par 35-36—71)
Related: Championship Web Site | Team Rosters | Pairings | Scoring | History | Photos
The Carolinas Team brought home the trophy for the sixth year in a row after a fabulous win at the 20th Mid-Atlantic Junior Girls' Challenge Matches. The teams played both rounds of four-ball and singles matches on Sunday after heavy rainfall caused Saturday's four-ball matches to be postponed to Sunday.
The Carolinas team was all smiles on the course today as they swept all four points available in the four-ball round, winning their four matches. Entering the singles matches, the Carolinas team required only two more points to retain the title.
Emily Mathews of Mebane, N.C. won by the largest margin on the Carolinas team, 5 & 3, against Irene Kim of Woodstock, Md. Mathews also won by the largest margin last year, 7 & 5 against Melanie Walker of Fairfax, Va. Macy Pate of Winston-Salem, N.C. was the first to finish her singles match. Pate got an early lead on her opponent Melanie Walker, and never let it go, winning her match 3 & 2.
After three holes, Nicole Nash of Charlotte, N.C. was 1 down against Addie Doroh of Charlottesville, Va. Nash fought back hard, winning No. 4 and then four consecutive holes to give herself a firm hold on the match. Nash ended up winning the match 3 & 2. Morgan Ketchum of Winston-Salem, N.C. was 3 down on her fourth hole against Helen Yeung of Clarksville, Md., but Ketchum bounced back, winning three holes and tying Yeung going into hole No. 12. Ketchum then took over winning Nos. 12, 15, and 16 to seal her win 2 & 1.
In total, the 2021 Carolinas Team won 9 out of 12 points against the Virginia-Maryland team and secured their sixth consecutive Girls' Mid-Atlantic Challenge Matches title.
The CGA would like to extend a thank you to the members and staff of Greenville Country Club, specifically General Manager Andrea Pinner, Head Golf Professional Rob Farmer, Course Superintendent Jason V. Worley, and the food and beverage staff for their hospitality in hosting the 20th Mid-Atlantic Junior Girls' Challenge Matches. The CGA would also like to thank the Virginia State Golf Association and the Maryland State Golf Association, for joining us in the event this year. The Carolinas Team members would like to thank Vicki DiSantis, Bonnie Fry, Sally Ratcliffe and Anne Greever for their support and guidance as captains this week.
The 21st Mid-Atlantic Girls' Challenge Matches will be hosted in Virginia in 2022.
Singles Matches Results
Macy Pate (Carolinas) def. Melanie Walker (Virginia-Maryland), 3 & 2
Morgan Ketchum (Carolinas) def. Helen Yeung (Virginia-Maryland), 2 & 1
Julie Shin (Virginia-Maryland) def. Maria Atwood (Carolinas), 5 & 4
Nicole Nash (Carolinas) def. Addie Doroh (Virginia-Maryland), 3 & 2
Emily Mathews (Carolinas) def. Irene Kim (Virginia-Maryland), 5 & 3
Amber Mackiewicz (Virginia-Maryland) def. Sydney Roberts (Carolinas), 2 up
Alexia Siehl (Carolinas) ties Kaylin Yeoh (Virginia-Maryland)
Four-Ball Results
Macy Pate & Morgan Ketchum def. Melanie Walker & Helen Yeung, 3 & 2
Sydney Roberts & Alexia Siehl def. Amber Mackiewicz & Kaylin Yeoh, 2 up.
Emily Mathews & Maria Atwood def. Irene Kim & Julie Shin, 1 up.
Adrian Anderson & Nicole Nash def. Sydney Hackett & Addie Doroh, 3 & 2.
About the Carolinas Golf Association (CGA)
The CGA is a 501(c)(3) not-for-profit educational organization that was founded in 1909 to promote and to protect the game of golf in the Carolinas by providing competitions, education, support and benefits to golf clubs and golfers. The CGA is the second largest golf association in the country with over 700 member clubs represented by nearly 150,000 individuals.
The CGA annually conducts 48 championships and five team match competitions for men, women, juniors, and seniors. It also runs over 150 One-Day (net and gross) events as well as qualifying for USGA national championships. The CGA serves golf in the Carolinas with numerous programs such as: the USGA Handicap System; tournament management software and support; course measuring and course/slope ratings; agronomy consultation; answers about the Rules of Golf, Rules of Amateur Status, and Handicapping; Carolinas Golf Magazine; Interclub series; Tarheel Youth Golf Association; Carolinas Golf Hall of Fame; expense assistance for USGA Junior and Girls' Junior qualifiers from the Carolinas; and the Carolinas Golf Foundation (CGF). The CGF has distributed nearly $2,000,000 since 1977 to benefit Carolinas' golf initiatives including junior and women's programs.
For more information about the CGA, visit our website.
##30##