Carolinas Team Captures 39th Virginias Carolinas Junior Boys' Team Matches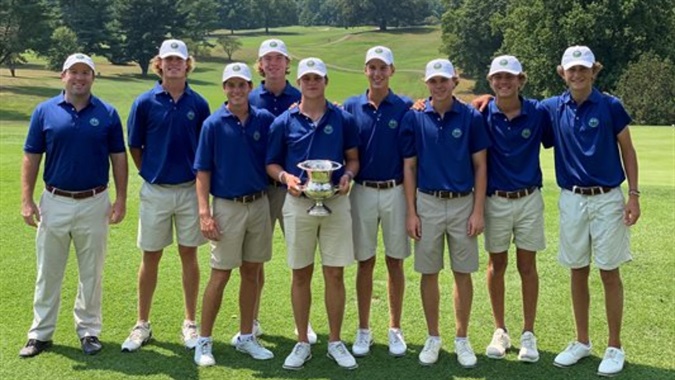 LYNCHBURG, VA (August 8, 2021) -- Final results of the 39th Carolinas Virginias Junior Boys' Team Matches from Boonsboro Country Club in Lynchburg, VA. (6,781 yards; Par 36-36—72)

Related: Championship Web Site | Team Rosters | Scoring | History

The Carolinas Team brought home the Vinnie Giles trophy with an 8.5 to 7.5 point win over the team from Virginia and West Virginia. All eight players contributed a win to the team with Jackson Bode of Pinehurst, N.C. and Andrew Gregory of Inman, S.C. leading the way by going 3-0 on the weekend. The Carolinas now leads the overall series 21-16-2.

On Saturday morning, the teams played four Four-ball matches. Out first, the team of Bode and Gregory started fast by playing the first 5 holes in 5-under-par to take a 3 up lead. They continued to pile up the birdies, shooting 10-under-par 62, but they wouldn't win any holes the rest of the way. Clutch pars on 17 and 18 won them the match 1 up and secured the first point of the weekend. The team of Hampton Roberts of Cary, N.C and Major Lenning of Simpsonville, S.C. followed them and played the last 5 holes in 3-under-par to win their match 1 up as well.

In the afternoon, the teams played four Foursomes (alternate shot) matches. The Carolinas team got off to a fast start again with Bode and Roberts shooting 5-under-par over their 16 holes to win 3 & 2. Gregory and Lenning took control of the second match early and coasted in with a dominating 5 & 4 victory. The duo only lost the fourth hole, and played their fourteen holes in four-under-par. Ethan Paschal of Fayetteville, N.C. and Will Conway of Weddington, N.C. eagled hole 10 to take a 1 up lead they would never give back. They birdied holes 12 and 16, and a par on hole 18 gave them a 2 up win.

Winning 3 of the 4 Saturday afternoon Foursomes matches, the Carolinas team held a 5-3 lead going into Sunday's eight singles matches and needed 3.5 points on Sunday to take home the trophy.

Braeden Barnett of Galivants Ferry, S.C. led off Sunday morning for the Carolinas team and pars on holes 4, 5 and 8 gave him a 2 up lead. Birdies on holes 14 and 16 and a finishing par on hole 17 won him his match 2 & 1 and put the sixth point on the board for the Carolinas team. Gregory continued his great play by birdieing holes 1, 3, 5, 7 and 8 to take a 5 up lead. He went on to birdie 8 of the 14 holes he played against no bogeys, and win the match 5 & 4 to put the seventh point on the board for the team.

Jonathan Honeywell of Whispering Pines, N.C., Paschal, Bode and Roberts all were playing close matches on the back 9 and the Carolinas team needed 1.5 more points to reclaim the trophy. Honeywell finished strong with a par on 9, and birdies on 10, 12 and 16 to flip his match to 2 up. A par on the difficult par 3 17th hole won his match 2 & 1 and put up the eighth point of the weekend. At the same time, Bode's match was tied as he played the 18th hole. After his opponent hit his 2nd shot in close, Bode responded by spinning his approach shot back off the flagstick with the ball unluckily rattling out and settling 6 feet below the hole. Bode stepped up and drained the birdie putt to secure the half point and win the matches for the Carolinas team.

The Carolinas Golf Association would like to thank the Virginia State Golf Association, the staff at Boonsboro Country Club for their hospitality in hosting the matches, and the parents and players of both teams for being a part of a special weekend for all involved.

VSGA Media Links

Four Ball Results
Jackson Bode and Andrew Gregory def Trey Marrion and Xander Goboy 1 up
Major Lenning and Hampton Roberts def Todd Duncan and Garrett Kuhla 1 up
Cullen Campbell and Matthew Monastero def Braeden Barnett and Will Conway 1 up
Matt Moloney and Mehrbaan Singh def Jonathan Honeywell and Ethan Paschal 2 & 1

Foursomes Results
Jackson Bode and Hampton Roberts def Trey Marrion and Xander Goboy 3 & 2
Major Lenning and Andrew Gregory def Todd Duncan and Garrett Kuhla 5 & 4
Ethan Paschal and Will Conway def Cullen Campbell and Matthew Monastero 2 up
Matt Moloney and Mehrbaan Singh def Braeden Barnett and Jonathan Honeywell 1 up

Singles Results
Braeden Barnett def Todd Duncan 2 & 1
Garrett Kuhla def Ethan Paschal 2 & 1
Jackson Bode ties Trey Marrion
Jonathan Honeywell def Matthew Monastero 2 & 1
Cullen Campbell def Will Conway 4 & 3
Mehrbaan Singh def Major Lenning 4 & 2
Andrew Gregory def Xander Goboy 5 & 4
Matt Moloney def Hampton Roberts 2 & 1
About the Carolinas Golf Association (CGA)
The CGA is a 501(c)(3) not-for-profit educational organization that was founded in 1909 to promote and to protect the game of golf in the Carolinas by providing competitions, education, support and benefits to golf clubs and golfers. The CGA is the second largest golf association in the country with over 700 member clubs represented by nearly 150,000 individuals.
The CGA annually conducts 48 championships and five team match competitions for men, women, juniors, and seniors. It also runs over 150 One-Day (net and gross) events as well as qualifying for USGA national championships. The CGA serves golf in the Carolinas with numerous programs such as: the USGA Handicap System; tournament management software and support; course measuring and course/slope ratings; agronomy consultation; answers about the Rules of Golf, Rules of Amateur Status, and Handicapping; Carolinas Golf Magazine; Interclub series; Tarheel Youth Golf Association; Carolinas Golf Hall of Fame; expense assistance for USGA Junior and Girls' Junior qualifiers from the Carolinas; and the Carolinas Golf Foundation (CGF). The CGF has distributed nearly $2,000,000 since 1977 to benefit Carolinas' golf initiatives including junior and women's programs. For more information about the CGA, visit our website.

##30##