US Senior Amateur Qualifying Results - Colleton River Club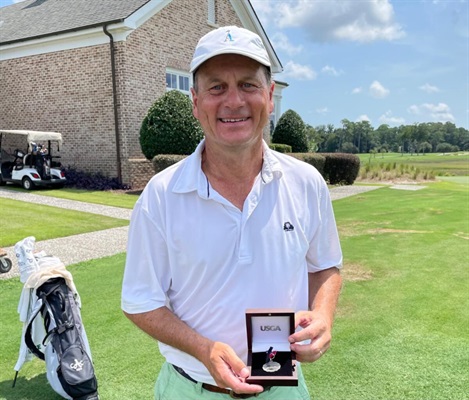 BLUFFTON, S.C. (August 9, 2021) -- Final results from U.S. Senior Amateur Qualifying at Colleton River Club's Nicklaus Course in Bluffton, S.C. on Monday, August 9, 2021 (6,822 yards, par 36-36--72).
Four qualifying spots and two alternate positions were available at this qualifying site.
Jeff Knox of Augusta, GA won medalist honors with a round of six-under-par 66. Jack Hall of Savannah, GA shot three-under-par 69, Eddie Hargett of Blythewood, South Carolina shot two-under-par 70 and Toshi Hirata of Pooler, GA shot one-under-par 71 to claim the other qualifying spots. Michael Del Rocco of Jacksonville, FL wil be the first alternate after shooting a round of even-par 72 and Stevie Cannady of Pooler, GA will be the second alternate.
The qualifiers will advance to play at the championship at the Country Club of Detroit in Grosse Pointe Farms, Michigan, from August 28 to September 2, 2021.
This USGA Qualifier was conducted by the South Carolina Golf Association, on behalf of the Carolinas Golf Association and the United States Golf Association.
Hole-by-hole scoring can be viewed here.
US Senior Amateur Qualifying Results
Colleton River Club, Bluffton, S.C.
August 9, 2021
Pos.

Player

Affiliation

To Par

Total Score

Details

1

Jeff Knox

Augusta, Georgia

-6

66

2

Jack Hall

Savannah, Georgia

-3

69

3

Eddie Hargett

Blythewood, South Carolina

-2

70

4

Toshi Hirata

Pooler, Georgia

-1

71

The following players did not make the cut

CUT

Michael Del Rocco

Jacksonville, Florida

E

72

First Alternate

CUT

Stevie Cannady

Pooler, Georgia

1

73

Second Alternate

CUT

Jack Larkin, Sr.

Atlanta, Georgia

2

74

CUT

Ken Moody

Ponte Vedra Beach, Florida

2

74

CUT

Steven Liebler

Irmo, South Carolina

2

74

CUT

Gary Smith

Hilton Head Island, South Carolina

3

75

CUT

Gary Blackwell

Jacksonville, Florida

3

75

CUT

David Anthony

Jacksonville, Florida

3

75

CUT

Brian Johnston

Peachtree Corners, Georgia

4

76

CUT

Freddie Vanderveer

Gallatin, Tennessee

4

76

CUT

Dale Fuller

Raleigh, North Carolina

4

76

CUT

Steven Horner

Ponte Vedra Beach, Florida

4

76

CUT

Doug Ramey

Greer, South Carolina

5

77

CUT

Danny Nelson

Savannah, Georgia

5

77

CUT

Gay Mcmichael

Macon, Georgia

5

77

CUT

Kevin King

Bluffton, South Carolina

6

78

CUT

Neal Morrison

Charlotte, North Carolina

6

78

CUT

John Dobbins

richmond hill, Georgia

6

78

CUT

Jeff Jamieson

Cary, North Carolina

6

78

CUT

Thomas Cornelia

Eatonton, Georgia

6

78

CUT

Phil Pavoni

Macon, Georgia

6

78

CUT

Tom Alter

Jacksonville Beach, Florida

7

79

CUT

John Lavin

Myrtle Beach, South Carolina

7

79

CUT

John Milton

Jacksonville, Florida

7

79

CUT

John Skeadas

Savannah, Georgia

7

79

CUT

David Swoap

Simpsonville, South Carolina

7

79

CUT

Dan Sullivan

Columbia, South Carolina

8

80

CUT

Walter Odiorne

Blythewood, South Carolina

8

80

CUT

Jeffrey Hedden

Hilton Head, South Carolina

8

80

CUT

Mike Poe

Hilton Head, South Carolina

8

80

CUT

Todd Hendley

Columbus, North Carolina

8

80

CUT

Tony Nimmer

Okatie, South Carolina

8

80

CUT

Casey Smith

Abbeville, South Carolina

8

80

CUT

John Gibbs

Augusta, Georgia

8

80

CUT

Ken Stevenson

Tallahassee, Florida

8

80

CUT

Scott Sperber

Pawleys Island, South Carolina

9

81

CUT

Michael Gravley

Greer, South Carolina

9

81

CUT

Charlie Hall

Hilton Head Island, South Carolina

9

81

CUT

Timothy Papa

Bluffton, South Carolina

9

81

CUT

Jimmy Hyams

Charleston, South Carolina

10

82

CUT

David Jones

Hilton Head Island, South Carolina

10

82

CUT

Sean Mcavoy

Johns Island, South Carolina

10

82

CUT

Michael Bauer

Charleston, South Carolina

10

82

CUT

William Bogle Jr.

Ridgeland, South Carolina

11

83

CUT

Stephen Parks

Beaufort, South Carolina

11

83

CUT

Todd Webber

Moore, South Carolina

11

83

CUT

Chris Leggett

Smyrna, Georgia

11

83

CUT

Timothy Melancon

Baton Rouge, Louisiana

11

83

CUT

Terry Willis

Taylors, South Carolina

12

84

CUT

Donny Phillips

Suwanee, Georgia

12

84

CUT

Jeff Pope

North Augusta, South Carolina

12

84

CUT

David Bordiuk

Summerville, South Carolina

13

85

CUT

Philip Powell

Orange Park, Florida

13

85

CUT

Charley Aimone

Savannah, Georgia

13

85

CUT

Marc Dulude

Bluffton, South Carolina

13

85

CUT

Chris Culler

Camden, South Carolina

14

86

CUT

Larry Smith

St. Augustine, Florida

14

86

CUT

Jonathan Verity

Beaufort, South Carolina

14

86

CUT

Joseph Combs

Ridgeland, South Carolina

14

86

CUT

Rusty Shepard

Johns Island, South Carolina

14

86

CUT

Randy Lamb

North Augusta, South Carolina

15

87

CUT

Dave Bell

Bluffton, South Carolina

15

87

CUT

Ted Ball

Kiawah Island, South Carolina

16

88

CUT

Chuck Tippins

Pooler, Georgia

18

90

CUT

Paul Klasing

Hilton Head Island, South Carolina

23

95

CUT

Richard Mccann

Macon, Georgia

24

96

WD

Mark Beckworth

Jacksonville, Florida

-

WD

WD

Jim Tarulli

waxhaw, North Carolina

-

WD

WD

Steven Kidd

Liberty, North Carolina

-

WD

WD

Scott Jones

Fleming Island, Florida

-

WD

WD

Jim Skeele

Charleston, South Carolina

-

WD

WD

Michael Hochschwender

Akron, Ohio

-

WD

WD

William (Deebo) Kelly

Camden, South Carolina

-

WD

WD

Michael Tarulli

Matthews, North Carolina

-

WD

WD

Clarence Hardison, Jr.

Fuquay Varina, North Carolina

-

WD

WD

Michael Zito

St. Simons Island, Georgia

-

WD

WD

Mike Bodney

Jacksonville, Florida

-

WD

WD

Gus Sylvan

Columbia, South Carolina

-

WD

WD

William Nimmer

Okatie, South Carolina

-

WD

DNF

Geno Berchiatti

Greenville, South Carolina

-

DNF