US Senior Women's Amateur Qualifying - Chapel Hill CC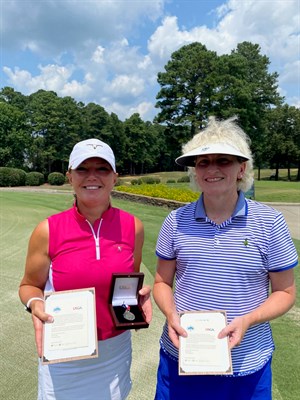 CHAPEL HILL, N.C. (August 10, 2021) -- Final results from 2021 U.S. Senior Women's Amateur Qualifying at Chapel Hill Country Club in Chapel Hill, N.C. on Tuesday, August 10 (5475 yards, par 36-35--71, Course/Slope rating: 71.6/134).
Jayne Pardus of Mount Pleasant, S.C. carded a three-over-par 74 to claim medalist honors.Amber Marsh Elliott of Greensboro, N.C. secured her spot in the championship with a five-over-par 76 and Patty Moore of Pinehurst, N.C claimed her spot on the 1st playoff hole.
Lea Anne Brown of Mount Pleasant, S.C. claimed the first alternate position. After a two-hole playoff, Cindy Thompson of Keswick, VA. claimed the second alternate position.
Three qualifying spots and two alternate positions were available at this qualifying site.
The championship proper will be held at The Lakewood Club in Point Clear, Alabama on September 10-15, 2021.
This qualifier was conducted by the Carolinas Golf Association on behalf of the United States Golf Association.
Results
Pos.
Player
Affiliation
To Par
Total Score
Details
1
Jayne Pardus
Mount Pleasant, South Carolina
+3
74
2
Amber Marsh Elliott
Greensboro, North Carolina
+5
76
3
Patty Moore
Pinehurst, North Carolina
+8
79
Won on 1st playoff hole
The following players did not make the cut
CUT
Lea Anne Brown
Mount Pleasant, South Carolina
+8
79
1st Alternate
CUT
Carolyn Baumel
Miami Beach, Florida
+11
82
CUT
Cindy Thompson
Keswick, Virginia
+11
82
2nd Alternate
CUT
Kim Briele
New Bern, North Carolina
+12
83
CUT
Sarah Phillips-Durst
Pinehurst, North Carolina
+15
86
CUT
Laura Holbrook
La Habra Heights, California
+16
87
CUT
Janice Wilson
Holly Hill, Florida
+21
92
CUT
Patricia Cuero
Round Rock, Texas
+24
95
CUT
Marilyn Hays
Durham, North Carolina
+25
96
WD
Ann Watkins
Pinehurst, North Carolina
-
WD
NC
Ramona Jackson
Wilmington, North Carolina
-
NC