US Mid-Am Qualifying Results - The Patriot GC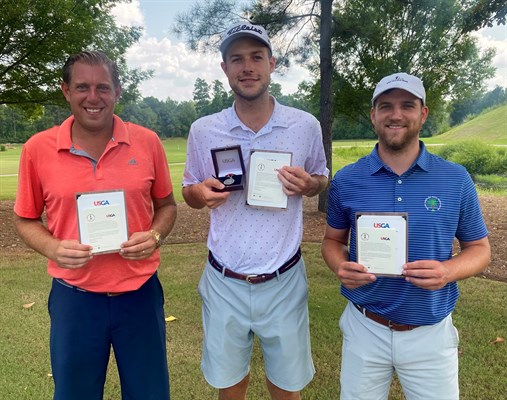 NINETY SIX, S.C. (August 12, 2021) -- Final results from U.S. Mid-Amateur Qualifying at The Patriot Golf Club in Ninety Six, SC on Thursday, August 12, 2021 (7,054 yards, par 36-36--72).
Three qualifying spots and two alternate positions were available at this qualifying site.
Davis Womble of Winston-Salem, N.C. won medalist honors with a round of eight-under-par 64. Christian Sease of Sunset, S.C. and C.J. Gatto of Athens, GA claimed the other two qualifying positions with rounds of four-under-par 68. Four players shot three-under-par 69. Zachary Herold of Gilbert S.C. won the first alternate position and Brad Mangum of Iron Station, N.C. won the second alternate position in the playoff.
The qualifiers will advance to play at the championship at the Sankaty Head Golf Club in Siasconset, Massachusetts from September 25-30.
This USGA Qualifier was conducted by the South Carolina Golf Association, on behalf of the Carolinas Golf Association and the United States Golf Association.
Hole-by-hole scoring can be viewed here.
US Mid-Amateur Qualifying Results
The Patriot Golf Club, Ninety Six, S.C.
August 12, 2021
Pos.

Player

Affiliation

To Par

Total Score

Details

1

Davis Womble

Winston-Salem, North Carolina

-8

64

T2

Christian Sease

Sunset, South Carolina

-4

68

T2

C.J. Gatto

Athens, Georgia

-4

68

The following players did not make the cut

CUT

Zachary Herold

Gilbert, South Carolina

-3

69

1st Alternate

CUT

Brad Mangum

Iron Station, North Carolina

-3

69

2nd Alternate

CUT

Brent Delahoussaye

Greenville, South Carolina

-3

69

CUT

Vince Van Brunt

Atlanta, Georgia

-3

69

CUT

Brad Jones

Augusta, Georgia

-2

70

CUT

Mark Maynard

Chamblee, Georgia

-2

70

CUT

Daniel Bowden

Wilmington, North Carolina

-2

70

CUT

Barry Dyche

Charlotte, North Carolina

-2

70

CUT

Dylan Freeman

Brunswick, Georgia

-2

70

CUT

Brian Carter

Atlanta, Georgia

-2

70

CUT

Greg Harrold

York, South Carolina

-2

70

CUT

Matthew Lavery

Atlanta, Georgia

-1

71

CUT

Bradley Kauffman

Greer, South Carolina

-1

71

CUT

Parker Derby

Greer, South Carolina

E

72

CUT

Josh Williams

Saint Simons Island, Georgia

E

72

CUT

Alex Finke

Rock Hill, South Carolina

E

72

CUT

Crawford Reeves

Taylors, South Carolina

E

72

CUT

Jeff Knox

Augusta, Georgia

E

72

CUT

Dean Hester

Simpsonville, South Carolina

1

73

CUT

Blair Scurlock

Roswell, Georgia

1

73

CUT

Yancey Johnson

Simpsonville, South Carolina

1

73

CUT

Colton Makowiec

Morganton, North Carolina

1

73

CUT

Chris Cupit

Johns Creek, Georgia

1

73

CUT

Harrison Vance

Blythewood, South Carolina

1

73

CUT

Clayton Holland

Greensboro, North Carolina

1

73

CUT

Nick Eberhardt

Charlotte, North Carolina

2

74

CUT

Bayard Geeslin

College Park, Georgia

2

74

CUT

Anthony Arthur

Atlanta, Georgia

2

74

CUT

Jared Jillson

Vero Beach, Florida

2

74

CUT

William Lundeen

Johns Creek, Georgia

2

74

CUT

Nick Stiles

Athens, Georgia

2

74

CUT

Jake Benfield

Lenoir, North Carolina

2

74

CUT

Henry Mcgannon

Charleston, South Carolina

3

75

CUT

Dan Constantino

Greer, South Carolina

3

75

CUT

Jim Mcleod

Charlotte, North Carolina

4

76

CUT

Austin Adams

Greenville, South Carolina

4

76

CUT

Howard Hickey

Savannah, Georgia

4

76

CUT

Stephen Heard

Greenville, South Carolina

5

77

CUT

Jake Thompson

Greenville, South Carolina

5

77

CUT

Scott Cox

Ellenton, Florida

5

77

CUT

Matt Wilson

Spartanburg, South Carolina

6

78

CUT

Rob Pate

Nashville, North Carolina

6

78

CUT

Jason Sugg

Longs, South Carolina

7

79

CUT

Henry Owen

Rock Hill, South Carolina

7

79

CUT

Alex Luxenburg

Savannah, Georgia

8

80

CUT

Jay Mcknight

Simpsonville, South Carolina

8

80

CUT

Randy Hodges

Monroe, North Carolina

8

80

CUT

Brian Remsberg

Greenville, South Carolina

8

80

CUT

William Daidone

Dublin, Georgia

8

80

CUT

David Winesette

Waxhaw, North Carolina

9

81

CUT

Neal Hendee

Brookhaven, Georgia

9

81

CUT

Chris Fitting

West palm beach, Florida

10

82

CUT

Thomas Todd III

Laurens, South Carolina

10

82

CUT

Austin Morgan

Charleston, South Carolina

10

82

CUT

Daniel Mcclain

Lexington, South Carolina

10

82

CUT

Dave Bayko

Fort Mill, South Carolina

10

82

CUT

Brandon Webb

Saluda, South Carolina

12

84

CUT

Jason Ondriezek

Atlanta, Georgia

12

84

CUT

Mark Gaynor

Florence, South Carolina

12

84

CUT

Chandler Machemehl

Greenville, South Carolina

13

85

CUT

Donald Miller

Alpharetta, Georgia

14

86

CUT

Will Durrett

Aiken, South Carolina

14

86

CUT

Steven Arnall

Statham, Georgia

14

86

CUT

Michael Lydon

Sandy Springs, Georgia

16

88

CUT

James Ferguson

Johnson City, Tennessee

16

88

WD

Eric Mauntel

Charlotte, North Carolina

-

WD

WD

Cass Sigmon

Mt. Pleasant, South Carolina

-

WD

WD

Todd White

Spartanburg, South Carolina

-

WD

WD

Rob Bennett

Charleston, South Carolina

-

WD

WD

Jeffrey Bauer

Okatie, South Carolina

-

WD

WD

Thomas Bonney

Greensboro, North Carolina

-

WD

WD

Raymond Vigeant

Melbourne, Florida

-

WD

WD

Corey Ferger

Kennesaw, Georgia

-

WD

WD

Joseph Davis

Cornelius, North Carolina

-

WD

WD

Ryan Blair

Charlotte, North Carolina

-

WD

WD

William Middlebrooks

Dublin, Georgia

-

WD

NC

John Montgomery

Smyrna, Georgia

-

NC

NS

Ross Ward

Charleston, South Carolina

-

NS

NS

Ryan Baucom

Charlotte, North Carolina

-

NS